Mount Holyoke Alumnae Association, Atlanta: Laura Austin Dickinson's Optimism and Other Poems (1929)
Laura Austin Dickinson, Optimism and Other Poems. Amherst: The Elms, 1929. First edition. 51 p.: ill.; 20 cm. Near fine in burgundy cloth, lettered in gilt.


Inscribed to "Cousin Carrie," and dated in the year of publication.  


     Dickinson was a member of that extended family of Dickinsons whose most famous member was also a poet. She attended Mount Holyoke College (Class of '94) taught agriculture at Spelman College and physics and chemistry at Atlanta University. The affiliated schools of Atlanta University, which included Spelman for women and Morehouse for men, served a predominantly African American student body, and featured a number of Mount Holyoke women on the faculty. Dickinson's sister Louisa ('93) taught Latin, and fellow alumna Louise Baird Wallace ('98) taught biology. Mrs. Carrie A. Gaylord, the recipient of this volume, had the position first of "Matron," then of "Hostess," staff positions evidently now out of usage. Other faculty at Atlanta at the time included George Raffalovich, an associate of Aleister Crowley's, and Howard W. Thurman, the great theologian whose works would inspire Martin Luther King.
The volume collects 40 short poems and includes 6 photographs of scenes from the author's travels in Italy, the subject of several verses.  Two poems collected in a section titled "Laboratory Musings," concern physics.  One is titled "Electrons and Protons." A few poems of a more personal nature speak of a secret love, including:


            Heartbreak


At my work you meet me,
On the street you greet me,
E'ev in play you taunt me,
And at night you haunt me –
Ah, Heartbreak! Heartbreak!


Sources
o The Atlanta University Bulletin, 1927-1931
Recommend this product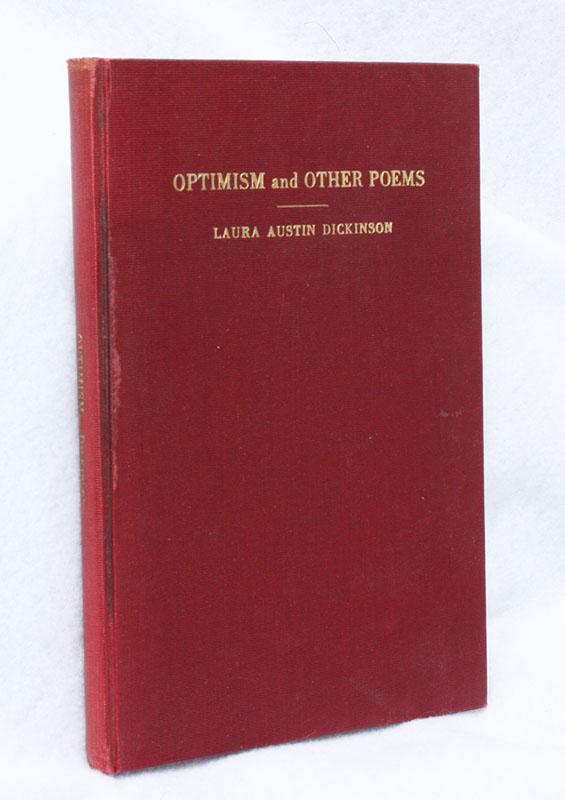 Mount Holyoke Alumnae Association, Atlanta: Laura Austin Dickinson's Optimism and Other Poems (1929)