"Kansas City Mac": The Archives of A. B. Macdonald
Macdonald, A[lexander] B[lack] (1871-1942). An extensive archive documenting the life and career of journalist A. B. Macdonald, including scrapbooks and loose files containing thousands of pages of newspaper clippings, correspondence, photographs, and ephemera.  Housed in 24 folding archival cases and two large flat cases, about 14 linear feet total.
     Alexander Black Macdonald was a journalist for the Kansas City Star.  In 1931, he was awarded the Pulitzer Prize for journalism – the first Pulitzer for the Star and perhaps the first for a Missourian.  Born on May 6, 1871 in Queens County, New Brunswick, the son of an itinerant minister. Recalling his father later he said:
"The greatest man I ever knew … was a preacher in a little Canadian village. He preached in three villages, riding on circuit, helping people. He did that for sixty years and died possessing a black broadcloth suit and $125. A great man and a great life."
     As a teenager in the 1880s, Macdonald drifted south. In 1886, he fell in with members of the Forepaugh Circus and got a job writing publicity materials, traveling with the company. "circus work was good only through the summer," he recalled. "In the winter I was broke."  
     To make up for lean times, Macdonald got a temporary job with the Philadelphia Press in the winter of 1888. He took up with the circus again in the summer of 1889, ending up in St. Paul and spending the winter writing for the Globe. Another summer with the circus left him in Kansas City, and there he stayed, parlaying his writing experience into a job as a reporter.  He worked first for the Kansas City Times (1891-1893), then the Kansas City World (1893), and the Kansas City Star (1894-1920).  He took a leave from newspaper reporting to serve on the staff of Country Gentleman and Ladies' Home Journal (1920-1928), but returned to the Kansas City Star in 1928, and continued there until his death.  The great editor and newspaperman E. W. Howe called Macdonald "the Dean of American Reporters."
     For a newspaper reporter Macdonald had an extraordinarily varied career.  He started with stories on true crime.  Not content merely to report, he also investigated the cases himself.  In 1898, for example, he helped acquit Dr. Joseph C. Hearne, accused of murdering Amos J. Stillwell, by demonstrating that the number of matches burned at the scene indicated a time frame that put Dr. Hearne in the clear.  Later he would find the witness whose testimony demonstrated the guilt of A. D. Payne in a sensational case that won Macdonald the Pulitzer. Another investigative series ended the career of John R. Brinkley, a quack doctor who promised miracle cures made from goat glands.  His reporting on Johnny McNeil, a boy who spent two weeks in jail awaiting trial for stealing 55 cents from another youth, led to Judge John W. Wofford's establishment of a juvenile court system in Kansas City, the first in the nation.
     Macdonald was fascinated also with the outlaws and lawmen of the Old West, seeking out those who were still alive and interviewing their descendants.  Among the clippings and correspondence here are photographs of the mother and children of Jesse James, letters from Emmet Dalton and Henry Starr, and original photographs of Cole Younger and Al Jennings.  Conversations with one witness to the old days, Fred E. Sutton, led to Macdonald's book, Hands Up! Stories of the Six-Gun Fighters of the Old Wild West.  Abraham Lincoln (who might have sported a badge and a gun himself had his life taken a different turn) was also a lifelong interest, and Macdonald filled three large scrapbooks with articles on Lincoln by himself and others.
     In 1915 Macdonald traveled to Atlanta to cover the Leo Frank case.  His long investigative piece, published first in the Kansas City Star and reprinted in newspapers from California to London, and his occasional dispatches, established Macdonald as a leading voice in Frank's defense. Sir Arthur Conan Doyle praised Macdonald's evaluation of the evidence as the best mystery story ever written.  The thick scrapbook devoted to the case contains hundreds of clippings and pieces of correspondence from all sides of the case, including six letters from Leo Frank himself.
     It may have been heartache over the conclusion of the Frank case – the accused man was lynched by a mob – or perhaps it was the conditioning of his early childhood, but when the great evangelist Billy Sunday launched his campaign in Kansas City in 1916, Macdonald was touched by the fires of revival.  He approached Sunday as a journalist and left a convert.  For the next two years, Macdonald took sabbaticals from writing to join Sunday's entourage as an assistant in men's ministry, conducting outreach and preaching in the New York campaign of 1917 and the Chicago campaign of 1918.  His diaries of these campaigns, together with photographs, letters, and ephemera, constitute a major resource for the study of this popular American evangelical movement.
     In 1920, Macdonald left the Kansas City Star to write for the slicks, Country Gentleman and Ladies' Home Journal.  In addition to numerous features on rural and small town life in the Midwest, he wrote several major articles on the social and economic effects of alcohol that were reprinted as pamphlets to further the cause of Prohibition.  In 1926 and again in 1927, Macdonald went on the Chautauqua circuit, touring with a company of actors, musicians, comedians, magicians, and inspirational speakers to deliver lectures on alcohol and other current topics. His Chautauqua scrapbooks offer a unique glimpse into this fascinating world.
     In 1928, Macdonald returned to the Star to take up his old job as a reporter.  As one of his colleagues remembered, "it was the human interest story that saw Macdonald at his best. He preferred to tell about the problems of a Kansas couple, rearing a family of 20 children, or about the wife of an Oklahoma oil well driller who dashed about the countryside with gallons of nitroglycerine in her car, sharing the perils of his trade with her husband."[1] In an interview, Macdonald put the feature story in perspective:
"Newspaper reporting," said Mac, "is literature. It's story-telling. It deals with people and the wise or foolish things they do. If you put together the things the report writes you have a 'Vicar of Wakefield,' for example. What could be more commonplace than the lives in that book? Just village folk, some virtuous, some vicious. The things that happened to them happen everywhere; but Goldsmith has immortalized those lives and happenings and scenes. He detected the drama in simple things; he saw that people were the world's chief interest. What things they do that rouse our emotions and hold us breathless! … I am writing a 'Vicar of Wakefield' say, to rouse, if I can, the sympathies and social feeling of thousands and maybe millions of people who will thus be brought to help the oppressed and abhor the oppressor."[2]
     In the summer of 1930 – Macdonald was 69 at the time – he nailed the biggest story of his long career.  His old friend Gene Howe, the son of legendary Kansas editor E. W. Howe, wrote from Amarillo, Texas, to ask for help with the death of Eva Payne, who had been killed when her car exploded.  Howe suspected murder, but there was no evidence to point anywhere.  Macdonald's instincts indicated a path. "Have you looked for a woman in the case?," he asked Howe upon his arrival. "I have found that in ninety-nine times out of a hundred where there is an atrocious wife-murder, another woman is involved."[3]  Ignoring protestations that Mrs. Payne's husband was devoted to his wife, Macdonald interviewed him, asking him about the various women who had worked in his office.  Among the former employees he mentioned was Verona Thompson, whom he described as "just an ordinary-looking woman; no man would get sweet on her."  Macdonald recognized the misdirection and sought her out, finding a beauty.  After skillful interrogation he got her to admit that she and A. D. Payne were having an affair, and that she believed her lover had killed his wife.  Later, Macdonald credited her confession to his age and paternal bearing. "She would not have told her story to a younger reporter."  Justice officials, miffed that they had not cracked the case themselves, dismissed Macdonald's findings, so he and Howe went directly to the mayor.  Together they staged an elaborate tableau to trick Payne into thinking they had more evidence than they did, and he confessed.  Before Payne came to trial, he blew himself up in his jail cell.  As his colleague Lee Shippey later wrote, "'Mac' … was one reporter who really did what radio reporters do every fifteen minutes. He solved a murder mystery, rescued an innocent man from prison and brought a guilty man to justice."[4] The materials on the case in the archives include Howe's initial letters asking for help, Thompson's signed confession, the telegram informing Macdonald that he had been awarded the Pulitzer Prize for journalistic excellence, and the Prize itself.
     Macdonald – who identified himself at the oldest street reporter in America – continued to file stories through the late 1930s.  By 1939 his declining health had compelled him to slow down to writing only one story per week.  He died on April 9, 1942, a month shy of his 81st birthday.
     His colleague Edwin Pinkham recalled walking up Grand Avenue in Kansas City with Macdonald.  "On that occasion 'Mac' stopped and looked in every shop window we passed," Pinkham wrote. "I found it exasperating because I really was going somewhere." 
            "'Mac,' I said, 'do you ever expect to get anywhere dawdling that way?'
             "'I may never get anywhere,' he replied, 'but I'll learn a lot on the way.'" [5]



-----------------------------------------------------
[1] "A. B. Macdonald, Pulitzer Winner, Dies in Kansas City," Daily Capital News (Jefferson City, MO), 10 April 1942, p.8.
[2] William Futhey Gibbons, Making Today's Newspaper: A Method for Gathering, Writing, and Publishing News (Ann Arbor: Edwards Brothers, 1933), pp. 82, 84.
[3] Vernon McKenzie, Behind the Headlines: Journalistic Adventures of Today (New York: Harrison Smith, 1931), pp. 59, 64-65.
[4] Lee Shippey, The Luckiest Man Alive (Los Angeles: Westernlore Press, 1959), p. 56.
[5] William Futhey Gibbons, Making Today's Newspaper: A Method for Gathering, Writing, and Publishing News (Ann Arbor: Edwards Brothers, 1933), p. 80.
Recommend this product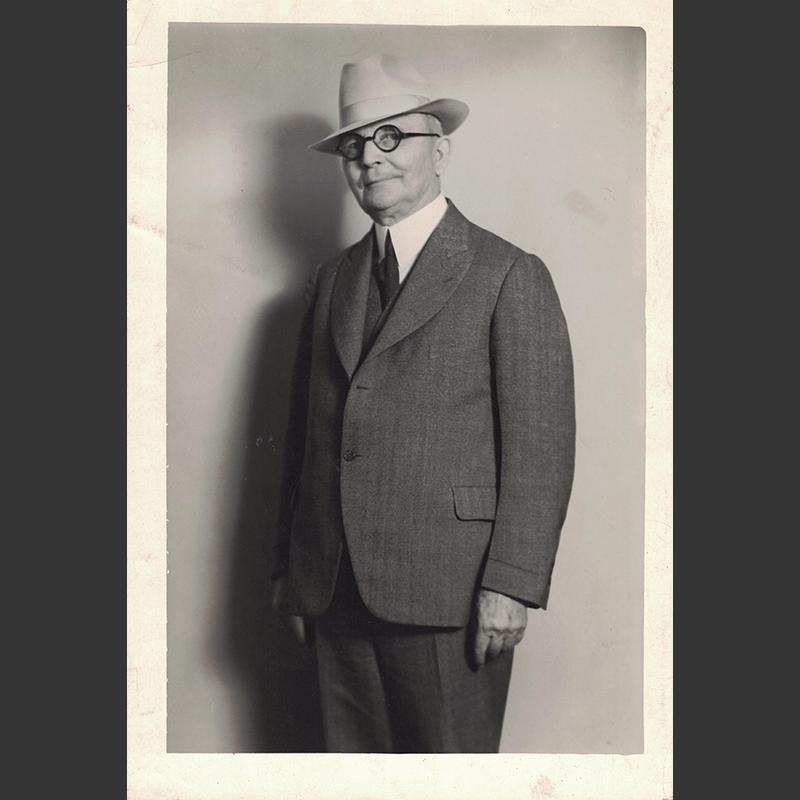 "Kansas City Mac": The Archives of A. B. Macdonald