Joseph Lindon Smith: A Famous Artist Trifles with a Boston Debutante
Smith, Joseph Lindon (1863-1950).  Seven letters to Margaret ("Margetta") Wesselhoeft (1888- 1947), with one original envelope.  The letters are bifolia, written on multiple sides and comprising 19 pages in all. Four of the letters are dated between 27 November 1911 and 24 January 1912, three are undated.  Folds to pages; one page has a marginal tear, but overall the letters are generally in fine condition.
     A rather creepy collection of letters from the artist to a member of a prominent Boston family whom he appears to have seduced, offering an interesting glimpse into aesthetics and gender roles among the elite.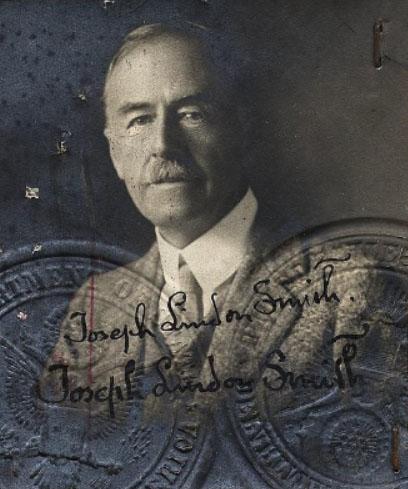 Smith in 1916 (Smithsonian Institution)
     Celebrated today for his paintings of Egyptian reliefs and his role in fostering the Dublin Art Colony, Smith was perhaps even better known before WWI as a producer and director of musical pantomimes, club theatricals, elaborate pageants, masques, sets for charity balls, and other entertainments for wealthy patrons who were connected to the upper echelons of Boston society (his wife Corinna describes this work in Interesting People: Eighty Years with the Great and Near-Great, ch. 27). His work as a private producer, and a lecturer on art, brought him regularly to Baltimore, Detroit, Washington, New York, Pittsburgh, Buffalo, Minneapolis, Indianapolis, St. Louis, and other cultural hubs.
     In Chicago, for example, Smith was introduced to the social world on Lake Shore Drive through Mrs. Franklin MacVeagh, who hosted the Smiths for a fortnight in December, 1905 and threw a party for him at the Art Institute.  He had first met the MacVeaghs at the summer home in Dublin, New Hampshire.  In 1907-1908 he returned to stage a series of pantomimes at Orchestra Hall. During this trip he stayed as the guest of Russell and Sarah ("Sallie") Tyson, wealthy art patrons who lived at 20 East Goethe Street, an apartment building in Chicago's Gold Coast. In 1911-1912 he was back in Chicago to offer a series of lectures in private homes, oversee an exhibition of his works and a stage New Year's pageant at the Art  Institute. The Tysons once again played host.
     It was during this latter trip that Smith encountered the Tyson's niece, Margaret "Margetta" Wesselhoeft.  Twenty-five years his junior, she was the eldest of four daughters of William Fessenden Wesselhoeft (1862-1943), the prominent scion of a long dynasty of homeopathists. The Wesselhoefts, who divided their time between 398 Marlborough Street in Boston and Jaffrey, NH, moved in the same elevated circles as Smith. They were listed in the Social Register, and their trips, guests, philanthropic activities, fashion decisions, and other achievements were reported in the society pages of the Boston Globe. The extended family included congressmen, real estate magnates and Harvard professors. Margaret's younger sister Alice would marry Leverett Saltonstall, who served as Governor and Senator for Massachusetts. Her great-aunt Lily, a celebrated author of children's books, named the young owner of a mischievous puppy in her book Frowzle the Runaway (Boston: Roberts Brothers, 1895) "Margetta" in honor of Margaret. A notice in the Brattleboro Reformer remarks on Margaret's visit to the Tysons in 1905, and she is mentioned in a 1908 article as one of the debutantes appearing at benefit for Children's Memorial Hospital (which also featured the first appearance in the Chicago of Isadora Duncan). Joseph Lindon Smith and his wife knew the Wesselhoefts, saw the same people and attended the same parties.  It well may have been Mrs. Wesselhoeft who introduced Smith to her sister Sarah, Russell Tyson's wife.

Wesselhoeft as she appeared in Lindon's pageant at Copley Hall, Boston Globe 28 February 1913
     Margaret Wesselhoeft was evidently already in residence with the Tysons when Smith returned to their home around 18 November 1911. He was 48 at the time and she was 22, a young woman.  But his letters, all signed "Uncle Joe," address her as a child. The first, dated 27 November 1911, sets the tone: 
     This is the first letter I've ever written to you, just as last week was the first time I ever called you by your name. The first time I ever kissed you, or loved you the way an Uncle of my years should.
     It was very sweet and dear of you, little girl, to let me come so soon into your intimacy. When you get older you will better appreciate how I feel.
An undated letter:
Did you ever get hugged by a [drawing of a bear]. They say it's quite an impressive experience. …. It's nothing more than fair to give you warning what's in store for you, dear child …. I find I love you just as much as ever – try not to let this information make you have a sleepless day.
And there is much more of this sort of thing.  One of the more troubling aspects of the letters is the suggestion that he simultaneously pursued her younger sister Susan (1891-1966).  From a letter of 24 January 1912:
Yesterday afternoon Suzee and I met at the Library … I gave her all the kisses which you would have wanted me to give her – and am bound to admit a few of my own got into the collection … you and I are lucky aren't we darling, to have her and her love. …  When I am with you and Suzee and my precious [wife] Corinna – the World seems and is a happy World. … If you three give me beauty like this, it explains one reason for my so strongly loving you….
In addition to the lovemaking, Smith also offers discussion of his work, describing at length a ball he produced in Providence, and noting lectures he delivered in Brooklyn, Bryn Mawr, Philadelphia, Brattleboro, and Detroit, offering to give her lessons in carving at his studio in Dublin, and asking her to send him an undergarment that he had left at the Tyson's apartment.
"It was very sweet and dear of you, little girl, to let me come so soon into your intimacy. When you get older you will better appreciate how I feel."

     There are some suggestions in the letters that Margaret's sojourn in Chicago had been occasioned by a romantic disappointment ("Your dear heart has been troubled in the past, that I know little companion…").  She seems to have occupied herself with an ambitious charitable project in Chicago, doubtless organized by her aunt Sarah, who sat on a number of philanthropic boards.  
How does the work go Margaretta? I suppose it's hard and perplexing at first, but you'll strike a groove that you'll fit in the midst of what appears a bewildering mass of nuts in a hard road.
     By 1913 Margaret Wesselhoeft was back in Boston. An active member of Boston's exclusive Vincent Club, she had performed in amateur theatricals before, serving in the chorus, for example, of a play staged by the Club at Jordan Hall in April 1910.  On 28 February 1913, the Globe reported on the Mi-Carême festival of the Copley Society for which members of the Vincent Club and Harvard's Hasty Pudding Club staged an elaborate "Plum Blossom Festival" at Copley Hall orchestrated by Joseph Lindon Smith.  Margaret played a Geisha in a large number, and a starring role in a duet that the Globe described as "an amusing Chinese pantomime" by Smith, playing opposite a young Harvard student who would marry her sister Susan in October.
     Margaret herself did not get married until June 1916, to Dr. George H. Bigelow (1890- 1935), a younger man with a bright future (as head of Massachusetts General Hospital) that was cut tragically short when he drowned in the Framingham Reservoir.
     "You must make it clear to the man who marries you that Uncle Joe is to be trusted with a little share of your heart," Smith wrote to Margaret on 10 January 1912.  Whether she did so is anyone's guess, but she kept these letters until her dying day.
Sources
Joseph Lindon Smith Papers, Archives of American Art, Smithsonian Institution
Boston Globe
Brattleboro Daily Reformer
Chicago Daily Tribune 
Clarion Ledger (Jackson, MS)
The Inter Ocean (Chicago)
Vermont Phoenix
Smith, Corinna. Interesting People: Eighty Years with the Great and Near-Great (University of Oklahoma Press, 1962)
Recommend this product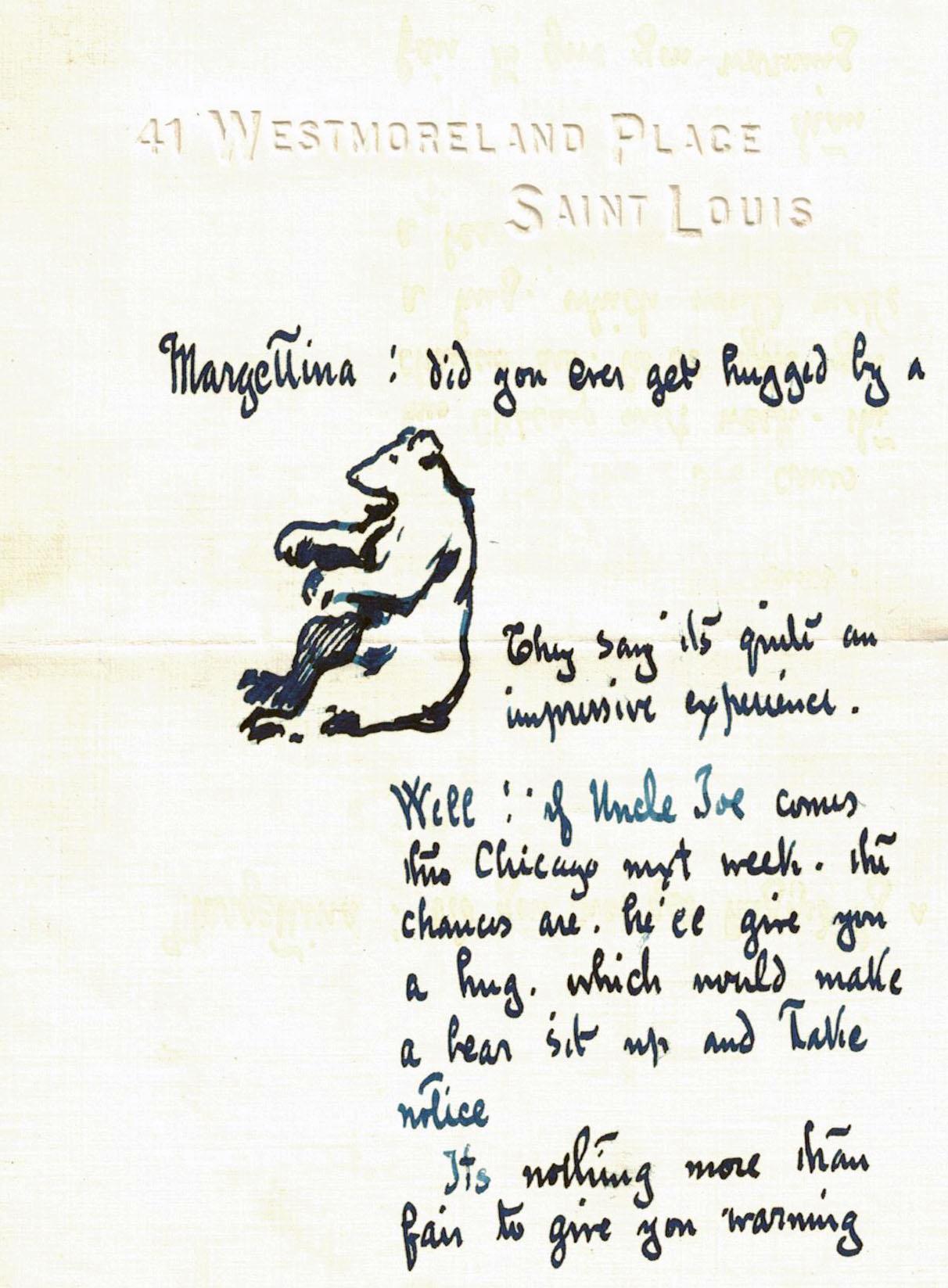 Joseph Lindon Smith: A Famous Artist Trifles with a Boston Debutante