Class notes from the first years of the American Academy of Dramatic Arts
Sargent, Franklin Haven (1856 – 1924) and Ida Ellen Serven (1859 – 1928), Pantomime, class notes by Kathryn A. Fischer (1859 – 1939). Manuscript notebook, ca. 1884-1885. 87 pp. Marbled boards and quarter leather; text block separated from binding, some pages loose; foxing to endpapers. The text is good condition generally, and appears to be complete, but the volume will require the attention of a conservator.
A notebook of a student at the Lyceum Theater School of Acting, the predecessor to the American Academy of Dramatic Arts (AADA), offering some of the earliest documentation of theater education in the United States. Although the student did not go on to have a distinguished stage career, her sister and classmate Alice Fischer (1869 – 1947) would become one of the most celebrated actresses of her day.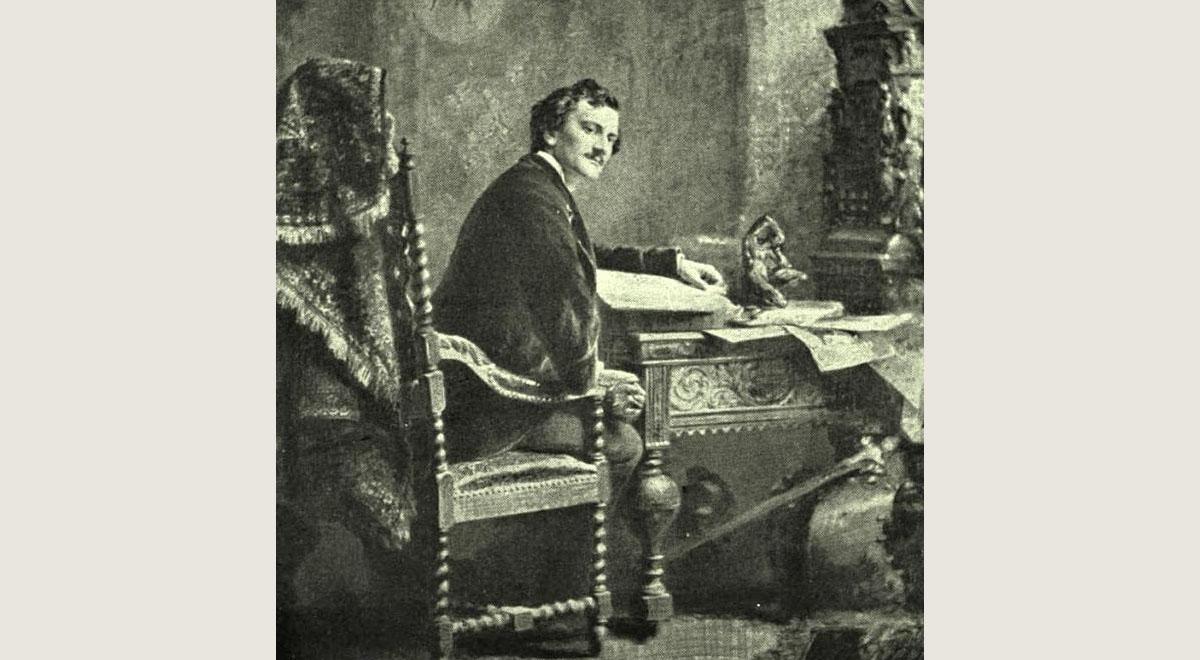 Steele MacKaye
The AADA had its origins in the vision of James Steele MacKaye (1842 – 1894), one of the geniuses of the American theater. As an actor, director, playwright, technician, and pioneer in theater education, he was also the only American student of the drama and music teacher François Delsarte (1811 – 1871). Delsarte developed a comprehensive system of performance based on physical and vocal training. MacKaye extended Delsarte's system of "philosophical elocution" by emphasizing gesture. The result would have a major impact not only on stage, film, and dance – the latter through Isadora Duncan, Ted Shawn, and Ruth St. Denis. As historian Jessica Rebecca Collins has argued, MacKaye's popularization of Delsarte's system would also impact the social organization of gender as theatrical training provided women with both tools and models for asserting an embodied authority. The Delsarte system is also associated with the early development of semiotics by Charles Sanders Peirce (1839 – 1914). Peirce's second wife, Juliette, had been a student of MacKaye's. Iris Smith Fischer discusses the parallels between Peirce's semiotic "account of cognition as mediated through feeling and sensation" and the Delsarte method.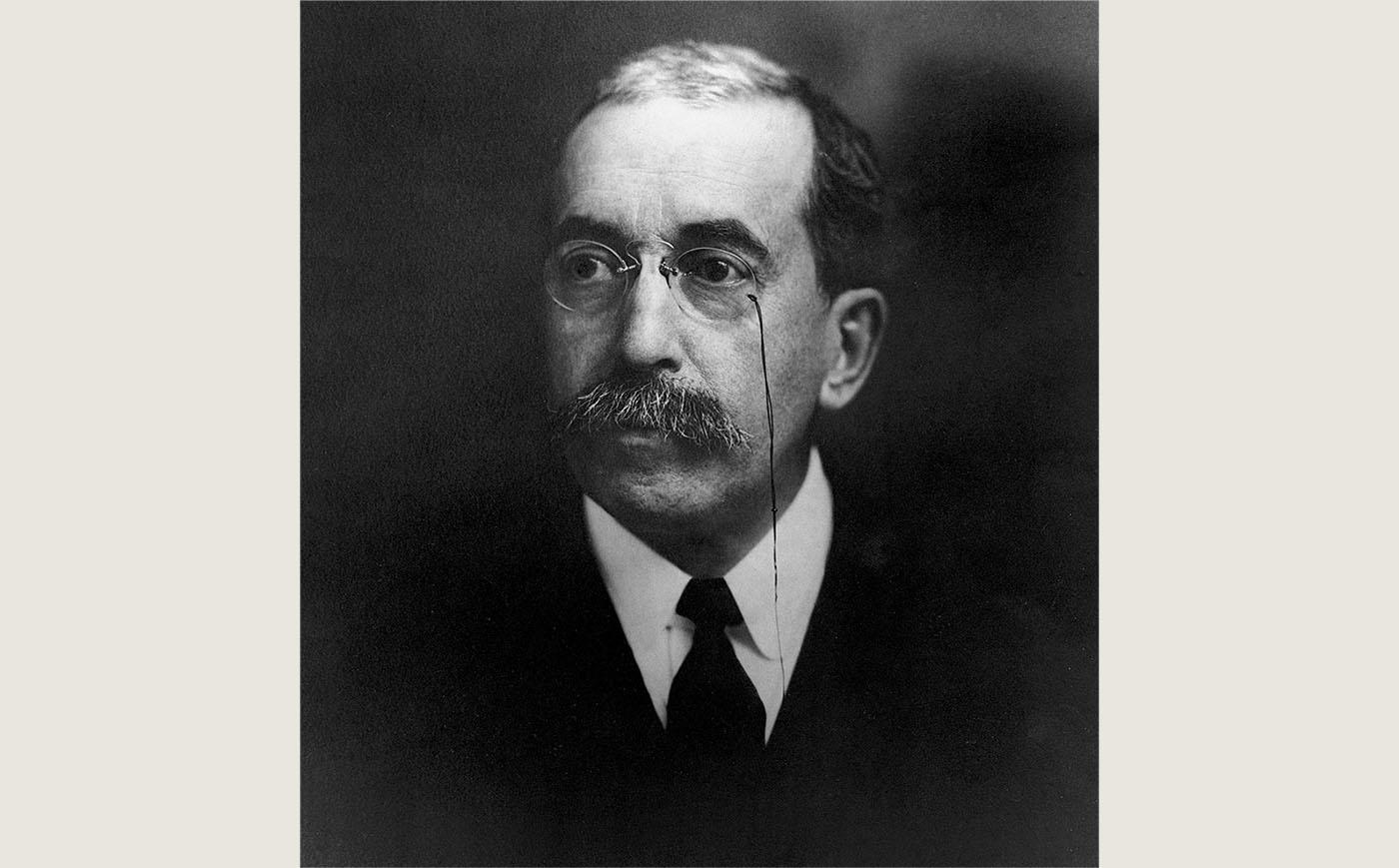 Franklin Haven Sargent
In 1877, MacKaye established the School of Expression in New York City to teach a "thorough discipline in practical Pantomime, Stage Business, and Vocal Gymnastics." He was the sole teacher. In 1884, MacKaye and one of his students, Franklin H. Sargent, established the Lyceum Theater School of Acting. A Harvard graduate, Sargent had begun studying with MacKaye in 1878. When MacKaye retired, Sargent took over his program, renaming it the New York School of Acting. With backing from David Belasco, Henry DeMille and others, Sargent he reorganized the school in 1888 as the American Academy of Dramatic Arts. Defying the skeptics who asserted that acting could be learned only on the stage and not in a classroom, the AADA grew quickly; it still thrives today.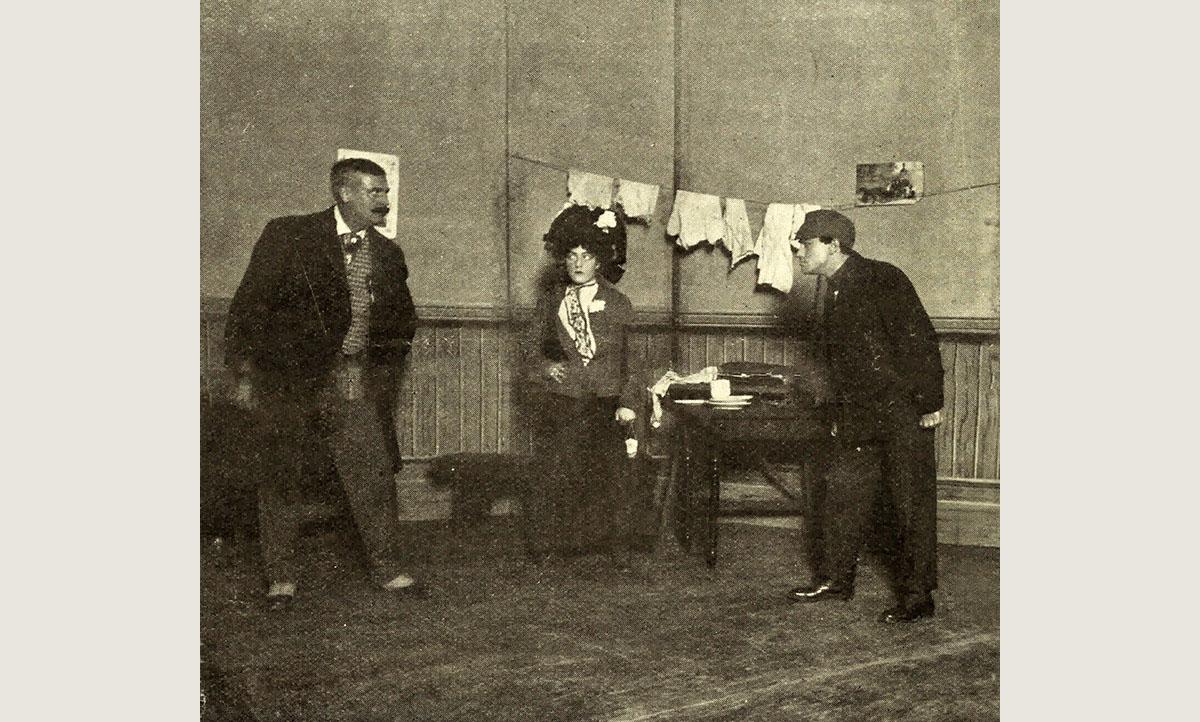 Students at the AADA eyeball each other fiercely in a 1906 performance
The present notebook for one of Sargent's classes offers a wonderful glimpse into his theatrical pedagogy. Pantomime, the art at the heart of the Delsarte system, offers a means of communicating delicate shades of emotion without speech. The notebook includes transcriptions from lectures, exercises, and examples. A series of illustrations on the attitudes of the eyeball and the eyebrow testify to the extraordinary physical training the system required. A theory of acting comes through clearly in the repeated emphasis on the "mystical" or "psychological" element of performance: true acting was a function not of imitating the stage antics of a master thespian but of achieving a unity between body and soul that allowed one to manifest a character through perfect control of one's corporeal instrument.

Advertisement from Werner's Directory (1887), p. 383
Sargent's co-teacher was Ida Severn, another former student of MacKaye, who taught at the school in its first years. An 1890 notice in Werner's Voice Magazine called her "one of the leading Delsarte exponents in the country, with few equals and no superior." Married to a salesman, Severn moved to Colorado in 1886, making her debut in Denver as a "singing elocutionist." 
The student was Kathryn Abbott Fischer (1859 – 1939), who does not appear to have made a lasting mark upon the stage. During its first years, the AADA served to provide talent for Charles Frohman's stock company at the Lyceum. Born to a German father and an Irish-American mother, Fischer lived in Terre Haute, Indiana. If she entertained any theatrical ambitions of her own, they likely ended in 1893 when she married Dr. John Reuben Crapo (1850 – 1905), a successful physician and investor.

Indianapolis Sentinel, 8 March 1885, p. 7 
We suspect that Kathryn attended the school chiefly as chaperone to her younger sister, Alice Fischer, who would become one of the leading actors of the era. Alice's talents were recognized by her pastor, Rev. Francis S. Dunham of St. Stephen Episcopal Church in Terre Haute, who had a keen interest in the theater. She was further encouraged by the great thespian Lawrence Barrett (1838 – 1891), who may have been the one to recommend the newly-founded Lyceum Theater School. She was 15 when she left Terre Haute for New York in 1884. As she later recalled: 


My mother had always heard and read about so many actresses dying in garrets -- you know. Well, now, of course the didn't want me to be going and doing anything like that right away -- you know how mothers are!


Kathryn's presence surely assuaged their mother's concerns.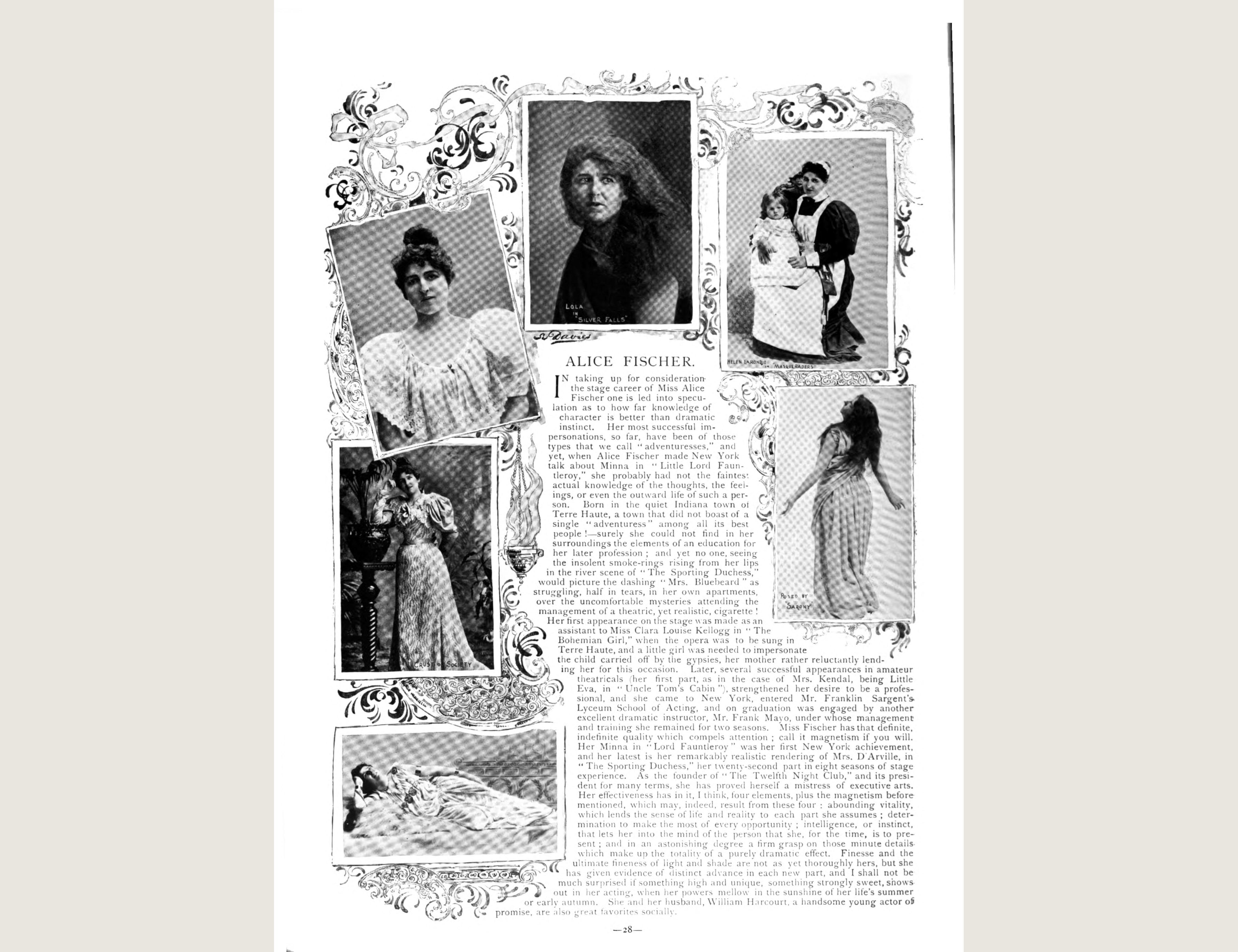 An 1896 profile of Alice Fischer
Alice Fischer graduated from the Lyceum School in 1885, and continued her studies under Frank Mayo (1839 – 1896). Katherine would return to Terre Haute, but Alice would remain in New York. Alice made her Broadway debut debuting the role of Minna in the wildly successful Little Lord Fauntleroy in 1888-89. After touring with Joseph Jefferson (1829 – 1905), she married the Shakespearean actor William Harcourt King (1866 – 1923). In 1891, Alice founded the F.A.D.s (fencing, acting and dancing) as a sister organization to the Lambs Club. It was incorporated in 1893 as the Twelfth Night Club, and continues today as the oldest association for professional women of the theater in the United States.
Although MacKaye planned to publish a series of treatises and exercise books on the Delsarte system, none ever came to fruition, and Sargent himself published only sparingly. Kathryn Fischer's notebook offers unique testimony to the earliest years of theatrical education in America, and insight into the shaping of some of the leading stars of the era.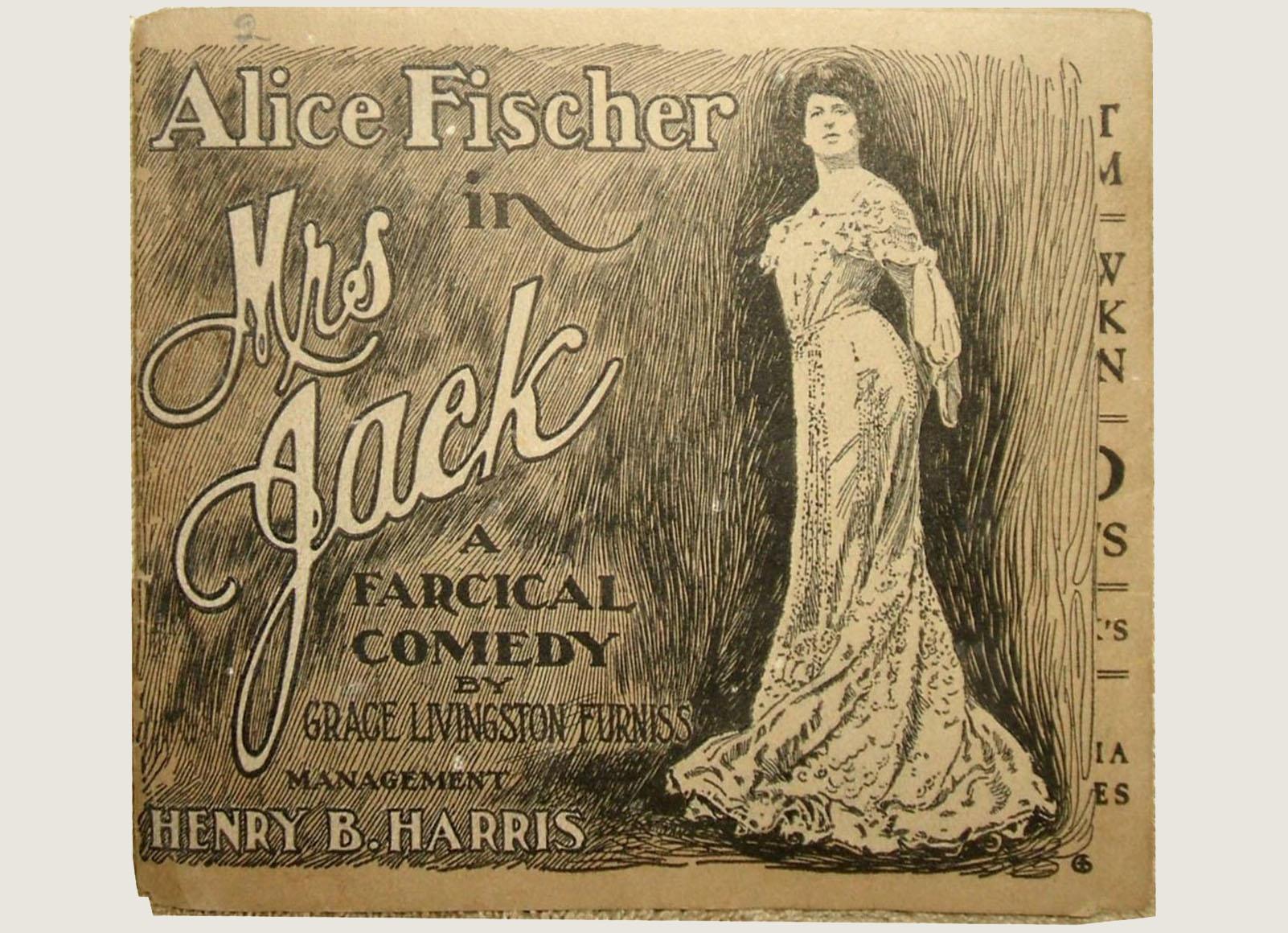 A theatrical souvenir featuring Alice Fischer in a production of 1902
Selected References
Austin, Henry, ed. "Alice Fischer," in Gallery of Players from the Illustrated American, no. 8 (New York: Illustrated American, 1896), p. 28
Brumm, Beverly, A Survey of professional acting schools in New York City, 1870-1970. PhD dissertation, New York University, 1973.
Fischer, Iris Smith. "Theatre at the Birth of Semiotics: Charles Sanders Peirce, François Delsarte, and Steele Mackaye" Transaction of the Charles S. Peirce Society 49 (2013): 371-394.
Franklin, Eleanor. "Exuberant Alice Fischer a healthy star," Leslie's Weekly, 13 November 1901, p. 466.
Hodge, Francis. "The private theater schools in the late nineteenth century," in Karl R. Wallace, ed., History of speech education in America (New York: Appleton-Century-Crofts, 1954): 552-570.
Malinauskas, Mark Jerome, The American Academy of Dramatic Arts: A History, 1884 – 1897.  Ph.D. dissertation, University of Oregon, 1970
McTeague, James H. Before Stanislavsky: American professional acting schools and acting theory (Metuchen, N.J.: Scarecrow. Press, 1993)
Porchea, Paul. The musical history of Colorado (Denver: Charles Westley, 1889)
Ruyter, Nancy Lee Chalfa. The cultivation of body and mind in nineteenth-century American Delsartism (Greenwich, CT: Greenwood Press, 1999)
Wilbor, Elsie M. Werner's Directory of Elocutionists, Readers, Lecturers And Other Public Instructors And Entertainers .... (New York: E.S. Werner, 1887)
The cataloguer gratefully acknowledges the kind assistance of Jon-Michael Hernandez, keeper of records at the AADA,
Recommend this product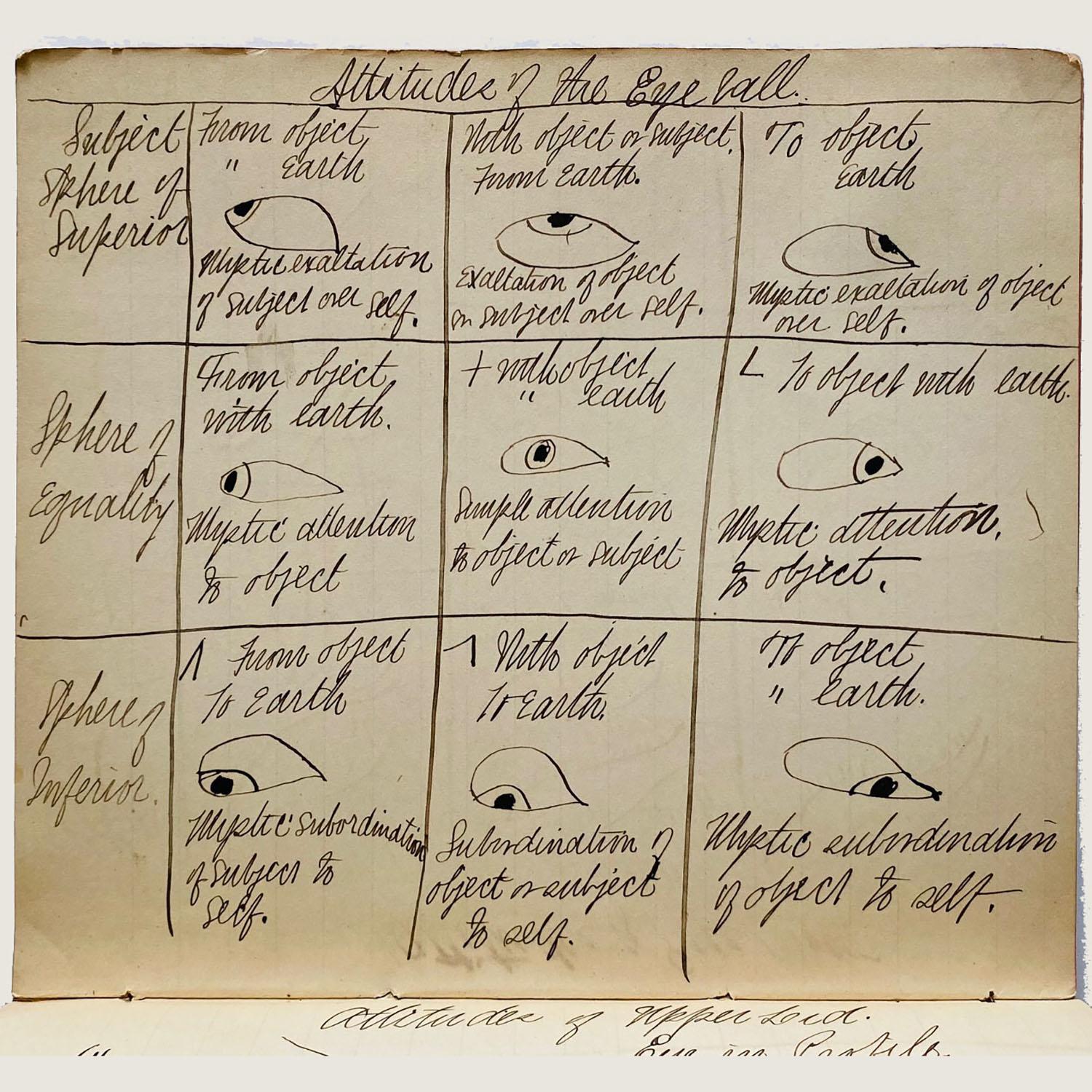 Class notes from the first years of the American Academy of Dramatic Arts