Fenian Portraits of Robert Emmet
McNevin, John (1821-1894). Robert Emmet in the Dock, Street Costume of Robert Emmet and Charlemont House Costume of Robert Emmet. Three original watercolors, probably costume designs for Joseph I. C. Clarke's play, Robert Emmet: A Tragedy of Irish History, circa 1886.  Each about 6 x 19 in. Some foxing.


     A frequent contributor to Harper's Weekly in the 1850s and 1860s, McNevin was born in Dublin. He studied art at the Royal Hibernian Academy and at the age of 19 won both gold and silver medals for historical cartoons. Appleton's Cyclopedia offers a precis of his career:
McNevin. John, painter, born in Dublin, Ireland, in 1821; died in Jamaica, Long Island. N. Y., March 1, 1894. He studied art under Maclise, Macdowall, Mulready, and Landseer, and his first notable work was a large cyclorama of the World's Exhibition in London in 1851. This was followed by a panorama of "London by Night." In the early part of the Crimean War he was sent to the field to sketch for the "Illustrated London News", and also to gather materials for a panorama of the contest. On his return with a large mass of sketches, he had some difficulty with his employers, and as a result he came to the United States. He entered the publishing house of Harper & Brothers, and was among the first illustrators of "Harper's Weekly," becoming a pioneer "special artist on the spot." He was principally engaged on full-page illustrations of notable events.
     Although McNevin's printed work survives, we have been able to trace only one other original example of his art. Comparing these watercolors with his published illustrations, one can see that the artist was ill served by his engravers.
     McNevin specialized in historical subjects and political allegories. His contributions to Harper's include "The Dream of a Secessionist," "No Foreign Intervention," and the diptych, "The Spirits Abroad," contrasting the Spirit of Disunion (below) with the Spirit of Union.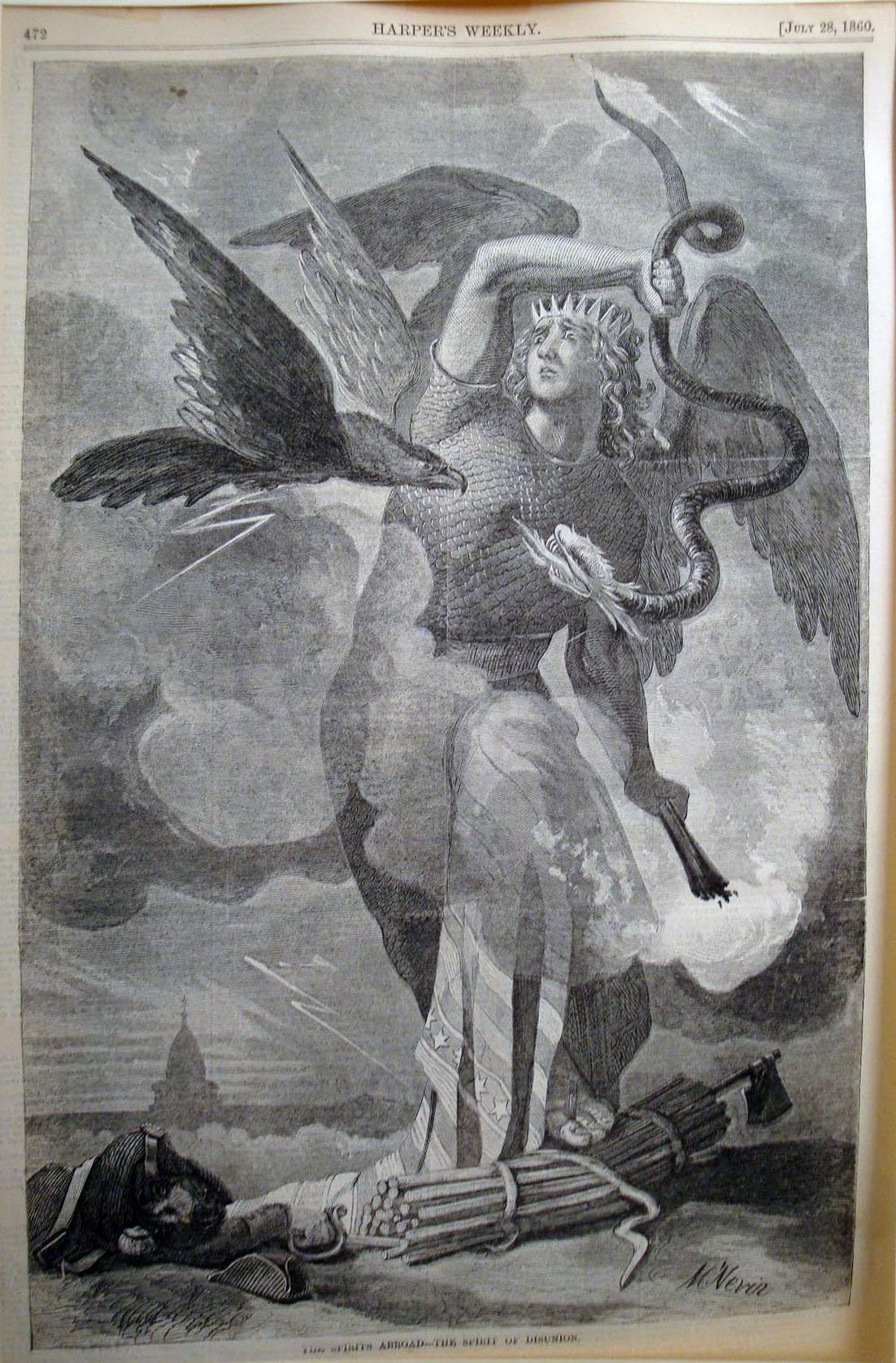 Later McNevin turned to large scale paintings. The Brooklyn Daily Eagle (Aug 28, 1870) printed a long appreciation of his rendition of the Battle of Long Island in 1776. He worked closely with Washington Irving on a companion to the author's five-volume life of George Washington, Illustrations to Irving's Life of Washington to his inauguration as president; Comprising 87 Engravings on Steel, and 45 Wood-Cuts (New York: G.P. Putnam, 1859), which was issued both as a bound volume and as loose plates in a box.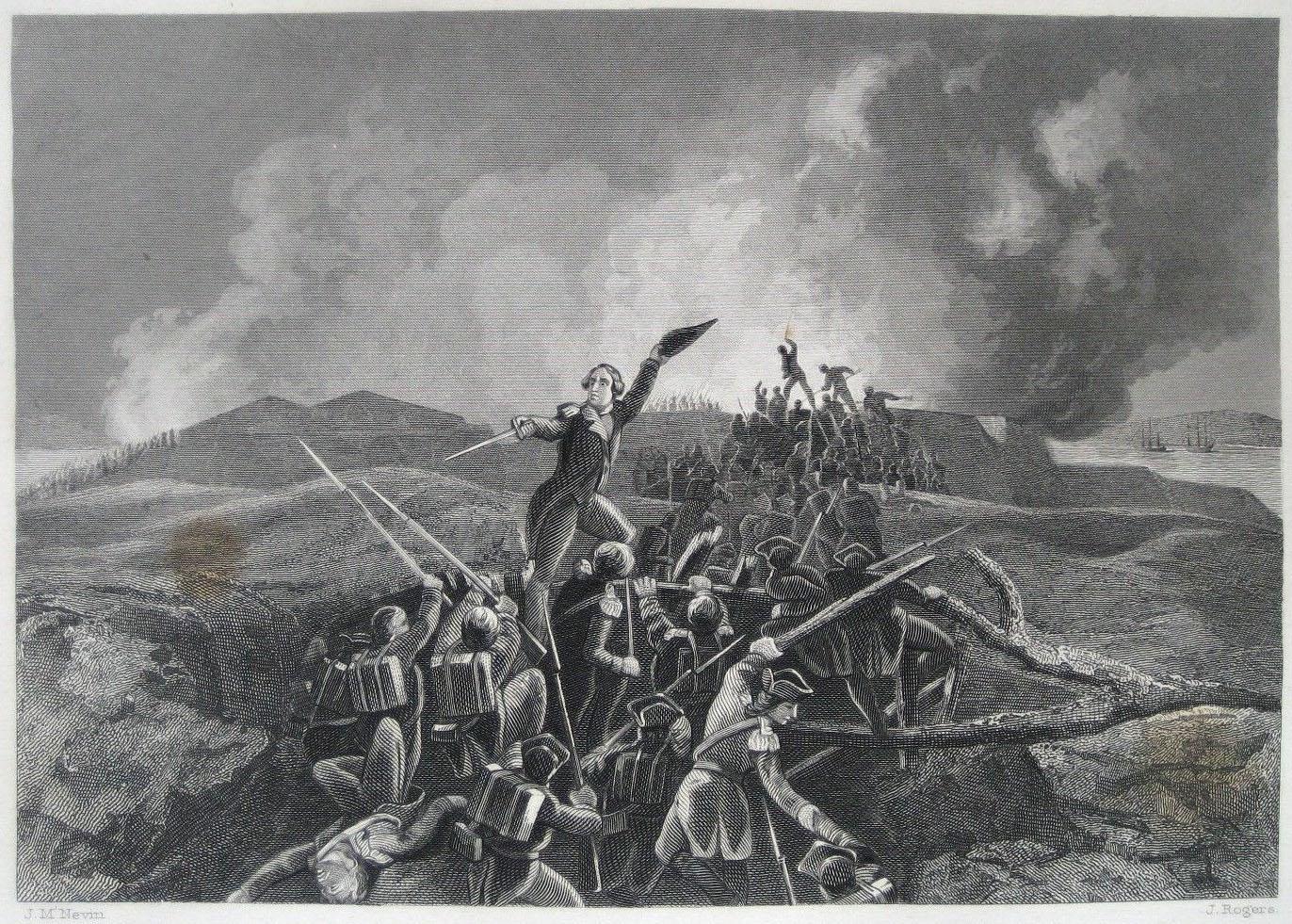 Curiously it was his connection with Washington Irving that eventually helped to lead to the present works. Irving was fascinated with the heroic story of Robert Emmet (1778-1803), the young rebel leader who abandoned the comforts of privilege to fight for Irish independence, and whose brief speech from the dock ("Let no man write my epitath…") continues to be celebrated as a monument of political oratory. Irving's sketch, "The Broken Heart" (1819) helped to shape Emmet's memory by immortalizing the tragic romance between the young idealist and his sweetheart, Sarah Curran.   Irving's source for the story was Emmet's bother, Thomas Addis Emmet (1764-1827), who had emigrated to the US shortly after his brother's execution. By celebrating Emmet's martyrdom, Irving inspired successive generations to embrace the cause of independence.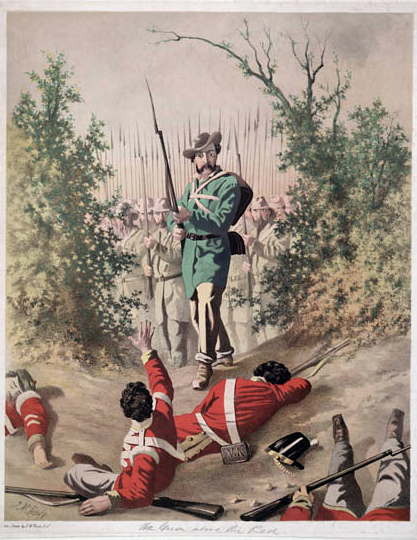 McNevin was among this next generation. He was too young to have known any of the Emmets and the United Irishmen personally (McNevin was a Dubliner, and thus we think it unlikely that he was related to Emmet's comrade William James MacNeven, who hailed from Galway), but he was of the generation that experienced the Young Irelander Rebellion of 1848. At the conclusion of the Civil War, McNevin tapered off his work for Harper's Weekly and turned his attention to Irish subjects. His "The Green Above the Red" (above) depicts an imaginary incident during the 1866 Fenian Raids on Canada. His cover for the sheet music of Thomas Davis's composition, "Fenian War Echoes" (below) presents the struggle in mythic term, with Fionn mac Cumhaill vanquishing the British lion.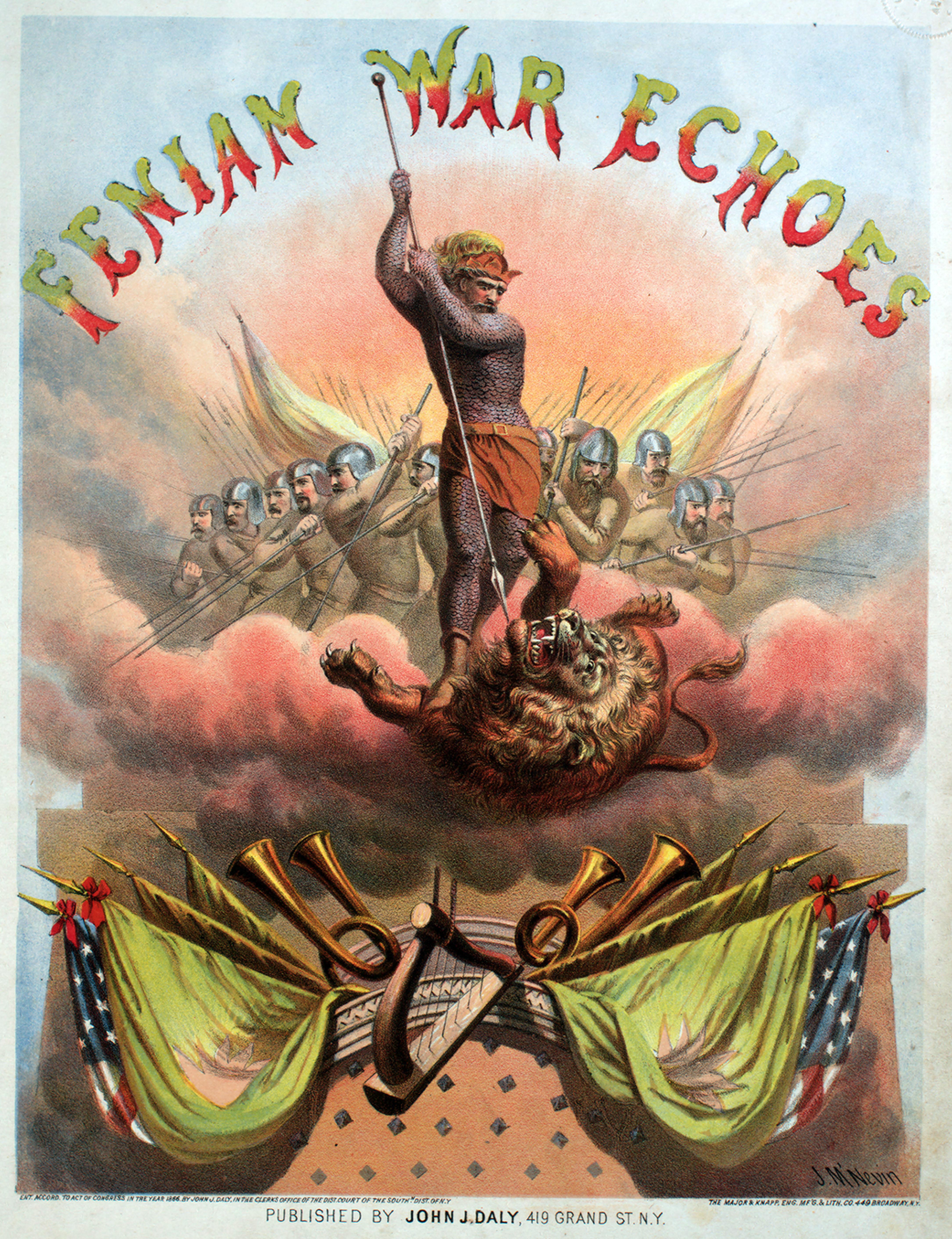 The three watercolors on offer are the product of McNevin's nationalist vision. We think that they were costume designs for Joseph I. C. Clarke's play, Robert Emmet: A Tragedy of Irish History (New York: G. P. Putnam, 1888). There are no relevant illustrations in the book, so these would likely have been for the stage production. The titles to the illustrations offer the clues.
     The first, "Robert Emmet in the Dock," has no resemblance to other prints depicting that episode, which tend to highlight his audience. "Street Costume of Robert Emmet" likewise has no iconographic precedent. The third picture has the following legend:
Charlemont House costume of
Robert Emmet:
"Let Erinn [sic] remember the days of old" --
Sarah Curran solo
Lord Charlemont is a minor figure in histories of Emmet, but he is one of the significant dramatis personae of Clarke's play. In the play, Sarah Curran somewhat anachronistically sings the air that Thomas Moore wrote in 1808 (cf. p. 21).
     Joseph I. C. Clarke (1846-1927), a journalist and playwright who would later serve as President-General of the Irish American Historical Society, was a member of the Irish Republican Brotherhood in New York City, a fraternal organization better known as the Fenians. In his preface to the play, Clarke acknowledges the help of Robert Emmet's nephew, Thomas Addis Emmet (1828-1919), who let him examine family papers and relics. The younger Emmet was also a member of the Irish Republican Brotherhood, and we suspect McNevin was too.
     The product of his association with Washington Irving, members of Robert Emmet's family, and fellow expatriates in the Irish Republican Brotherhood of New York City, McNevin's portraits are important relics of Robert Emmet's legacy specifically within the American diaspora, and the ways in which his memory continued to be an energizing force for those dedicated to the cause of Irish independence.
Selected References
"Death of John McNevin: A Man Who Sketched Battle Pictures in Two Wars," Brooklyn Daily Eagle, 1 Mar 1894, p.1
"John McNevin," Appleton's Annual Cyclopedia, vol 19 (1894), p. 588.
Ruan O'Donnell, Remember Emmet: Images of the Life and legacy of Robert Emmet (Wordwell, 2003)
Catherine Hoover Voorsanger, Art and the Empire City: New York, 1825-1861 (Metropolitan Museum, 2000)
Recommend this product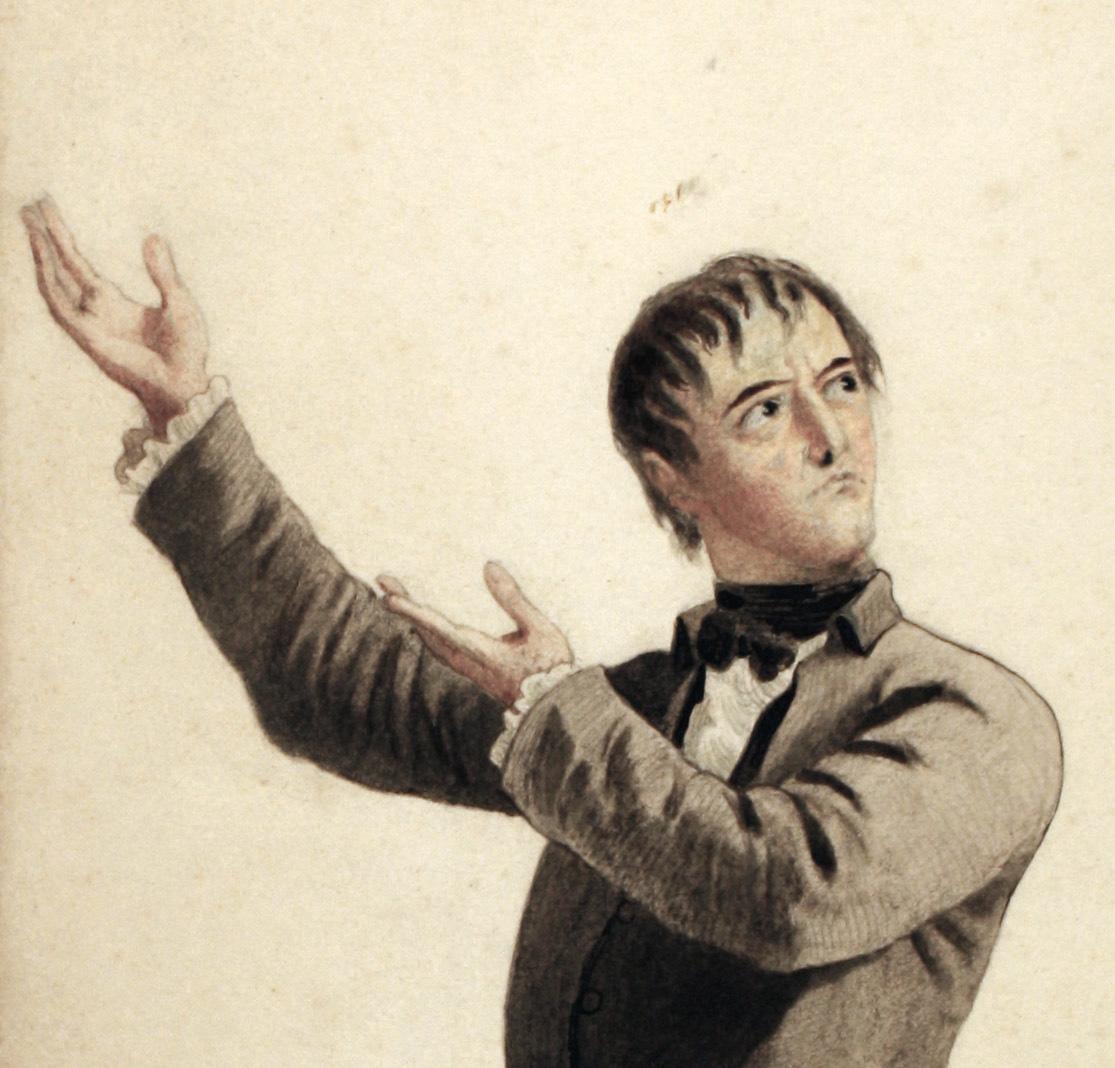 Fenian Portraits of Robert Emmet