Elton Hayes and Lawrence Edward Watkin: Disney's Robin Hood, screenplay and music archive (1952)
Hayes, Elton (1915 – 2001) and Lawrence Edward Watkin (1901—1981). Archive of production material from the Disney film The Story of Robin Hood and His Merrie Men, including Hayes's original drafts of Whistle, my love and other musical numbers, and the first draft of Watkin's screenplay. Holograph sheet music, typescripts, manuscripts and duplicated material, 1950-1952. Housed in an archival case, 0.5 linear feet.
An archive of unique materials for Disney's production of Robin Hood from the files of Elton Hayes, the folk balladeer who played Alan-a-Dale in the film. His original compositions, some of which were scripted by the screenwriter Lawrence Edward Watkin, provided the movie with its essential structure, acting as a framework for the action.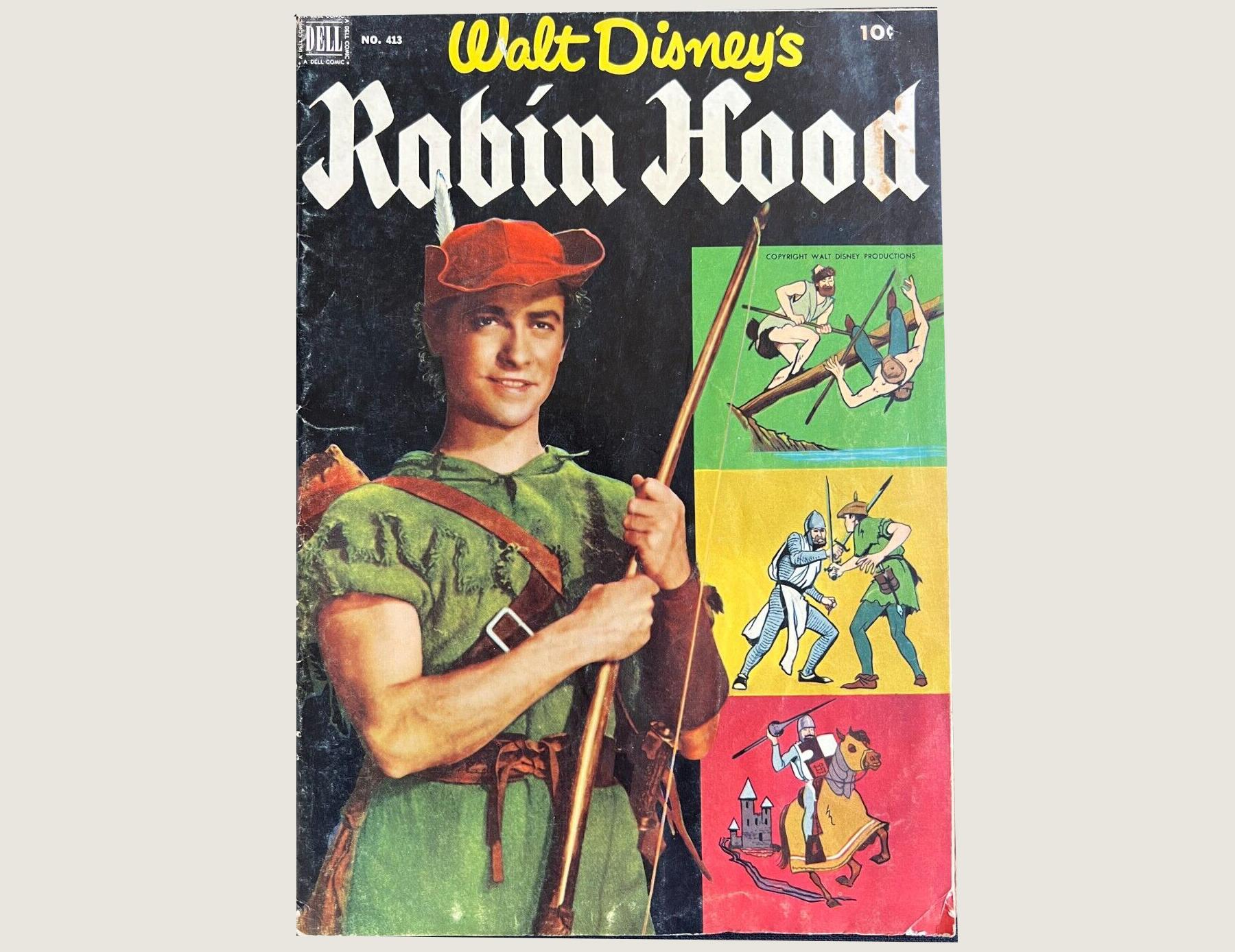 Richard Todd was featured on the cover of this 1952 comic adaptation of the film (included with the archive)
So dominant in the cultural imagination is the 1973 Disney animated version of Robin Hood that one may be forgiven for forgetting that it was not the studio's first take on the legend. Filmed in Buckinghamshire, The Story of Robin Hood and His Merrie Men was Disney's second live-action film. Watkin had also written the first, Treasure Island (1950). He would go on to scripted a number of other Disney movies, including The Great Locomotive Chase (1956) and Darby O'Gill and the Little People (1959). Directed by Ken Annakin, known for comedy adventure films, Robin Hood starred Richard Todd in the title role.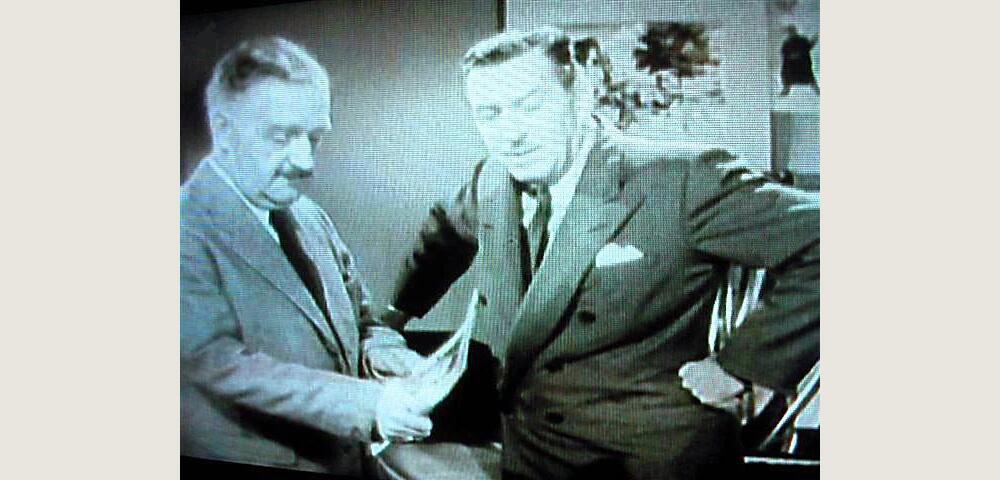 Perce Pearce and Walt Disney in The Riddle of Robin Hood, a 1952 short to promote the film
As Annikin later recalled, Walt Disney and his producer Perce Pearce were determined that the production would be as authentic as possible:


It would be the fourteenth version of Robin Hood to be put on film, but the new production was to be shot in glorious Technicolor – a luxury in 1952; cast with top British actors and shot mostly in Sherwood Forest and Nottingham Castle.
"It's going to be far less corny than all the previous versions," [Pearce told me] "and truly based on the old legends and historical records that Larry Watkin and our Research Department have been digging out for months." …
Walt put his arm around my shoulder and walked me away. "I hope you're not going to be cynical about these fine old English characters. They're classics, you know, and I don't want them spoofed." (Anniken, pp. 45, 47)


Watkin's original screenplay, included in this archive, was the result of this research. As he explains in his autobiography, Disney was ambivalent about the project until he saw an early draft:


Walt had at one point almost canceled Robin Hood until I had given him seventy pages of screenplay. He was surprised that I was that far along and that the screenplay was that good. So, he let us go forward with a happy result. (Watkin, np)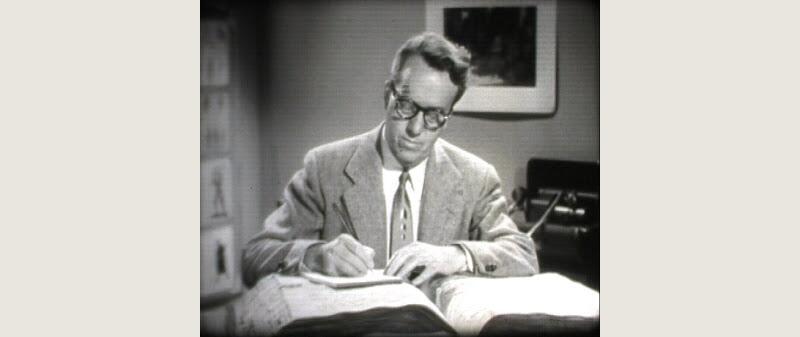 Lawrence Watkin in The Riddle of Robin Hood
Happy indeed. The Story of Robin Hood and His Merrie Men would be one of the most popular releases in England in 1952, eventually grossing over $4.5 million at the American box office. Its cultural impact was felt throughout the 1950s and 1960s. As one historian has noted, the film "provided the template" for the popular television series The Adventures of Robin Hood, which adapted the use of "sung ballads as a structuring device" (Chapman, np). The 1973 Disney animated version would imitate the narrative device, with Roger Miller reprising the role of Alan-a-Dale.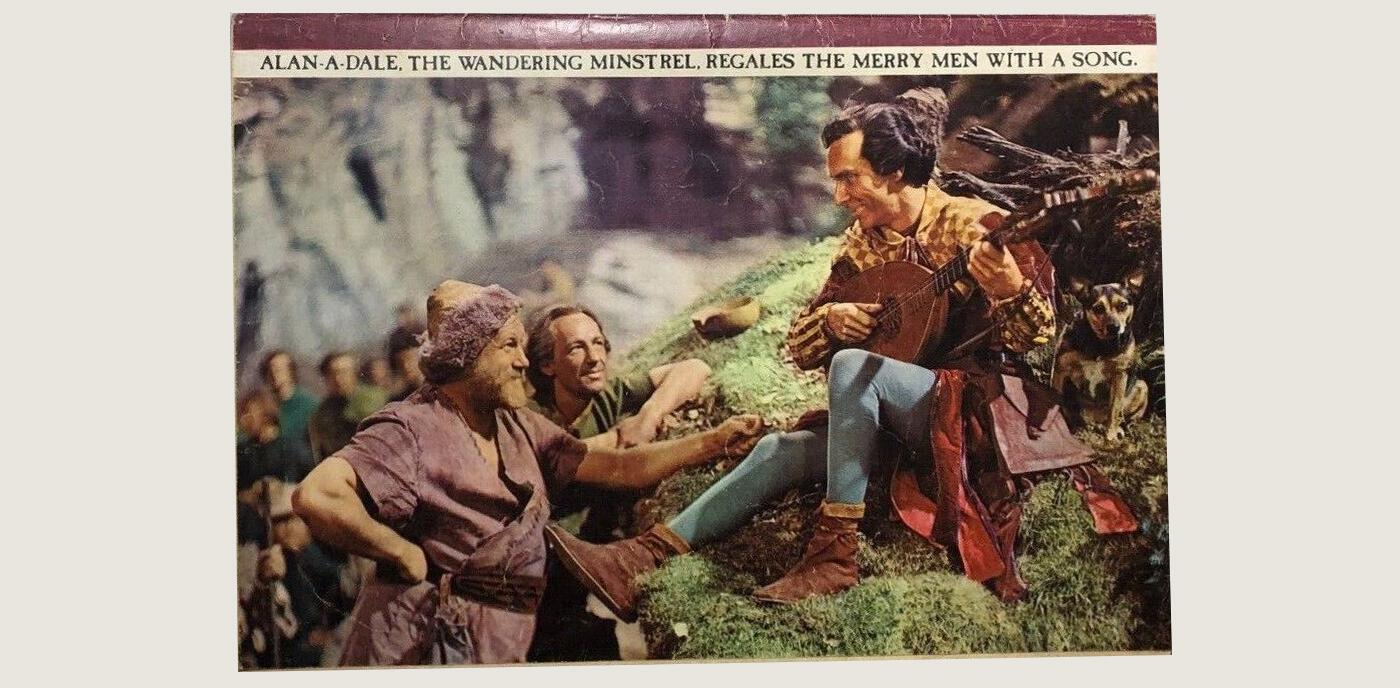 Elton Hayes as Alan-a-Dale graced the rear cover of the 1952 Dell comic adaptation (included)
The character of the wandering minstrel Alan-a-Dale was intended as homage to the origins of the Robin Hood mythos in the lyric narrative poetry of the troubadours. Hayes and Watkin worked closely together; the screenwriter wrote the framing ballads, and Hayes composed the music, drawing upon the melodies of medieval English for inspiration. Hayes also wrote and composed several original songs for the film, including the minor hit, "Whistle, My Love." Hayes and Watkin's Robin Hood ballads were issued on record and used again in a later Disney feature, Enchanted (2007). In his autobiography, Watkin described their work together:


Perce and I had taken in one of the London plays, and a very good actor with a pleasant voice came out between scenes and played upon an ancient mandolin-like instrument a tiny scrap of verse that set the next scene. I suggested that we add that actor to Robin's merry men and let him do the same for us, helping cue the audience into the next section. He joined us. I would compose a jingle:
Now Robin, who is called Fitzooth,
Is dwelling in the wood;
His cloak is changed to Lincoln green
His name to Robin Hood.
Then the singer, Elton Hayes, would dig up a tune for it from the British Museum, and we had a substitute dissolve. One that Walt particularly liked was:
He robs the rich to pay the poor,
A most unusual practice,
And what is even more remarkable
He doesn't pay his taxes.
(Watkin, np)


The present archive offers extensive documentation of Watkin and Hayes's work on the music for the film. There is also material from veteran songwriters Edward Pola and George Wyle, who wrote the final versions of the film's two stand-alone songs, and musician Murray Browne, who contributed additional lyrics.
Elton Hayes made a huge impact on youthful listeners in the 1950s. He surfaces repeatedly in the memories of other musical luminaries. In an interview, Paul McCartney revealed that his song "Little Child," first released on With the Beatles (1963), drew from Hayes's work.


I nicked a bit of melody from one of his tunes. "I'm so sad and lonely," that little bit came from a line: "Whistle, my love, and I will come to thee, I'll always find you …" It's actually not the same tune, but in my mind it was a quote from Elton Hayes. I think it was from a Robin Hood film, it was all "thee" and "thou's." … Certain sons were inspirational and you just followed that. (Miles, p. 153)


Judy Collins recalled that she was "14 and a half, maybe 15. I happened to turn on the radio, and I heard Elton Hayes singing 'The Gypsy Rover' … 'The Gypsy Rover' ignited my folk music career" (Thompson, 196-97). Van Morrison remembered that "The first person I ever saw perform was Elton Hayes. He was singing 'Mr. Froggy' and then I never saw him again. He was in the Robin Hood film – and he sang in that" (Rogan, p. 510). When Reginald Dwight adopted the name Elton John in 1968, Hayes was one of his referents (Crimp, p. 41).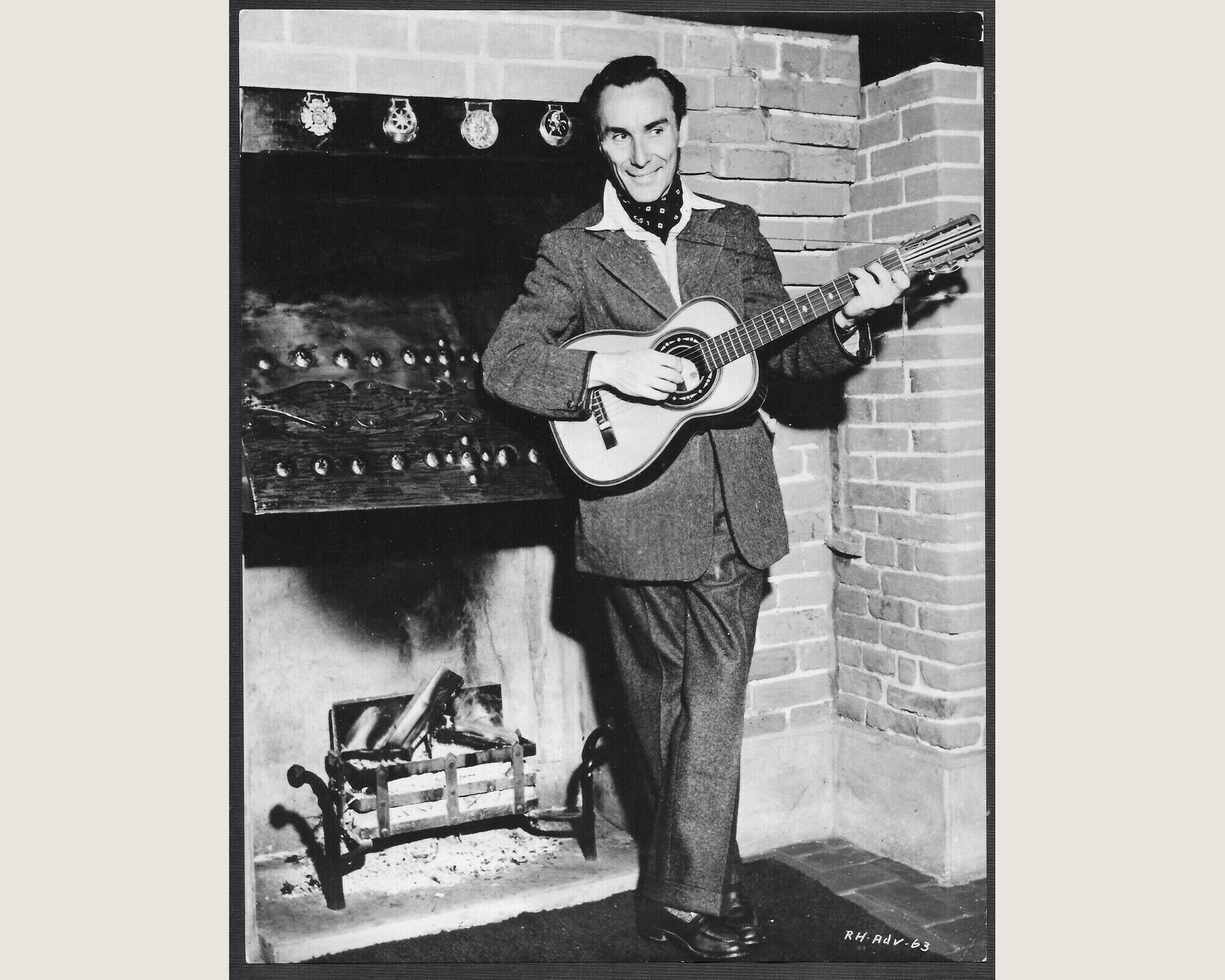 Elton Hayes with his small guitar in a 1952 publicity photograph (included with the archive)
Elton Hayes was born to the stage – both of his parents were actors – and attended the Fay Compton School of Dramatic Arts, Alec Guinness's alma mater. Returning to Britain after military service in India during World War II, he was enlisted by the BBC to write and perform musical version of Edward Lear's nonsense poems. The Story of Robin Hood and His Merrie Men was his breakout role. He continued to perform throughout the 1950s, issuing several records and starring in a television show in which he "sang to his small guitar." But he left stage and screen in the early 1960s, retiring to private life to take up farming.
The present archive collects Hayes's manuscripts and other production materials relating to The Story of Robin Hood and His Merrie Men. The archive includes an original script for the movie, as well as the holograph orchestral score for "Whistle, my love," and draft scores and typewritten lyrics for the "Robin Hood Ballads," "Come Sing Low," and other musical numbers. Production notes, printed sheet music, the programme for the world premiere, and a comic book adaptation of the film (supplied) round out the archive.

Selected References
Annakin, Ken So you wanna be a director? (Tomahawk Press, 2001)
Chapman, James. Swashbucklers: the costume adventure series (Manchester University Press, 2015)
Crimp, Susan, The many lives of Elton John (Hale, 1993)
Miles, Barry. Paul McCartney: many years from now (Holt, 1997)
Rogan, Johnny. Van Morrison: no surrender (Vintage, 2006)
Thompson, Dave. An evolving tradition: The Child Ballads in modern folk and rock music. Rowman & Littlefield, 2023
Watkin, Lawrence Edward. Larry Watkin: a memoir of an American man of letters. Pulp Hero Press, 2018
---
Recommend this product

Elton Hayes and Lawrence Edward Watkin: Disney's Robin Hood, screenplay and music archive (1952)