"possibly the most beautiful set of 12 anti-suffrage cards ever" (1909)
Dunston-Weiler Lithograph Company.Anti-Suffrage Postcards. [New York]: Dunston-Weiler Lithograph Co., 1909. Complete set of 12 postcards lithographed in color; 14 x 9 cm. Corners bumped: very good condition.
     Heralded by one connoisseur as "possibly the most beautiful set of 12 anti-suffrage cards ever," these cards are remarkable not only for their beauty of design and quality of reproduction, but also for their startling gender politics. Communications scholar Catherine Helen Palczewski has described this series thus:
In 1909, at the height of the woman suffrage controversy and during the golden age of postcards, the Dunston-Weiler Lithograph Company of New York produced a twelve-card set of full-color lithographic cartoon postcards opposing woman suffrage. Although many companies produced series of woman suffrage related postcards,  the Dunston-Weiler set is noteworthy for its graphic appeal.  The postcard images reflect, and depart from, verbal arguments concerning woman suffrage prevalent during this period. They reflect arguments against suffrage that highlighted the coarsening effect the vote would have on women. The postcards also present an argument that was absent in the verbal discourse surrounding suffrage: that men (and the nation) would become feminized by woman suffrage. Accordingly, these postcards offer a productive location in which to explore how the icons of the Madonna and Uncle Sam, as well as non-iconic images of women, were deployed to reiterate the disciplinary norms of the ideographs of <woman> and <man>.
     The images show men in oppressive domestic situations, the tables thoroughly turned. A grim female Uncle Sam glowers in one card, a man scrubs the wash in another. One third of the cards depict men caring for children as a sign of social dysfunction; "What is a suffragette without a suffering household?" reads one. There is an image of a policewoman ("suffragette coppette") wielding a rolling pin. In another, a man holding two squalling babies wonders "where is my wandering wife tonight?," a reference to a maudlin popular song with roots in the Temperance movement. The first card in the series pictures a male Madonna. The last depicts a female tomcat. In this, a woman curves to glance backwards seductively. The legend -- "I love my husband but Oh You Vote" references a comic song of the era celebrating adulterous flirtation. The implication is clear: with the right to vote will come a reversal of the sexual double standard.
     Although individual examples of these postcards surface on occasion, the complete set is difficult to assemble.
References
Palczewski, Catherine Helen. "The Male Madonna and the Feminine Uncle Sam: Visual Argument, Icons, and Ideographs in 1909 Anti-Woman Suffrage Postcards." The Quarterly Journal of Speech 91.4 (November 2005): 365-394.
Recommend this product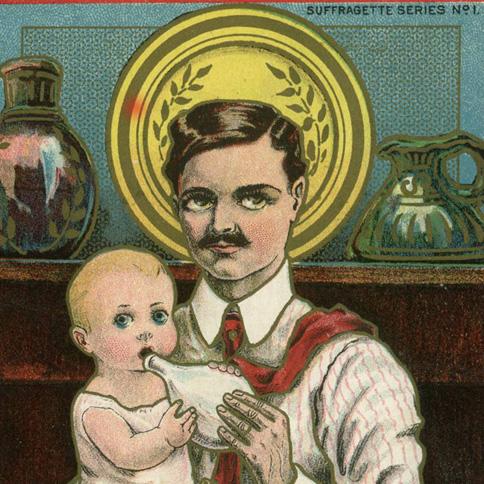 "possibly the most beautiful set of 12 anti-suffrage cards ever" (1909)