Commonplace book from a Lowell Bookstore, 1839
[Franklin Bookstore, Lowell] Walter B. Foster and Charles S. Gregg. Excerpta Selectissima. "Franklin Bookstore April 1st 1839 Lowell Mass." Manuscript, comprising about 17 pp. in a slim, ruled notebook of 20 leaves, bound in marbled boards with leather spine. 8 x 6½ in. Toning and foxing to pages, minor cover wear, very good.
     A slim commonplace book maintained by two clerks at the Franklin Bookstore of Lowell, Massachusetts, offering a charming glimpse into the lives of bookshop personnel in the 1830s.
     The Franklin Bookshop, on Central Street in Lowell, was operated by Bernard Mathewson and Randall Meacham. The latter was a printer who had gotten his start in Pawtucket Rhode Island, where he had served as an editor of the Pawtucket chronicle and Rhode Island and Massachusetts register. The earliest record of the bookstore is in the 1832 Lowell directory.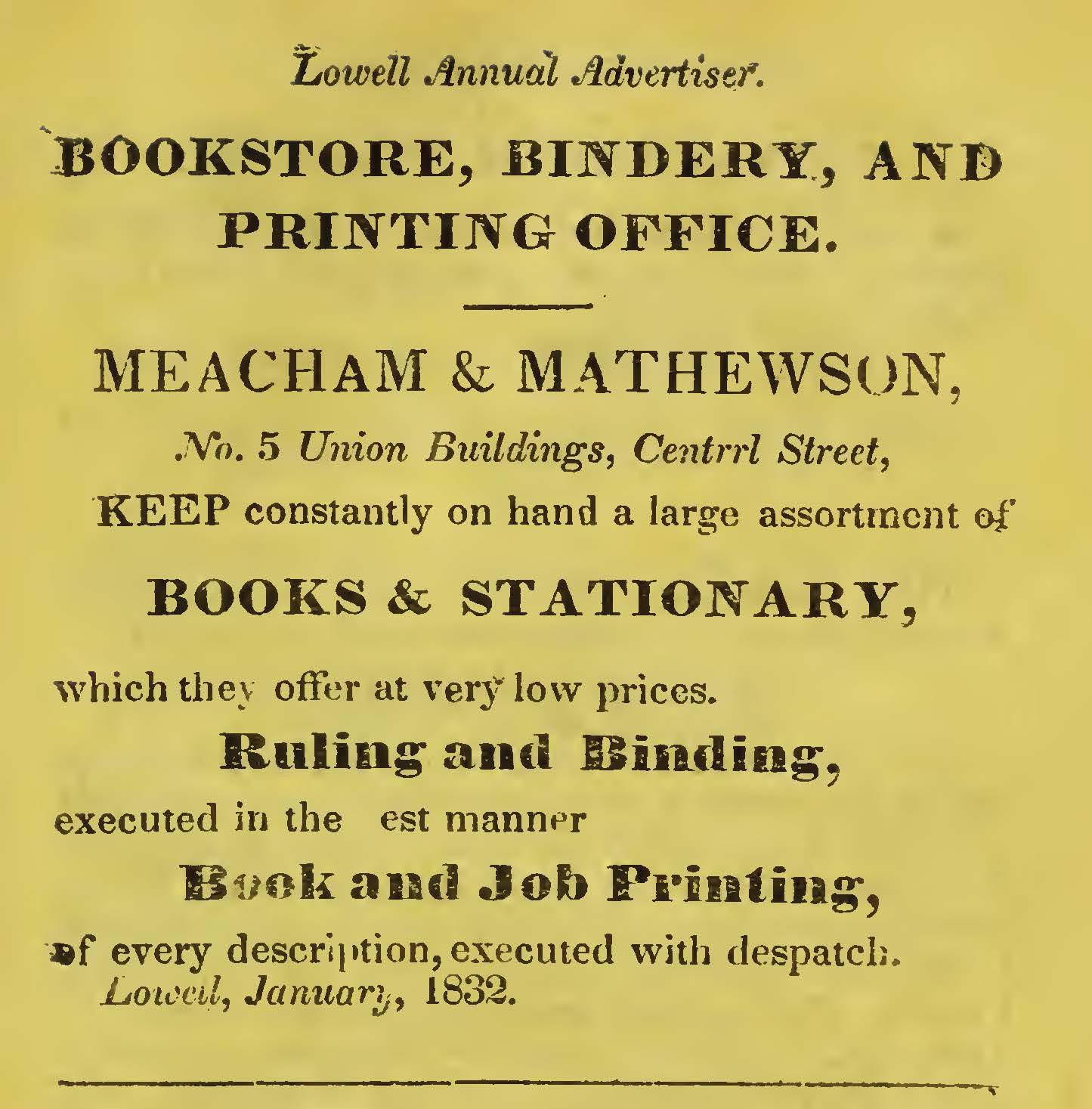 Lowell directory, 1832
      The Franklin Bookshop published several volumes and broadsides between 1832 and 1834, including a hymnal, several sermons, and Laura Lovel: a sketch -- for ladies only, by Eliza Leslie, who was renowned for her cookbooks. Mathewson's departure in 1834 or 1835 might have put an end to the publishing program. Meacham continued as sole proprietor of the Franklin Bookshop on Central Street. In 1837, Meacham sold the business to Oliver March, who would run the store for twenty years until his unfortunate demise.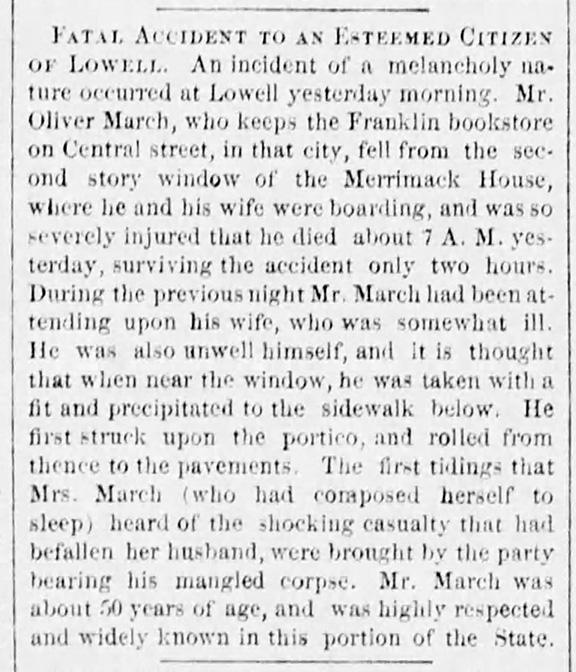 Boston Evening Transcript, 7 September 1857, p. [2]
Meacham hired his first clerk, Charles W. Holmes, soon after his partner's departure.

Lowell directory, 1836
When Holmes left, Meacham took on Walter B. Foster, who is listed as a clerk in Lowell directories from 1837 to 1839.  

Lowell directory, 1839
In August 1837, when Meacham sold the business to March, he entrusted Foster with the responsibility of settling his accounts.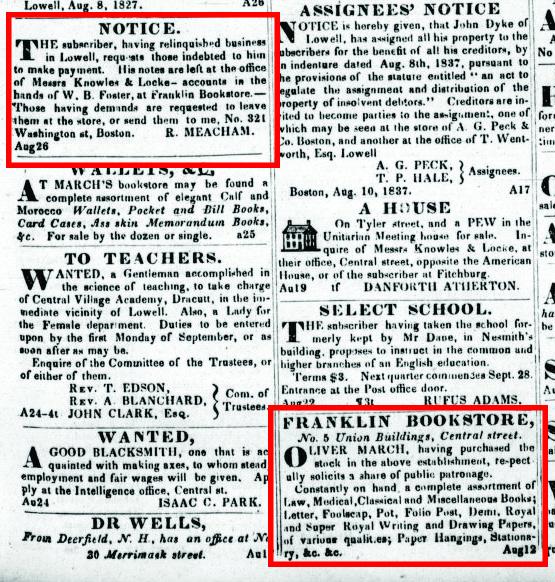 Lowell Courier, 29 August 1837, p. [3]
     Foster continued at the Franklin Bookshop under March, but left the store -- and Lowell -- in 1839. As the 1840 city directory makes clear, Foster was replaced by Charles S. Gregg. He was possibly the eldest child of the Charles Gregg who is listed in the directories of the 1830s variously as a blacksmith, a machinist, and the proprietor of an Iron Foundry. The younger Gregg appears in the 1840 directory.

Lowell directory, 1840
     This commonplace book appears to have been started by Foster and completed by Gregg. It contains 17 pages of manuscript, consisting primarily of copied prose and poetry and augmented by an occasional calligraphic exercise. Most of the entries are dated (e.g. "Lowell March 1839"). Foster's mild complaint ("Bah! Bah! Bah! / Pensmanship !!!!!") might suggest that keeping the commonplace book was an exercise that his employer encouraged.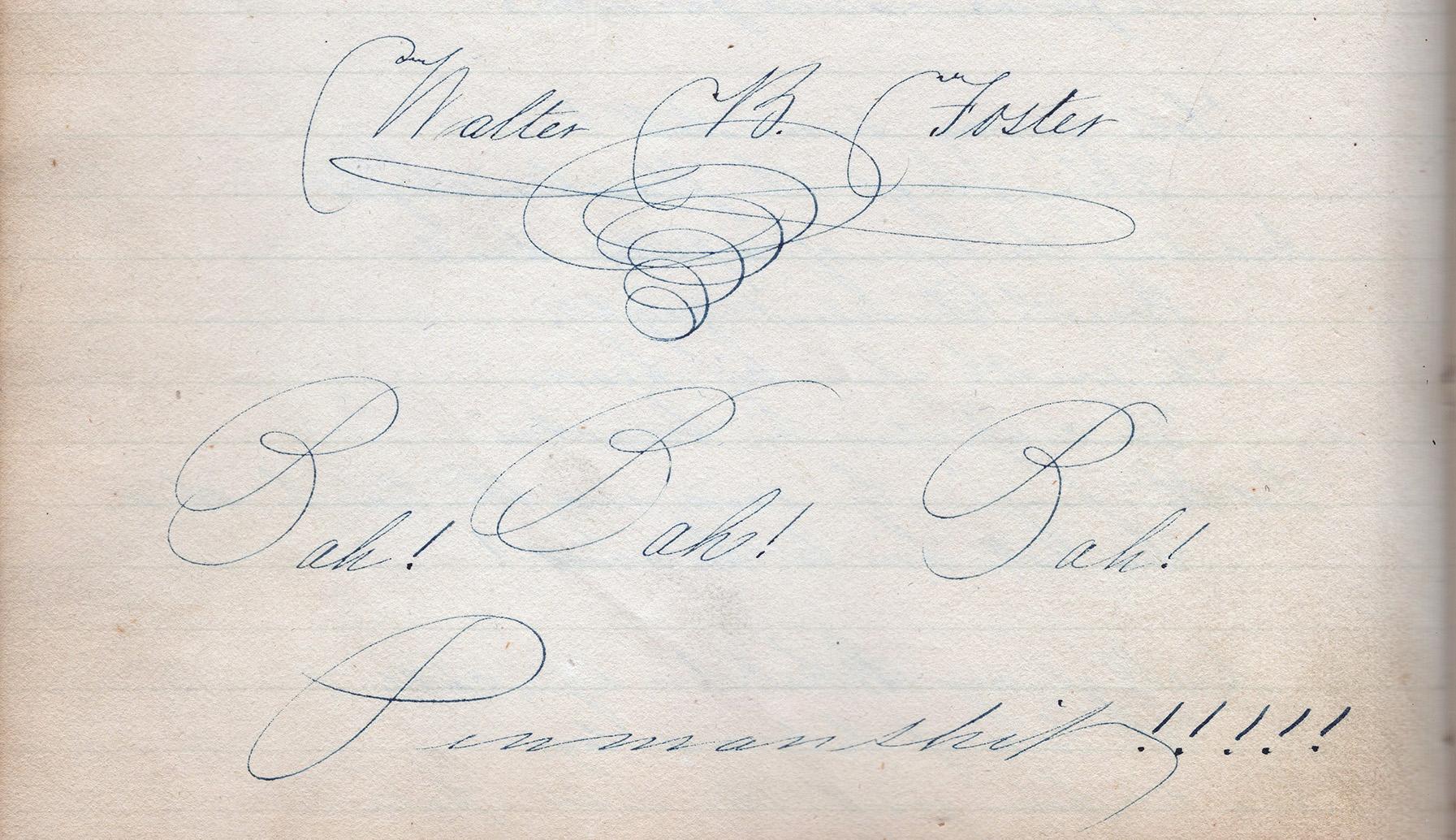 Perhaps unsurprisingly given the fact that the clerks were both young men in Lowell, a city teeming with young women, most of the selections are of a romantic nature. These include "The stolen kiss," a dramatic scene by Mary Russell Mitford, "Woman" ("And such is woman! Mystery at best"), pubished first in the Rural Respository for 1827, and a mildly erotic poem, "The Kiss" (Oh no -- oh no -- for shame! pray not so fast!"), likely copied from the 1838 volume of Atkinson's Casket (p. 132). There are also a few martial selections, including the first stanza of the poem "West Point" ("Bright are the memories linked with thee..."), and Alaric Alexander Watts's acrostic poem, "The Siege of Belgrade." Most of the works are attributed to a collection that we have not traced, Recueil de morceaux choisis, by I[saac?] Pitman.
     A fascinating and evocative artifact of the American book trade.
Recommend this product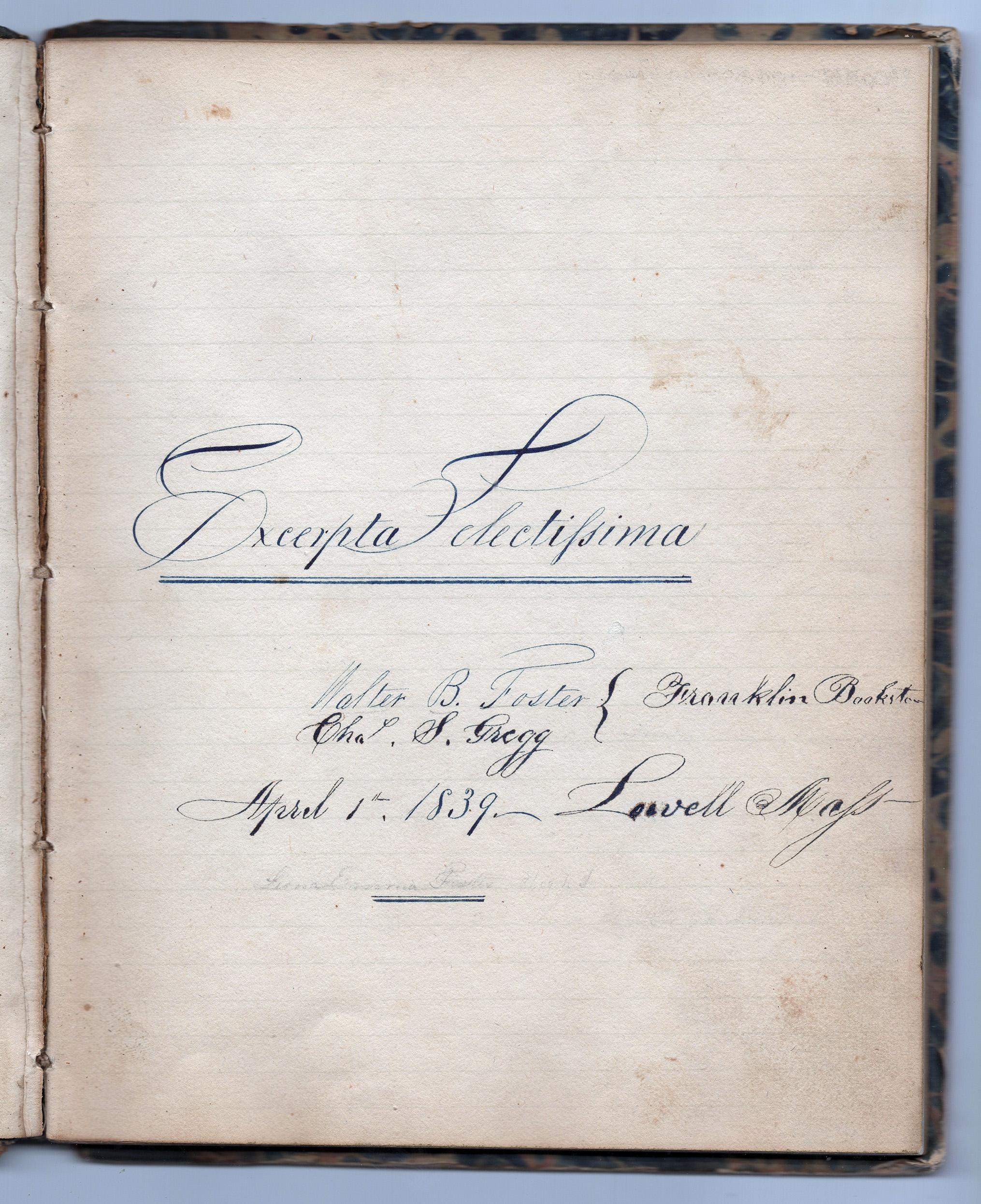 Commonplace book from a Lowell Bookstore, 1839