If Only Heaven Were Like Boston!
Gibson, Charles Dana.So you think Heaven is like Boston, do you?, 1891.  Original Pen & ink illustration on paper, boldly signed in the verso, 412 x 435 mm; 16¼ x 17⅛.  Paper slightly discolored, with offsetting from original mat and mounting residue along upper and lower registers.
     A fine cartoon from early in the career of the Charles Dana Gibson (1867-1944). Although later famous for his development of the archetype of the beautiful, spirited, independent, and witty young woman who would come to be known as Gibson girl, his reputation was initially built on gentle satires of the privileged classes. He was widely regarded as the American parallel to George du Maurier, who lampooned England's upper crust for Punch.  Gibson suffered somewhat from the frequency of the comparison, which declined quickly once his rival obligingly died in 1896. The young Gibson might also be seen as the impish analogue to John Singer Sargent.  Like Sargent, the cartoonist was a Boston Brahmin through and through, descended from such blue-blooded families as the Brattles, Cottons, Danas and Saltonstalls, and cousin to Henry Adams, Francis Parkman, and Henry Cabot Lodge. His sister in law was the Viscountess Nancy Astor, who would serve as Britain's first female M.P.  But where Sargent executed magisterial portraits of the cream of society, Gibson calmly skewered their pretensions.
     The present work was originally published in the August 13, 1891 issue of Life (a copy of which in original wrappers is included).  The drawing is a prime example of the artist's early style and wry wit. The detail is exquisite: the spotted dress richly folded, the Chippendale chairs finely turned. The hair of the staid prelate shines with pomade that might have been better applied to his brow. His jutting nose and chin, rendered larger by the smallness of his eyes, are nicely balanced by his enormous ear.  He extends his hand in a gesture both pedantic and futile as he reaches for topic to engage the bored matron, who rolls her eyes not only away from him but also from the open volume on his lap. The caption read:
Bishop Gullem:  So you think Heaven is like Boston, do you?
Mrs. B (from the Hub): Oh of course not exactly; I don't expect too much.
     The gag was good enough to be reprinted widely in periodicals far from that blessed city. The papers of record in such diverse municipalities as Brooklyn, Chicago, San Francisco, Salt Lake City, Chillicothe, Missouri, and WaKeeney, Kansas, all published the lines without the accompanying illustration.
     Bishop Gullem was – along with Jonathan Trump, Penelope Peachblow, and Dolly Flicker, was a recurring character in Gibson's early illustrations.  As the Chicago Tribune noted in 1894, "the model of Bishop Gullem, the cheerful, worldly prelate, who appears so frequently in Mr. Gibson's cartoons, is the artist himself. By stretching his lips he produces the characteristic appearance of the bishop's mouth. The wrinkles and bald head are supplied from imagination."
     Although Gibson sold his first work to Life in 1886, his earliest work seems not to have survived. The late Walt A. Reed of Illustration House identified an illustration from the May 15, 1891 issue of Life as "his earliest known cartoon." This one appeared only a few months later. Gibson's originals have always been in great demand.  In 1903, Collier's paid the artist $1000 for each illustration he allowed them, and he sold the originals for as much as $3000 apiece.  So much for inflation!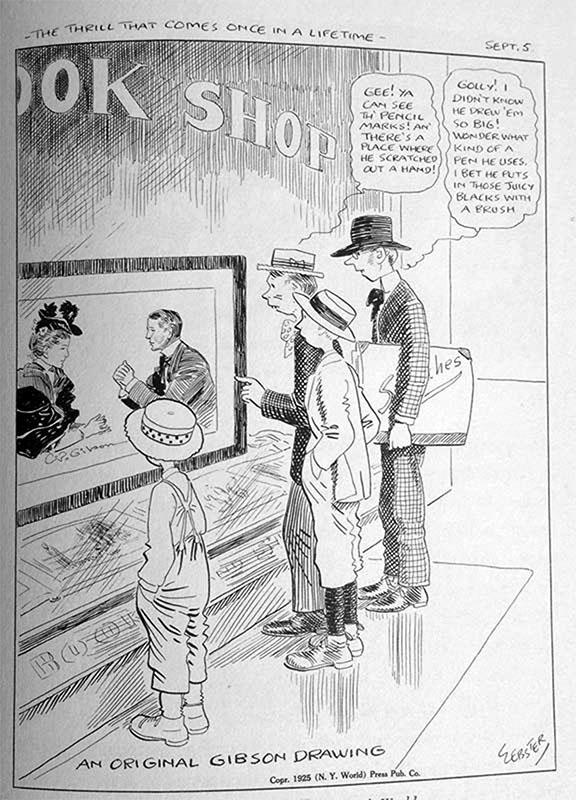 Selected References
Fairfax Downey, Portrait of an Era as Drawn by C.D. Gibson (Scribner's, 1936)
Vera McHenry Klein, "Charles Dana Gibson: A Study of an Artist as a Social Historian," (M.A. Thesis, California State University Northridge, 1978)
Chicago Tribune, "A White City Model" (December 29, 1894, p. 16; March 4, 1895; Public Opinion, 11 (1891): 469; Chillicothe [Missouri] Constitution, September 9, 1891; Brooklyn Daily Eagle, August 23, 1891; Western Kansas World, November 18, 1893; Dalles [Oregon] Daily Chronicle, August 26, 1891; etc.
Recommend this product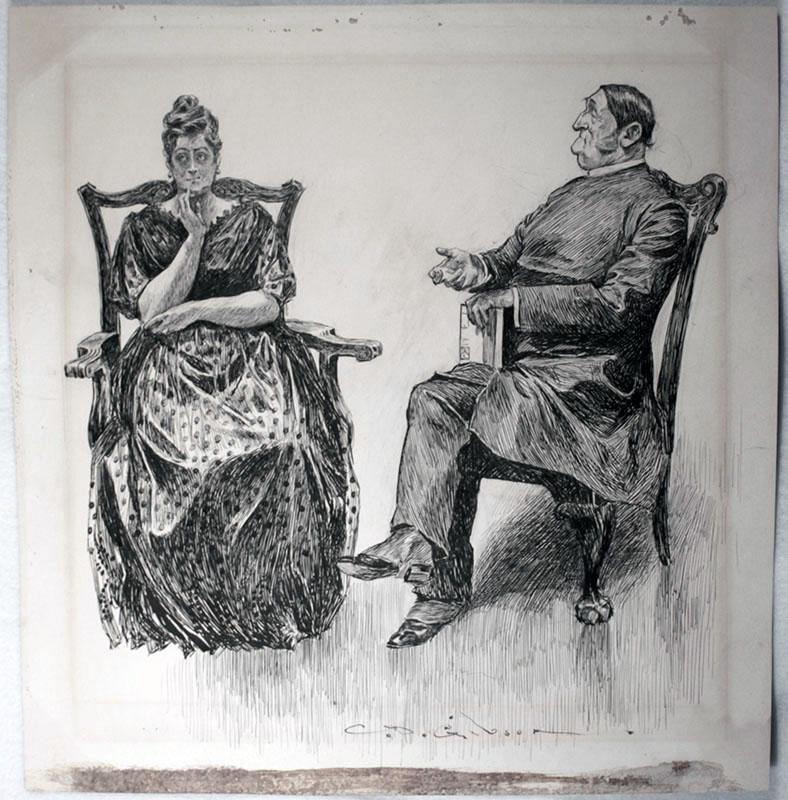 If Only Heaven Were Like Boston!