Arthur Conan Doyle on spirit photography, signed by a member of his circle
DOYLE, Arthur Conan (1859-1930). The Case for Spirit Photography (London: Hutchinson & Co., [1922]). First edition. Covers browned, tape to spine, still a very attractive copy. Green & Gibson B31a. 


Signed on the cover by Fred Barlow, the author of the preface, and very rare thus. 


      The Case for Spirit Photography is one of the most quixotic of Doyle's major publications. The book was written in response to a charge of fraud leveled by skeptic Harry Price against a group of spiritualists in Crewe centered on the mediumship of William Hope and Mrs. Buxton, who allegedly were able to cause by psychic means likenesses of the deceased to appear in photographic plates. Price, a stage magician and a debunker, invited the pair to demonstrate their powers in February 1922, and swiftly exposed the humbug, publishing the results in the Journal of the Society for Psychical Research. Outraged, Doyle defended Hope and Buxton and lambasted both Price and the SPR, accusing them of conspiracy and deception with intent to destroy the reputation of an honorable man.  The book was published in wrappers by Hutchinson in December 1922, and issued in hardcover in the United States in January 1923.
     Fred Barlow, who served as the secretary of Society for the Study of Supernormal Pictures (SSSP), an assemblage of some of the most credulous minds of England, visited the Crewe Circle. "I do not see how we can possibly get away from the fact that many of these photographic effects are produced by discarnate intelligences," he wrote. In addition to writing the preface to this work, he also contributed a chapter on "Evidential and Scientific Aspects of Psychic Photography." The Hutchinson edition is rare, especially in decent condition, and Barlow's signature on the present copy renders it unique.
---
Recommend this product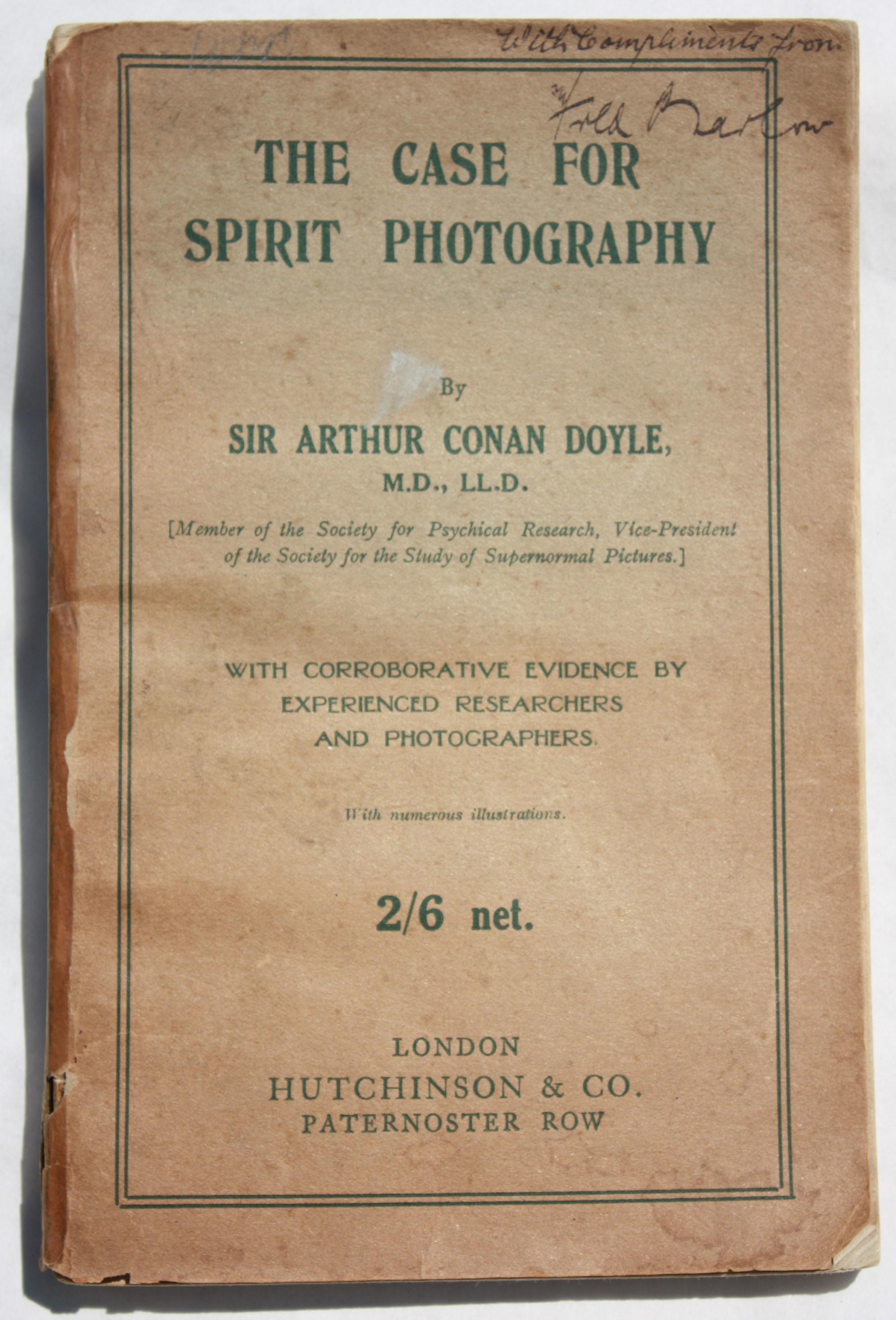 Arthur Conan Doyle on spirit photography, signed by a member of his circle