An early letter from Kate Milner Rabb, Indiana journalist
Rabb, Kate Milner (1866 – 1937). Letter the Rockport High School Class of 1890, 22 August 1892. Two pages, typed with holograph corrections, signed in ink. Folds and tape repairs to verso.
An immensely charming, chatty letter from the pioneering woman journalist from very early in her career. An alumna of Rockport High School (class of 1882), Rabb received her bachelors and masters degrees from Indiana University. After graduation in 1888, she returned to Rockport High School to teach. In 1891, she moved to Indianapolis where she inaugurated her long and brilliant career by freelancing for juvenile magazines (St. Nicholas and Youth's Companion) before accepting an editorial position at the weekly magazine, Indiana Women. Publishing books and pamphlets on Hoosier history and other topics, she was most famous for her columns in the Indianapolis Star. Active in a number of historical and professional societies, Rabb was inducted into the Indiana Journalism Hall of Fame in 2012. A student residence at Indiana University is named in her honor.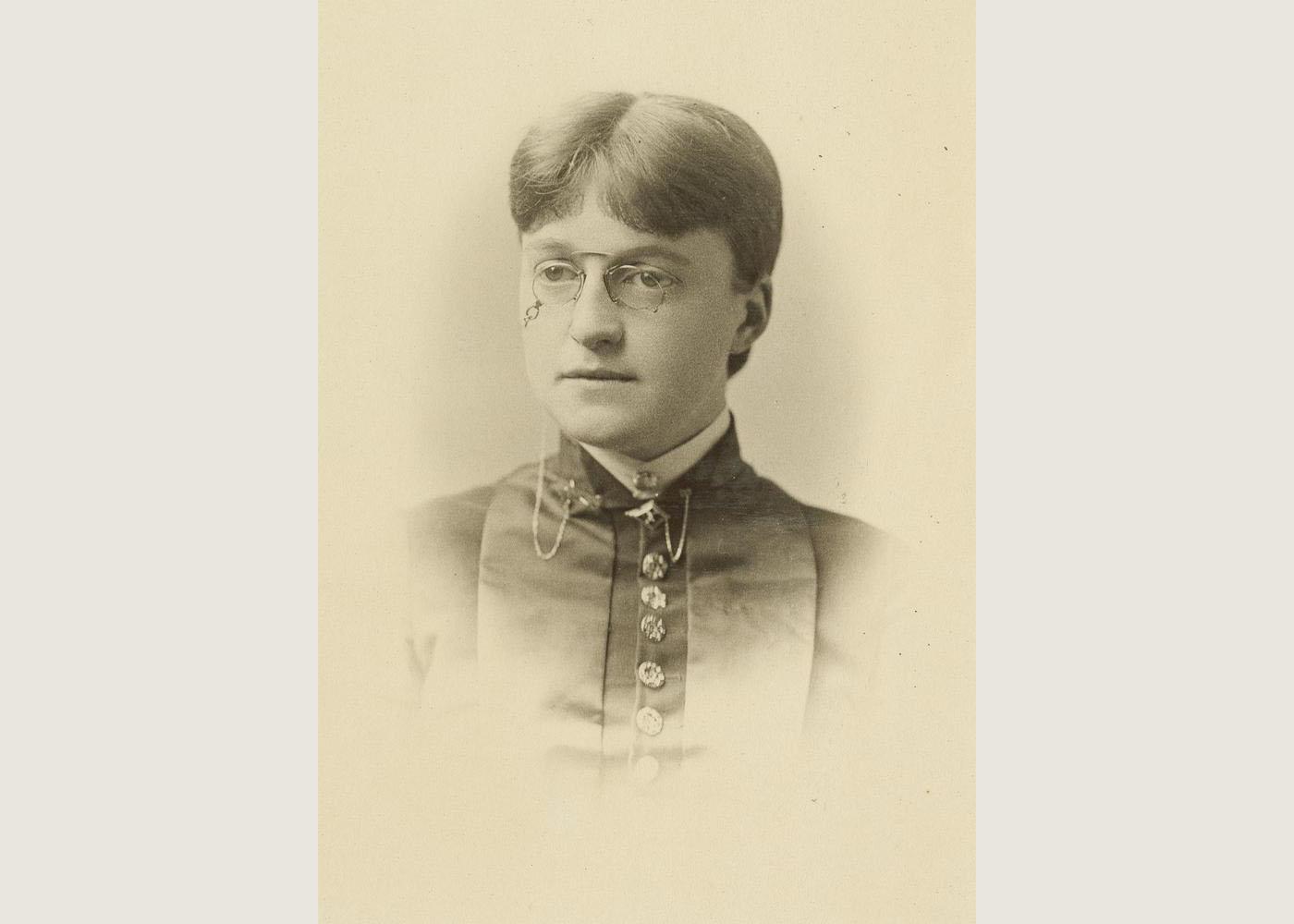 Rabb in 1886 (Indiana University archives)
            In this letter sent from her residence at #24 Christian Avenue in Indianapolis, Rabb writes to the members of the Rockport High School class of 1890 on the occasion of their reunion. She reports with affection on the students she has heard from:
I realized that Ida [Dyer Armstrong] had probably grown into quite a tall young lady, with curls tucked up and quite beyond the roguish pranks of the Ida I first knew 'way back in 1887. . . . Jean Cadick, though fond of poetry and philosophy, is not at all tearful, but growing in womanly graces, so I have heard. . . . Of Bertha Hackleman I have not heard since leaving Rockport, but she has no doubt discovered "What we girls shall do next" and is doing her part well.
Her letter closes with a loving valediction:
I would I were with you tonight, but I know you so well that I can guess the good times, the wit, the mirth, that will fall upon the new threshold that is to receive you, like a blessing. May the years to come bring only sunshine, and love and perfect peace to all of you!
There is a clippings file on Rabb at the Indiana State Library, but we have not seen any other manuscript materials by her.
Selected References
Banta, R.E., Ed. "Kate Milner Rabb." Indiana Authors and Their Books, 1816-1916. Biographical sketches of authors who published during the first century of Indiana statehood with lists of their books. Crawfordsville, IN: Wabash College, 1949: 262.
Rabb, Kate Milner. No Mean City. Indianapolis, 1922.
---. A Tour through Indiana in 1840; The Diary of John Parsons of Petersburg, Virginia. Indianapolis, 1920.
Shumaker, Arthur Wesley. A History of Indiana Literature, with Emphasis on the Authors of Imaginative Works Who Commenced Writing Prior to World War II. Indianapolis: Indiana Historical Bureau, 1962: 434-436.
Recommend this product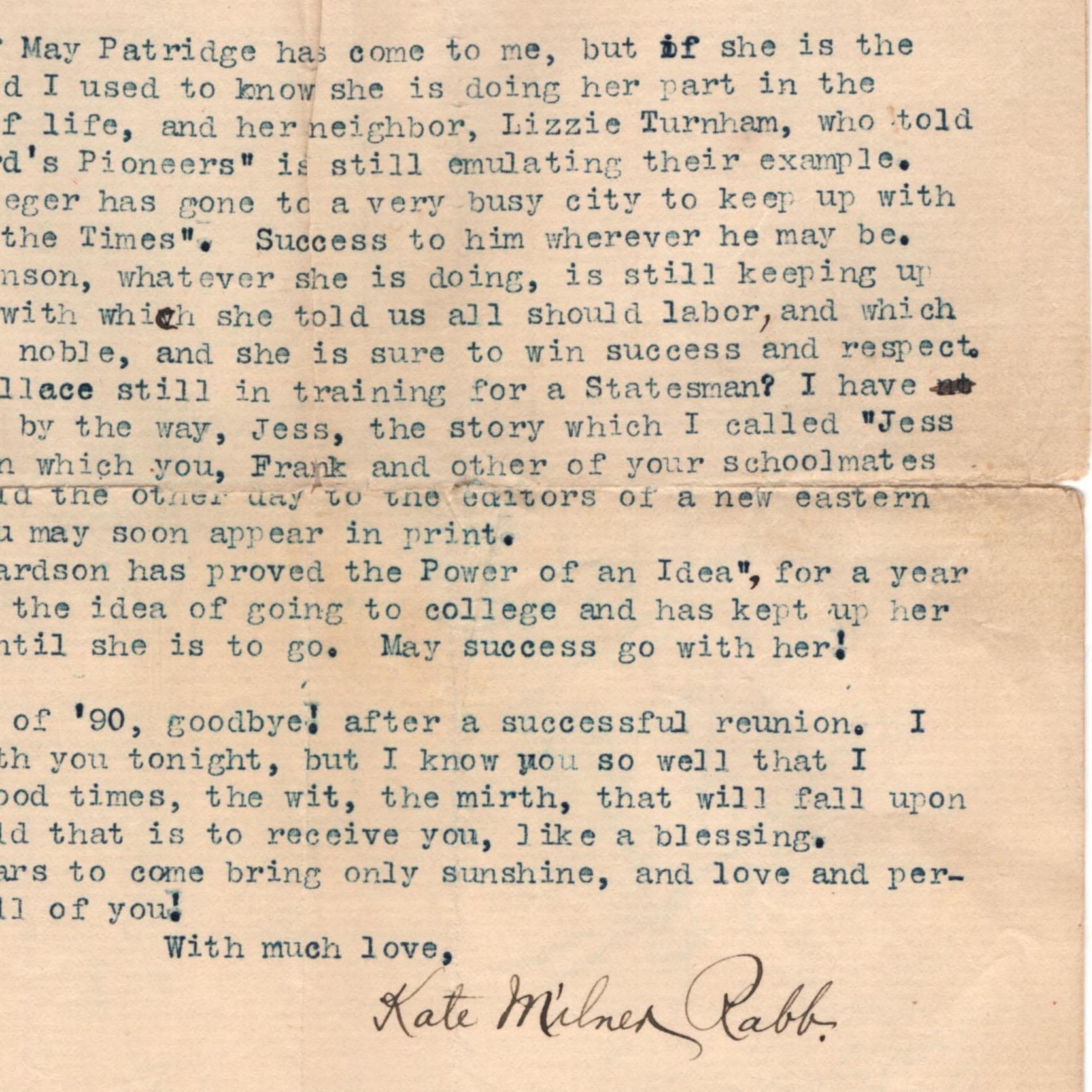 An early letter from Kate Milner Rabb, Indiana journalist