Albert Camus, La Chute (1956). First edition. Signed.
Camus, Albert (1913-1960). La Chute. Paris: Gallimard, 1956. 170 p. First edition. One of 1050 numbered copies printed on "vélin labeur" and bound in yellow cloth with a striking geometric design attributed to Mario Prassinos (1916-1985). A fine copy.
Inscribed by the author to "Georges Blanchet" (i.e., Élie Cohen-Hadria), the ink slightly blotted.

The limited hardcover edition of Camus's last novel, translated into English as The Fall, a narrative of a judge's fall from grace, and a philosophical meditation on human evil. Jean-Paul Sartre described the novel as "perhaps the most beautiful and least understood" of Camus's books.
Georges Blanchet was the pen-name of Élie Cohen-Hadria (1898-1987). Born in Tunis and trained as a doctor, he was an ardent advocate of Tunisian independence. He served as Tunisian representative of the Section française de l'Internationale ouvrière (SFIO), and as editor of Tunis socialiste until 1956, when his cause was won. These were points of connection with Camus, who was also born in the Mahgreb and supported the causes of independence. Cohen-Hadria was also active, like Camus, in the struggle against fascism, serving in the Forces françaises libres during World War II. After helping Tunisia gain its independence, he turned his energy to Jewish causes. 
The moral crisis occasioned by the Holocaust is one of the themes of La Chute. The final segment, set in what was once the Jewish Quarter of Amsterdam, recounts the narrator's escape from Paris to Tunis -- this would certainly have been a point of resonance with Cohen-Hadria. Where he would have connected most broadly to Camus was in their shared commitment to socialism. As Cohen-Hadria later wrote:
Je puis me dire à la fois Juif, Tunisien et Français. Il ne m'a certes pas toujours été facile d concilier ces trois appartenances. C'est dans le socialisme que j'ai finalement trouvé le point d'appui qui m'était nécessaire pour réaliser pleinement mon équilibre.
A prolific journalist, contributing to Fraternité, Le Populaire de Paris, Revue Socialiste, and other journals, Cohen-Hadria employed several pseudonyms over his career. He signed some of his political work "Drech." He used the name George Blanchet for his literary works, which include Maison close (1935), a social novel about prostitution, and Fleurs de joie, fleurs de tristesse (1942), a collection of poems.
A terrific association copy of an important book.
References
Carmi, Janine. Entre trois identités dans la Tunisie coloniale : Élie Cohen-Hadria (Jerusalem, 2009)
Cohen-Hadria, Élie. Du protectorat français à l'indépendance tunisienne: souvenirs d'un témoin socialiste (Nice, 1976)
Dugas, Guy. Bibliographie critique de la litterature judeo-maghrebine d'expression française (1896-1990). Paris, 1992.
---
Recommend this product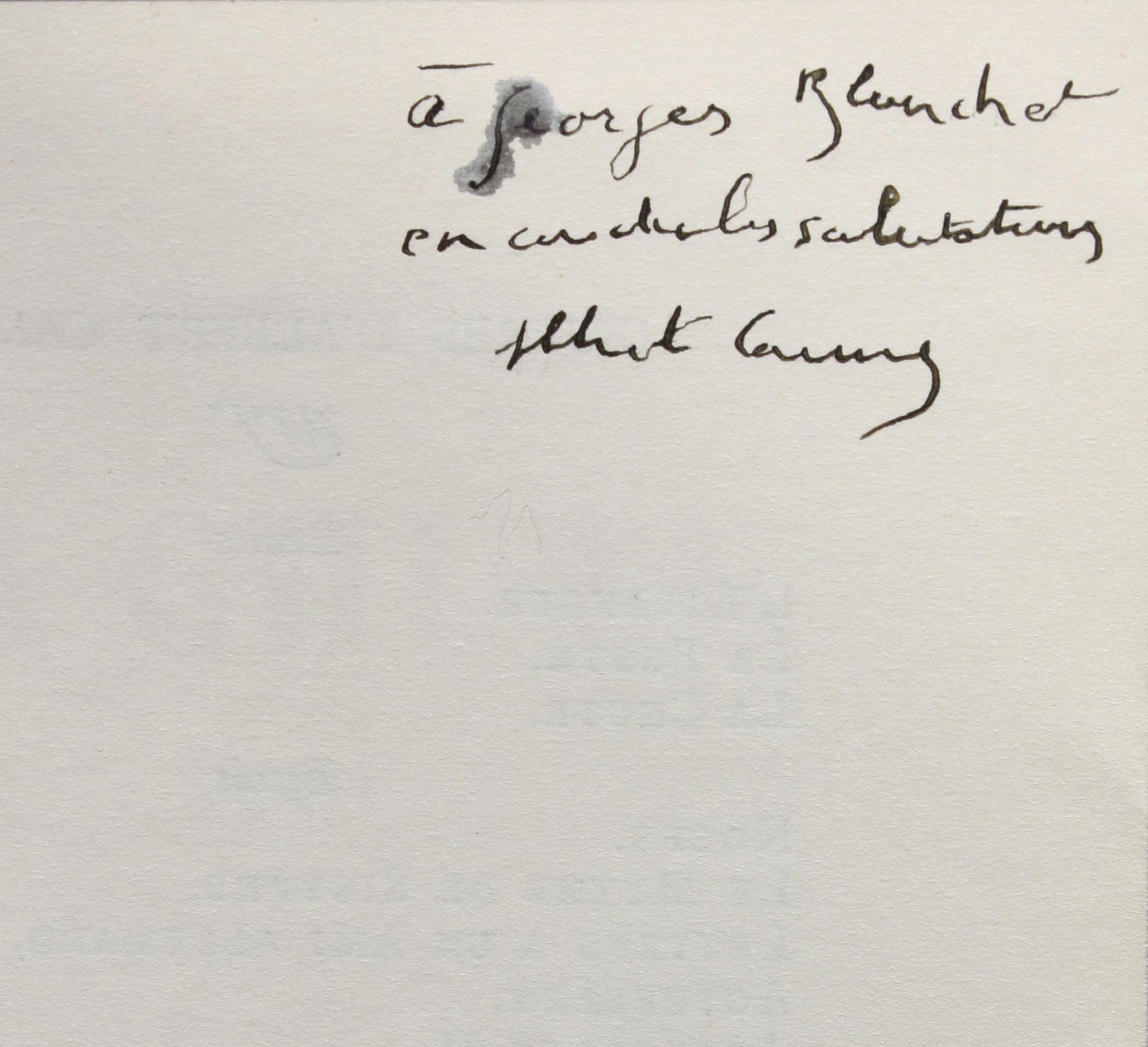 Albert Camus, La Chute (1956). First edition. Signed.