An unrecorded early manuscript of the Irish political poem Tuireamh na hEireann
Ó Conaill, Seán. Tuireamh na hEireann. Manuscript copy, incomplete, 18th or early 19th century. 13 leaves, written on both sides comprising 26 pages of text, 16.5 x 10 cm. First and last leaf separated, the rest tied with string. Scribal colophon [?]: "Miċail O Sconlan o Leitrim an 20agh la Jan 18-- / Taḋag Brinaċ sgrinor." Ownership signature of Dennis Kennelly. Pages brittle and edgeworn, with some loss. [with] Hugh MacCurtin [Aodh Buí Mac Cruitín], The elements of the Irish language, grammatically explained in English. In 14 chapters. Lovain: Marin Van Overbeke, 1728. First edition. 158 pp. 18.5 cm, contemporary calf. Front hinge broken, corners chewed. Pages loose, tattered, and stained; title, table of contents and pages 41/42, 155/156, and 157/158 lacking. Contemporary ownership inscriptions of James Hughes and Michael Gallagher, both of County Tyrone. The two items are housed in individual chemises fit into a custom slipcase.
     Attributed to Ó Conaill, about whom virtually nothing is known, and believed to have been written in the 1650s shortly after Cromwell's conquest, Tuireamh na hEireann has been characterized as the most influential poem in the Irish language. Scholars have identified in its 496 lines the formulation of an Irish popular political consciousness framed by mythic history, Catholic identity, and opposition to English rule. As Vincent Morley observes, Tuireamh "furnished the Catholic population with a narrative summary of Irish history in metrical form that was vivid, lively and inspiring – a narrative, moreover, that could be easily understood, memorized and recited."
     Written in caoineadth meter, one of the simplest in Irish prosody, the poet celebrates the sons of Míl Espáine, the legendary ancestor of the first inhabitants of Erin:
| | | |
| --- | --- | --- |
| 146 | Is iomaí rí ró-rafar réimeach,  | Many a king, lawgiving, brave,  |
| 147 | tiarna tíre is duine naofa,  | Chief of territory, and people holy, |
| 148 | fáidh is flaith is file faobhrach  | Prophet, and prince, and poet satirical |
| 149 | tháinig ar gach taobh den mhéid sin. | Were descended on every side from [the Irian] line. |
The poet criticizes the Reformation, disparaging "Cailbhin coiteann is Liútar craosach" -- promiscuous Calvin and voracious Luther (282) -- and he writes unsparingly of the devastation wrought by British colonial policies and conflict in the 1640s and 1650s:
| | | |
| --- | --- | --- |
| 321 | Dlí beag eile do rinneadh do Ghaelaibh,  | One further law was passed against the Irish |
| 322 | surrender ar a gceart do dhéanamh.  | That they should surrender their rights |
| 323 | Do chuir sin Leath Choinn trína chéile,  | This threw the north of into turmoil |
| 324 | glacaid a n-airm cé cailleadh iad féin leis. | They took up arms but were lost thereby. |
| | .    .   . | .    .   . |
| 353 | Ag son an cogadh do chríochnaig Éire  | This is the war that finished Ireland |
| 354 | is do chuir na mílte ag iarraidh déirce.  | And sent thousands begging for alms |
| | .    .   . | .    .   . |
| 439 | Níl ár leigheas ag liaigh in Éirinn  | The physicians of Ireland cannot heal us; |
| 440 | ach Dia do ghuí is na naoimh in éineacht. | We can only pray in unison to God and the saints. |
     "More than any other literary work," Morley concludes, Tuireamh na hEireann "taught the Gaelic version of history to the native population and made it a dominant narrative." The poem moved many other poets to write similar verse. Among these was Aodh Buí Mac Cruitín [Hugh MacCurtin], who wrote a pastiche of Ó Conaill (not printed until 2011), and published an abridged translation of Geoffrey Keating's Foras Feasa ar Éirinn, and, in 1728, the first printed grammar of the Irish language, a copy of which accompanies this manuscript.
     The present manuscript comprises lines 15 to 484 of the 496-line poem. The first page is certainly lacking – the poem starts in media res, and marginal annotations marking the verse number start at "4" rather than "1." The signature of a previous owner (one Dennis Kennelly) is on the final page of the manuscript, which suggests that if there were an additional page with lines 485 to 496, it may have been lost long ago.

     Kennelly appears not to have been the original owner. Leaf 13 bears the following marginal note: "Miċail O Sconlan o Leitrim an 20agh la Jan 18-- /Taḋag Brinaċ sgrinor." The hand differs from that of the poem. Vincent Morley informs us that the spelling is non-standard and whoever wrote the marginal inscription was not an experienced scribe. In standard orthography, the inscription reads:"Miċeál Ó Scannláin ó Liatroim an 20aḋ lá Jan[uary] 18-- / Taḋg Breatnaċ scríḃneoir" (Michael Scanlon from Leitrim the 20th day of Jan[uary] 18-- / Tadhg Breatnach scribe). The inscription is ambiguous. There are multiple possibilities for the location of Leitrim -- a common placename in Ireland. There is is a Leitrim in County Tyrone, but there is also one in County Kerry, and the latter included among its population in 1827 several people named Scanlon. There was little scribal activity in Tyrone so Kerry is the more plausible location, especially since the poems was almost certainly composed in that county.
     The inscription might have been written by Michael Scanlon, who presumably owned the manuscript, noting that Tadhg Breatnach was the original scribe. On the other hand, it might have been written by Tadhg Breatnach at the request of the owner, Michael Scanlon, for the purpose of recording the latter's ownership. In this case, Scanlon might have been either illiterate, or able to read but not able to write. These were common situations: peasants who could read but not write or who were wholly illiterate but nevertheless cherished poetry relied on the services of lettered itinerants. An inscription by one previous owner of the material offered here suggests the extent to which literacy was regarded as a treasured gift: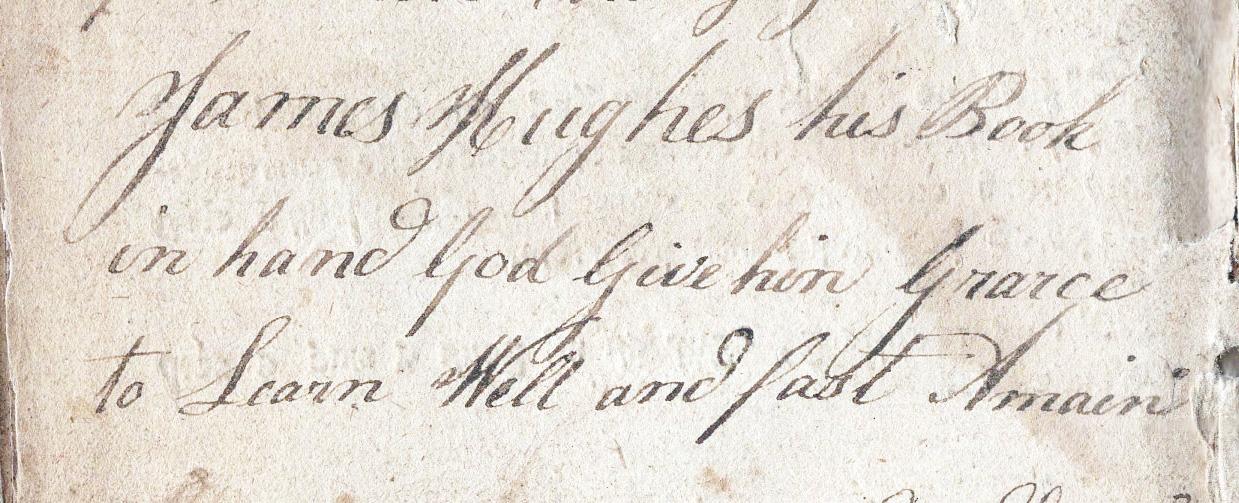 The manuscript was found laid into a badly used first edition (1728) of Hugh MacCurtin's landmark grammar of Irish. The book is included with the manuscript, and bears a series of ownership inscriptions on the front and rear pastedowns, and on the second (Irish) title page that further complicate the history of ownership. The marginalia situate the book in County Tyrone, and offer what appears to be a date. Most of the notes are in English, but there is a bit of Gaelic that might compared with the hands of the manuscript. One owner, Michael Gallagher, has rendered his name both in English and (on the margins of page 131) in Gaelic. Given that there are four different names associated with these materials, we think it a good possibility that the book was passed among professional scribes, who may have used the manuscript as a copy text, though this is just a guess.   

     We have not essayed a systematic comparison of this manuscript with the text established in the 1950s by Cecile O'Rahilly. But even a swift perusal reveals some differences. Take, for example, the final page offered here: this manuscript transposes two quatrains and interpolates an extra line, the latter clearly a scribal error:
| |  O'Rahilly text | Manuscript |
| --- | --- | --- |
| 469 | Éimhin Áine is Fiacha Sléibhte, | Éimhin Áine is Fiacha Sléibhte, |
| 470 | Sionán Inse Cathaigh na péiste, | Sionán Innse Catha na péiste, |
| 471 | Conall is Caomhán, Faolán Léithghlinn | Conall is Caomhán, Faolán Léithghlinn |
| 472 | is Maoineach Achadh Deo na gréine; | is Maoineach Acha Deó na gréine; |
| | | Fuirse mac Fionntain is Colmán Éile, |
| 473 | Fursa mac Fionntain mic Gilghéise, | Fuirse mac Fionntain mic Gilghéise, |
| 474 | Bréanainn Bhiorra is Colmán Éile, | Bréanainn Bhiorra is Colmán Éile, |
| 475 | Bréanainn Árd Fhearta ba mhór naofacht | Bréanainn Árd Fhearta ba mhór naofacht |
| 476 | do bhí seacht mbliana ag iara déarca. | do bhí seacht mbliana ag iarraidh déirce, |
| 477 | Colmán mac Duach fuair bua féile, | Fionán Chluana Ioraird 's a chléirigh, |
| 478 | bráthair Ghuaire do bhí ina aonar, | Fíonán Faithleann ar an Léin-loch, |
| 479 | Mochuda, Molaige, Laichtín, Béinean, | Fíonán Locha Luíoch, mo naomhsa |
| 480 | Bríde, Míde is Gobonéta; | do rug ó phláigh Uíbh Ráthach saor leis? |
| 481 | Fionán Chluana Ioraird 's a chléirigh, | Colmán mac Duach fuair bua féile, |
| 482 | Fíonán Faithleann ar an Léin-loch, | bráthair Ghuaire do bhí in' aonar, |
| 483 | Fíonán Locha Luíoch, mo naomhsa | Mochuda, Molaige, Laichtín, Béininn, |
| 484 | do rug ó phláigh Uíbh Ráthach saor leis? | Bríde, Míde is Gobonéta; |
Some of the saints listed in these lines -- Conmara of the bay, Friar O'Gara, Mochua, Molua, Lactan, Benignus, Bridget of Meath, and Finan -- were little revered outside of County Kerry, which further suggests that this manuscript may have originated there. Some versions of the poem omit these passages of local interest.
     As many scholars have noted, manuscript culture was of vital importance in eighteenth and nineteenth century Ireland, preserving oral tradition at a time when rates of literacy were low and levels of colonial persecution were high. The hostility to Gaelic tradition of the Protestant Anglo-Irish elite both precluded the publication of works in Irish, and strengthened the religious and cultural identity of a population whose poetic and political works could circulate only in samizdat form. Thomas Crofton Crocker noted in the 1820s that "Irish songs are abundant and may be easily procured, but few have been committed to paper. This may be ascribed to two causes; first, being short compositions, they are easily remembered, and secondly, their treasonable nature."
     The fact that some 4,000 Gaelic manuscripts have survived from the eighteenth and nineteenth centuries, including more than 250 copies of Tuireamh na hEireann, is on the one hand testimony to the vitality of this tradition. In 1824, Crocker noted that "modern manuscripts, in the Irish character, may be met with in almost every village." Commissioned from itinerant scribes by patrons across the social spectrum, poetic and historical manuscripts were read aloud in communal settings. Indeed, although the long provenance of the present manuscript still needs to be traced, it is clear from the different names inscribed on both the manuscript and the copy of MacCurtin's grammar that these texts were cherished not by an individual nor by a family, but by a community.
     On the other hand, although 4,000 manuscripts may seem like a lot, especially to a bibliographer tasked with cataloguing materials, from a historical perspective this figure represents a woefully low rate of survival. The number of scribes active between 1750 and 1850 is not known, but over 200 have been identified in County Cork alone. The late nineteenth century saw the widespread destruction of manuscripts in Irish, part of a deliberate effort to complete through cultural domination the work of Cromwell's conquest. In view of this fact, the resurfacing from the depths of oblivion a new fragment of this once vital literary tradition represents a minor miracle.
     A rare and important survival, offering ample opportunity for pedagogy and research.
-----------------------------------------------------------------------------------------------------
We record here our gratitude to two collegial keepers of Irish oral literary tradition whose extraordinary generosity guided us through the Celtic knots of this manuscript: Professor Lillis Ó Laoire and Dr. Vincent Morley. Our thanks also to Professor Liam Ó hAisibéil for his inquiries into the Scanlons of Leitrim.

Selected References
Breatnach, Pádraig A. "Oral and Written Transmission of Poetry in the Eighteenth Century," Eighteenth-Century Ireland / Iris an dá chultúr. 2 (1987) 57-65
Croker, Thomas Crofton. Researches in the South of Ireland: Illustrative of the Scenery, Architectural Remains and the Manners and Superstitions of the Peasantry with an Appendix Containing a Private Narrative of the Rebellion of 1798. London: John Murray, 1824.
Cunningham, Bernadette, "Language, Literature and Print in Irish, 1630-1730," in Jane Ohlmeyer, ed., The Cambridge History of Ireland, vol. 2: 1550-1730 (Cambridge University Press, 2017) pp. 434-57.
Dunne, T. J."The Gaelic Response to Conquest and Colonisation: The Evidence of the Poetry," Studia Hibernica, No. 20 (1980), 7-30
Morley, Vincent. "Views of the Past in Irish Vernacular Literature, 1650-1850," in Tim Blanning and Hagen Schulze, eds., Unity and Diversity in European Culture c. 1800. British Academy by Oxford University Press, 2006
-----. Ó Chéitinn go Raiftearaí. Mar a cumadh stair na hÉireann. Dublin: Coiscéim, 2011
-----. The Popular Mind in Eighteenth-century Ireland. Cork University Press, 2016.
Ní Úrdail, Meidhbhín. The Scribe in Eighteenth- and Nineteenth-Century Ireland: Motivations and Milieu. Münster: Nodus Publikationen, 2000.
Ó Conaill, Seán. "Tuireamh na hEireann," in Morley,  Ó Chéitinn go Raiftearaí, pp. 69-100.
-----. "Tuireamh na hEireann," in Cecile O'Rahilly, Five Seventeenth Century Political Poems (Dublin Institute for Advanced Studies, 1952)
-----. "The Dirge of Ireland," in Martin A. O'Brennan, Ancient Ireland: Her Milesian chiefs, her kings and princes. -- Her Great Men. Her Struggles for Liberty. Her Apostle St Patrick. -- Her Religon. Dublin: John Mullany, 1855), pp. [1]-100.

Ó Giolláin, Diarmuid. "Books, Manuscripts and Orality: Reading, Writing and Narrating in Ireland," in Pertti Anttonen, Cecilia af Forselles, and Kirsti Salmi-Niklander, eds., Oral Tradition and Book Culture. Helsinki: Finnish Literature Society, 2018, pp. 127-45.
Sharpe, Richard. "Destruction of Irish Manuscripts and the National Board of Education," Studia Hibernica 43 (2017) 95-116.
Recommend this product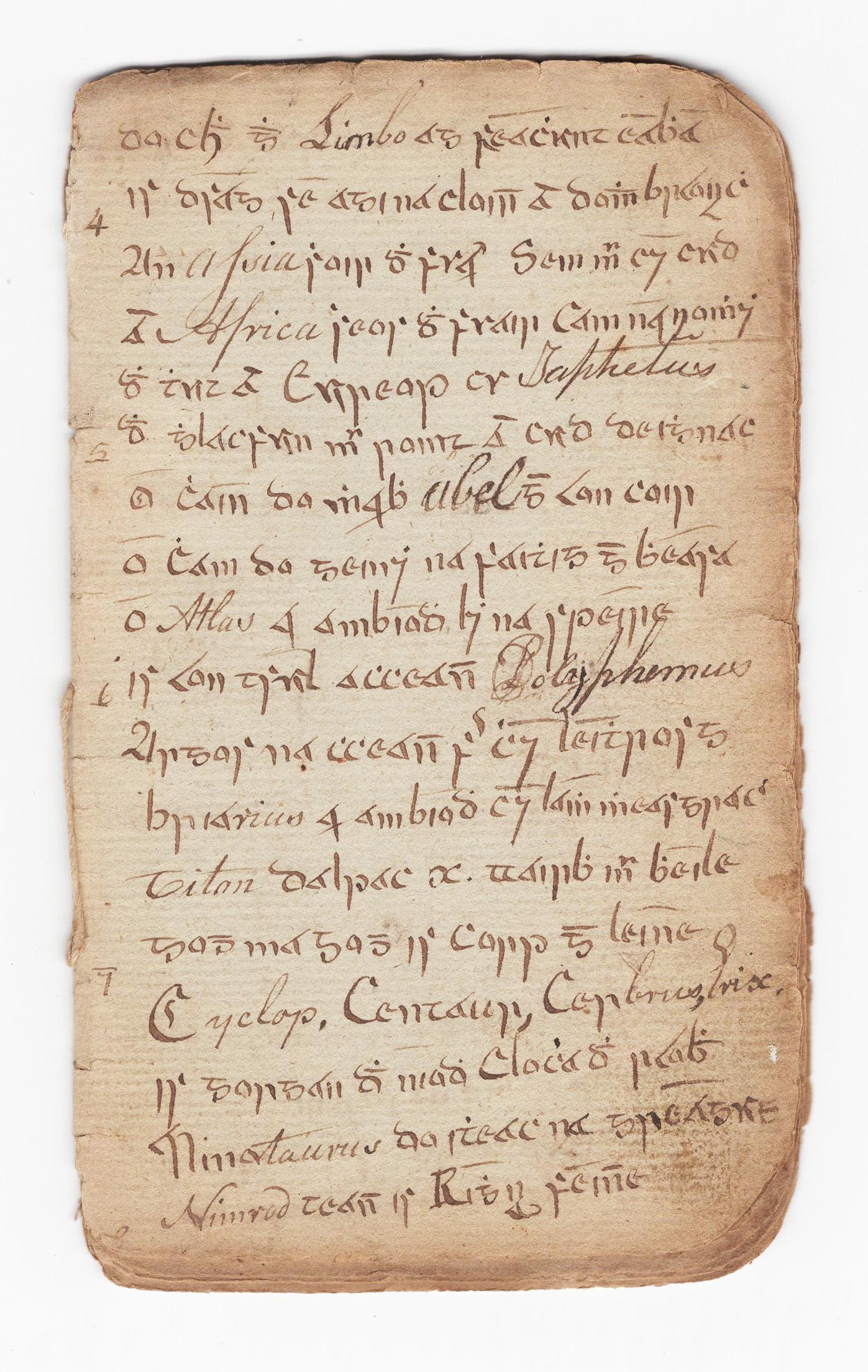 An unrecorded early manuscript of the Irish political poem Tuireamh na hEireann