Friderike Zweig, letters on Hannah Arendt and other matters, 1935 to 1953
Zweig, Friderike Maria (1882 – 1971). A small collection of letters and enclosures, including an ALS to Toni Strassman (2 pp.), and and four ALS and ANS to Shea Tenenbaum (totaling about 12 pp.), 1935, 1944 – 1953. The letters are written in pen on various sizes of notepaper and are in fine condition overall, with some light age wear, folds and light toning. All but the 1935 letter include the original envelopes, some of which are annotated in Yiddish.
A small collection of interesting autograph letters in English by the literary critic, novelist, and biographer, including a lengthy and impassioned defense of her late husband Stefan Zweig (1881 – 1942) against Hannah Arendt's scathing criticism.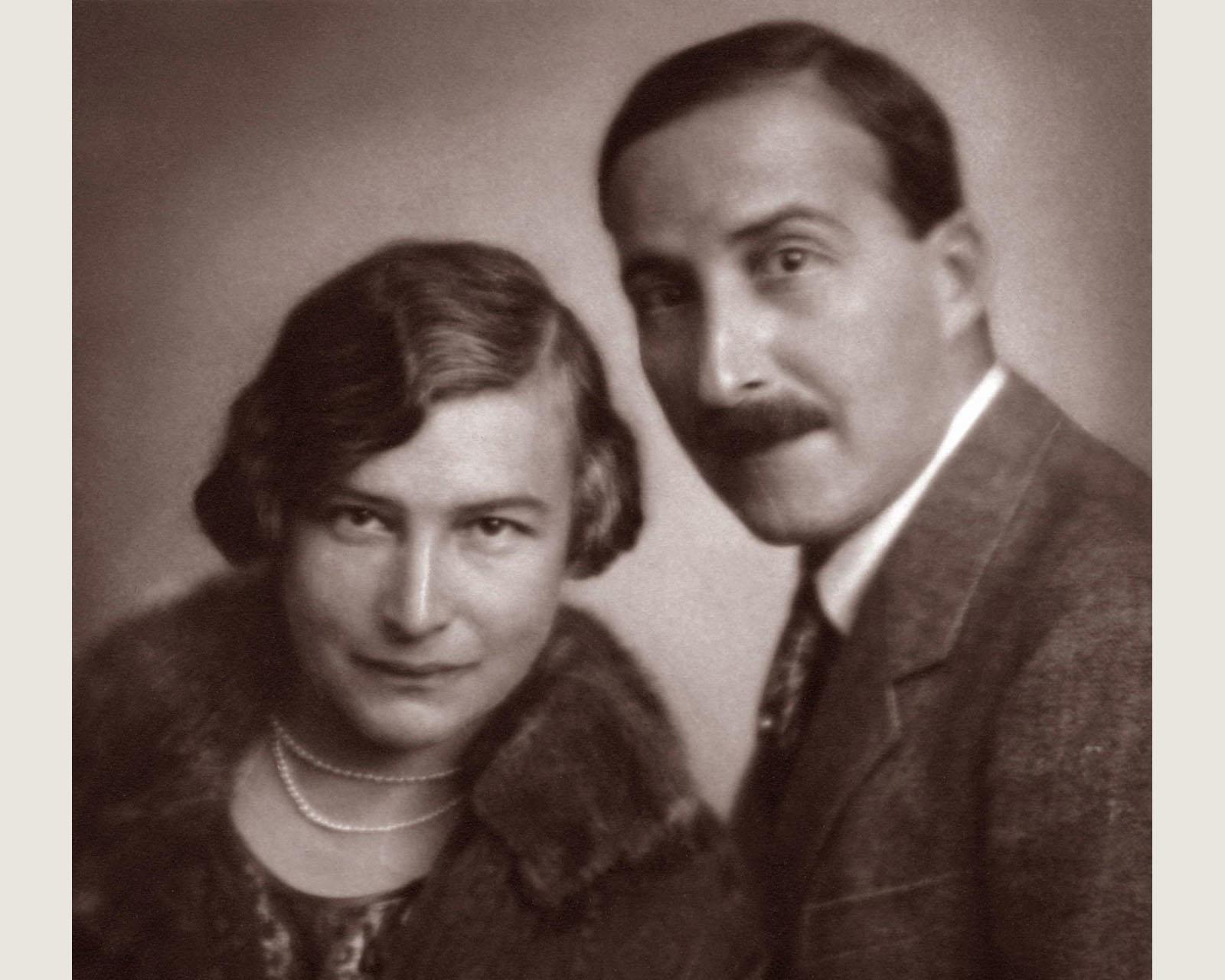 Friderike and Stefan Zweig, circa 1927
Friderike Zweig's 1946 memoir of her service as Stefan Zweig's "femme de l'artiste" recounts her role as translator, editor, and therapist during his bouts of depression. Friderike emigrated to the United States in 1940, where she founded the Writers Service Center, an organization to aid European refugees, and served also on the American-European Friendship Association, the International Stefan Zweig Society, and other organizations.
The first letter in this collection, written on the Zweigs' Salzburg letterhead, is addressed to Toni Strassman (1895 – 1984), who would become her literary agent. Dated 20 September 1935, the letter appear to follow Strassment's visit to Austria. Zweig expresses pleasure at their meeting: "My husband too was very fond of meeting you." She notes that they have not received a book and requests assistance in procuring "the collection of 'Hausexemplare' [copies of his own works] which you saw in my husband's room." Zweig was an avid book collector, and recent efforts have sought to reconstitute the catalogue of the several working libraries he assembled and dissolved during his peregrinations. Presaging the dissolution of their marriage three years later, she notes his absence. "He just left me again for Paris and London." She also seeks opportunities for her daughter: "May I bother you still with something else: my daughter should like to publish her photos of Toscanini and other artists famous in U.S.A. in American magazines and we should be glad to have a help."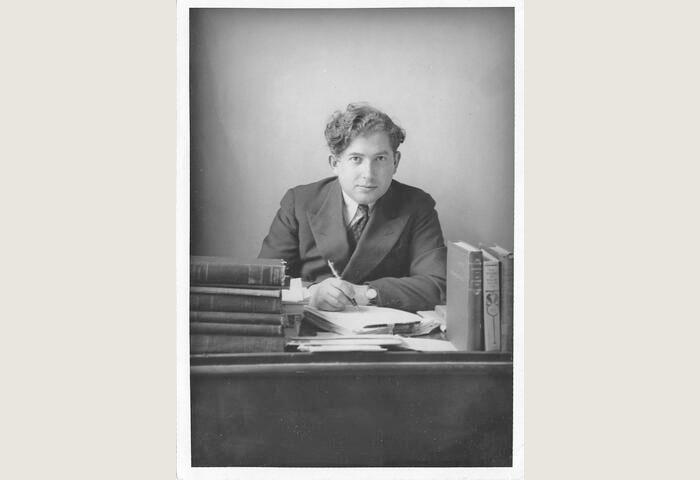 Shea Tenebaum (Yiddish Book Center)
The other four letters are addressed to Shea (Joshua) Tenenbaum (1910 – 1989), a Yiddish writer who had emigrated from Bobrinik to New York in 1934. He would win the National Jewish Book Award for Fun ash un fayer iz dayn kroyn: eseyen, dertseylungen, zikhroynes (1984).
In the first, dated 3 March 1944, Zweig thanks Tenebaum for his article on her husband, expressing her regret at not being able to read Yiddish. "I shall ask somebody to read it to me, and the gratefulness for your writing will make it easy to me to understand this reach [rich] and powerful language." In return, she encloses an article from the Menorah Journal, which she says is full of "lies" and offensive to Zweig's memory. This article, by a "Miss A.," is almost certainly Hannah Arendt's "Portrait of a Period," a scathing review of Zweig's World of Yesterday in which she upbraided the author for remaining apolitical in the face of Nazi power. "He failed to perceive that the dignified restraint, which society had so long considered a criterion of true culture, was under such circumstances tantamount to plain cowardice in public life, wrote Arendt. Zweig criticizes Arendt for  defends her late husband passionately:


That [Stefan Zweig] did not mix in politics [with his other writings] just on opposite reason, namely his idea that he can damage the Jewish cause in speaking to[o] loudly as a Jew. . . . His whole work was to defend the rights of the humbles [sic] against some oppression and the devotion for greatness not in sake of fame. . . . This woman [Arendt] – in the shadow of a grave – turns the words in the mouth of the most honourable man, in making him part of that, what he himself condemned.


In her next letter [4 pp., 21 September 1944], Zweig thanks Tennenbaum for sending another article and conveys her regards to his wife. "I hope she is very happy to know France [is] liberated." The other pieces of correspondence from Zweig to Tenenbaum include a brief ANS inviting him to an 1944 American-European Friendship event, and a 3-page ANS from December 1952 on very small notepaper thanking him for contributing to the festschrift for her 70th birthday. The scholar Harry Zohn (1923 – 2001) adds a note to Tenenbaum on the verso of Zweig's letter.
An intriguing group of letters offering insight into Friderike's various roles of wife and macher.
Recommend this product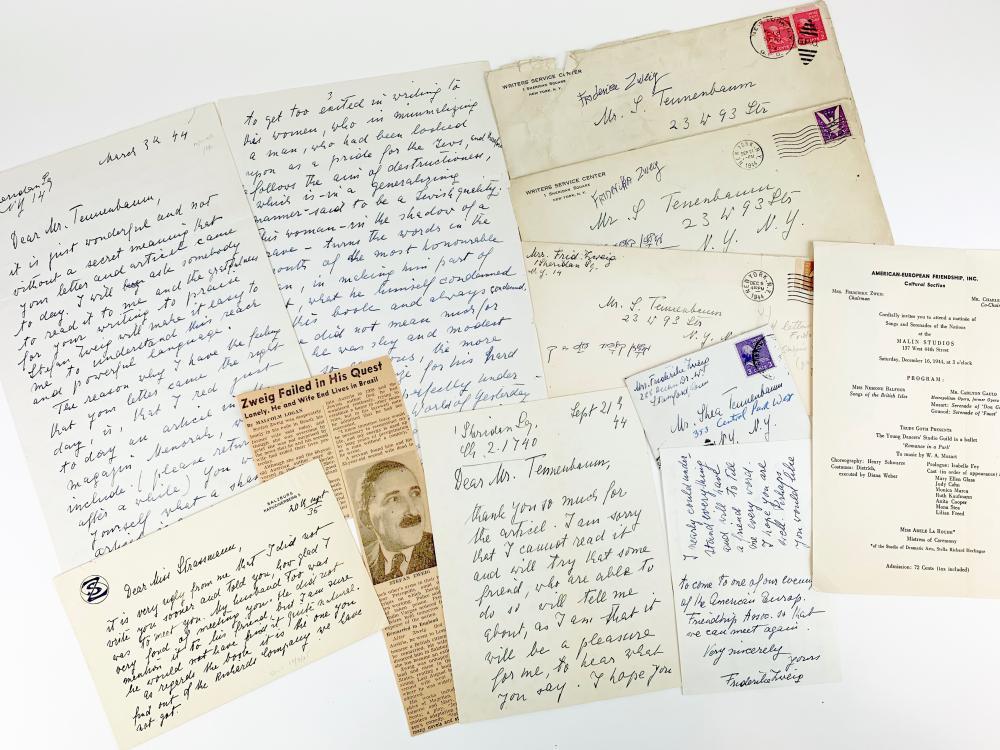 Friderike Zweig, letters on Hannah Arendt and other matters, 1935 to 1953