A manual on mourning, appropriately bound
Dorrington, Theophilus (1654 – 1715). Consolations Address'd [sic.] to a Friend upon the Death of his Excellent and Pious Consort. Applicable also to a Resentment of the Death of our late Gracious and Incomparable Queen. London: printed for John Wyat at the Rose in St. Paul's Church-yard, 1695. 16.5 cm; pp. [i-iv;] 3-107[-108]. Collation: [*]2, A2-8, B-F8, G6. "Sombre binding" of black morocco, covers elaborately paneled in blind, with multiple rules and individual tulip head tools at each inner corner, marbled endpapers. Light wear, but in very good condition overall. Provenance: ffrances Travell (signature); Katherine Travell (inscribed "given her by her Grandmother Travell," and dated March 1755); Sarah Badcock (signature). Wing D1935D; ESTC R214492.
     An important book on mourning bound in a sombre presentation binding, possibly for the family of the deceased.
     Born to dissenting parents, Theophilus Dorrington was educated for the ministry. With other nonconformist ministers, he hosted a series of evening lectures in London in 1678, but suffered a crisis of faith. In 1680, he enrolled as a medical student at Leiden University. Through the encouragement of the bishop of Chichester, Dorrington entered the Anglican fold, and in 1699, he was appointed rector of Wittersham, a position that he held until his death in 1715. After his appointment, his many devotional works were increasingly focused on persuading nonconformists, particularly Anabaptists and Presbyterians, to Anglican worship.
     The present work is one of several volumes published in the wake of Queen Mary II's death by smallpox on 28 December 1694.  As one scholar has summarized it, the manual advises that mourners "could display some moderate grief but should ultimately distance themselves from the painful ad singular event of a friend's or loved one's death … by turning inward and upward, learning to live and dies well themselves by rejecting the transitory and corruptible things of this world and looking forward to those of the next."
     Although Dorrington's book may be read as a Marian elegy, its composition had a more personal and proximate cause – the death of the wife of a friend on "16th January last … by that cruel Disease which has lately cost several Nations so many tears." Dorrington identifies his friend only as "J. T.," but the ornate binding and the family inscriptions lead us to suspect him to be a member of the Travell family, possibly John Travell of Swerford, who married Frances Travell (1667-1757) in 1695 – was she his second wife?
     This copy collates perfectly with the one at the Houghton Library, reproduced in EEBO, which also lacks a page A1. ESTC records seven copies of this title, three in the US and four in the UK.

Selected References
Craigwood, Joanna. Diplomacy, poetry, and publics in the late seventeenth century: elegies for Mary II by George Stepney and Matthew Prior." Huntington Library Quarterly, 82 (2019) 619-640.
Garganigo, Alex. William without Mary: mourning sensibly in the public sphere. The Seventeenth Century 23 (2008) 105-41.
Gregory, Jeremy. Restoration, reformation, and reform, 1660-1828: archbishops of Canterbury and their diocese. Oxford, 2000
---
Recommend this product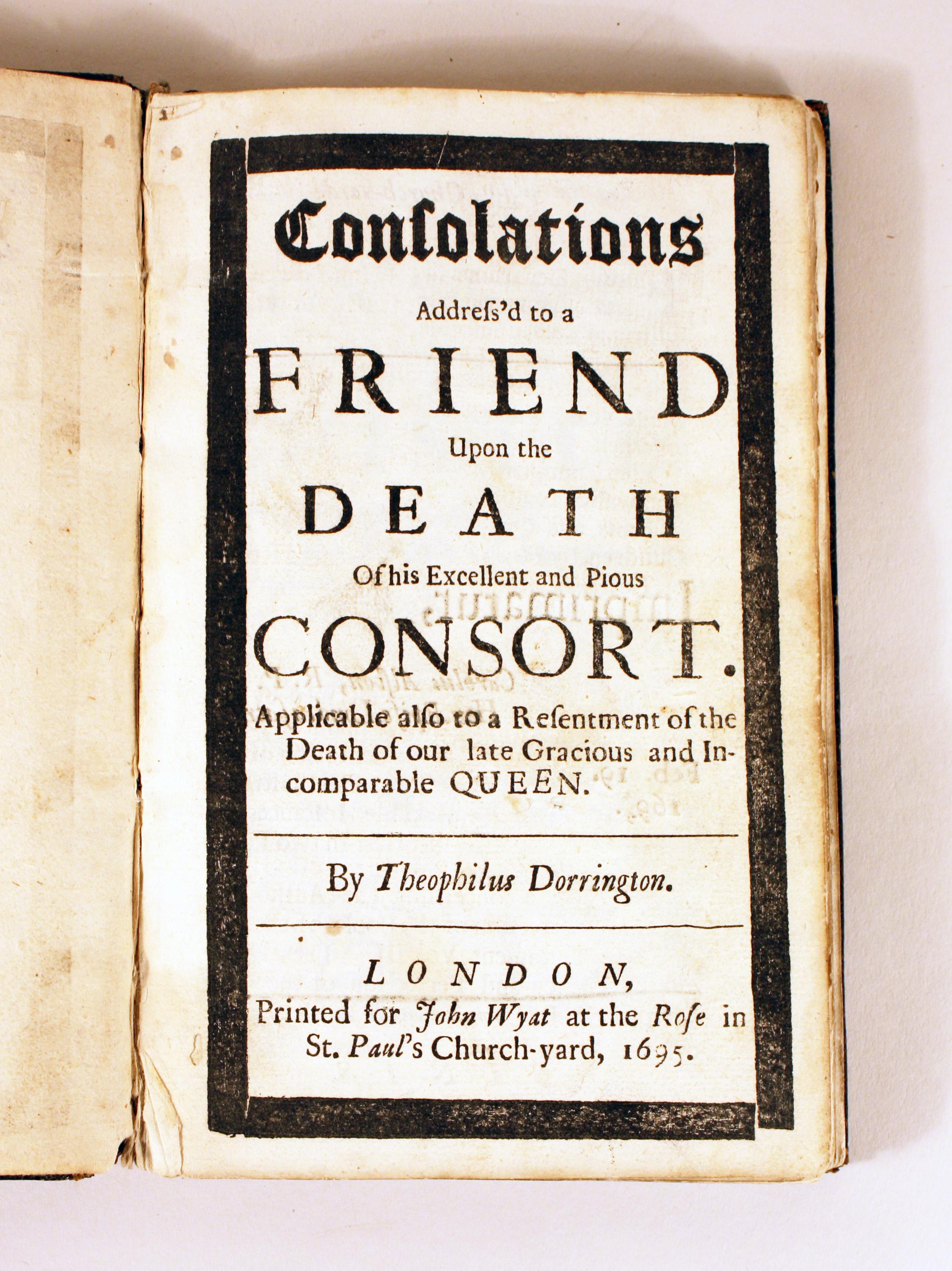 A manual on mourning, appropriately bound