A contemporary portrait of Scottish fiddler Niel Gow
Glegg, Juliana (1770–1859). Portrait of Niel Gow. Watercolor on paper, 1805. 21.4 x 16.4 cm (8.4 x 6.5 in) With a sample of flax from Gow's garden. Laid down on backing paper. Fine condition.


     A superb watercolor portrait of the influential Scottish fiddle player Niel Gow (1727–1807), sketched from life at his garden in Dunkeld. The drawing is accompanied by an original sample of flax from his garden.


Ye'll a' ha'e hear o' famous Niel,
The lad that played the fiddle weel.
 -- Anon., "Neil Gow's Farewell to Whisky"


     The most famous Scotch fiddler of the eighteenth century, Gow was a legend in his time, said to charm fierce beasts through his virtuosity. The composer of over eighty tunes, including jig, reels, hornpipes and strathsepeys, he is credited for turning folk-fiddle playing into a professional art. His work, still widely performed today, is celebrated at the annual Niel Gow Festival in Dunkeld.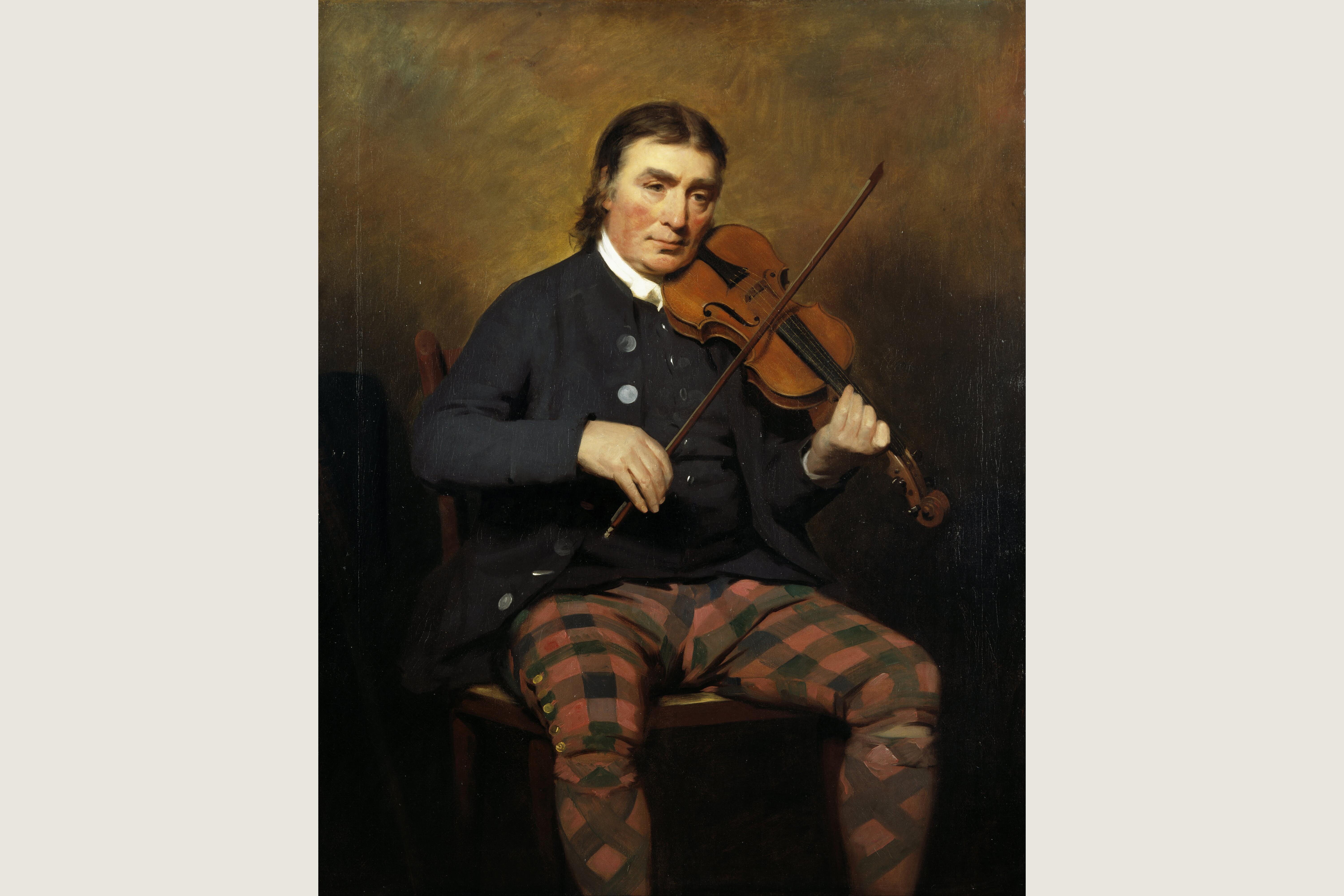 Sir Henry Raeburn, Portrait of Niel Gow, 1787. National Galleries of Scotland.
     This candid sketch, showing Gow in his final years, was executed almost twenty years after the iconic portrait by Henry Raeburn now at the National Galleries. Set at the Perthshire cottage where Gow lived his entire life, the painting was executed by Juliana Glegg of Withington Hall, Cheshire, who was on a Scottish tour. It is precisely dated to the year of the death of Gow's second wife Margaret Urquhart (1730–1805), for whom he composed a deeply moving lament. The sketch is finely detailed, with particular attention to his dress, including bonnet, trews, and stockings. She describes the circumstances in a note at the bottom of the painting:
Neil Gow, Dunkeld, Sept 10 1805 / on our return from Blair Athol[l] a week after we saw his funeral [i.e. "Lament for the Death of his Second Wife"]! -- he had played for us & I sketched this while he walked in his flax garden -- J Glegg 
Accompanying the artwork is a sample of flax from Gow's garden. A piece of paper pasted to the margin of the portrait offers the provenance of the sample of flax:
Old Neil Gow plucked this flax in his garden to [show] its texture to Juliana Glegg while she sketched him in the year 1805 at Dunkeld.


   Although Gow's likeness would be widely circulated in the nineteenth century, only a handful of lifetime portraits have been recorded. This one makes a wonderful addition to the limited iconography of the legendary performer.


Select References
Downie, Barbara Louise. William McGibbon and Niel Gow: reflections of tradition and taste in eighteenth-century lowland Scotland. M.A. thesis, Rice University, 1997.
Drummond, Peter Robert. Perthshire in bygone days: One hundred biographical essays (London, 1879)
Murdoch, Alexander. The Fiddle in Scotland; comprising sketches of Scotch fiddlers and fiddle makers (London, 1888), 41-48
"Neil Gow," Littell's Living Age, 61 (1859): 707-12
"Portrait Gallery: Neil Gow," Hogg's Instructor, 8 (1852): 289-292
Sutcliffe, Wallace. "The King of Scotch violinists," Violin Times, 5/52 (February 1898), 77-78.
Recommend this product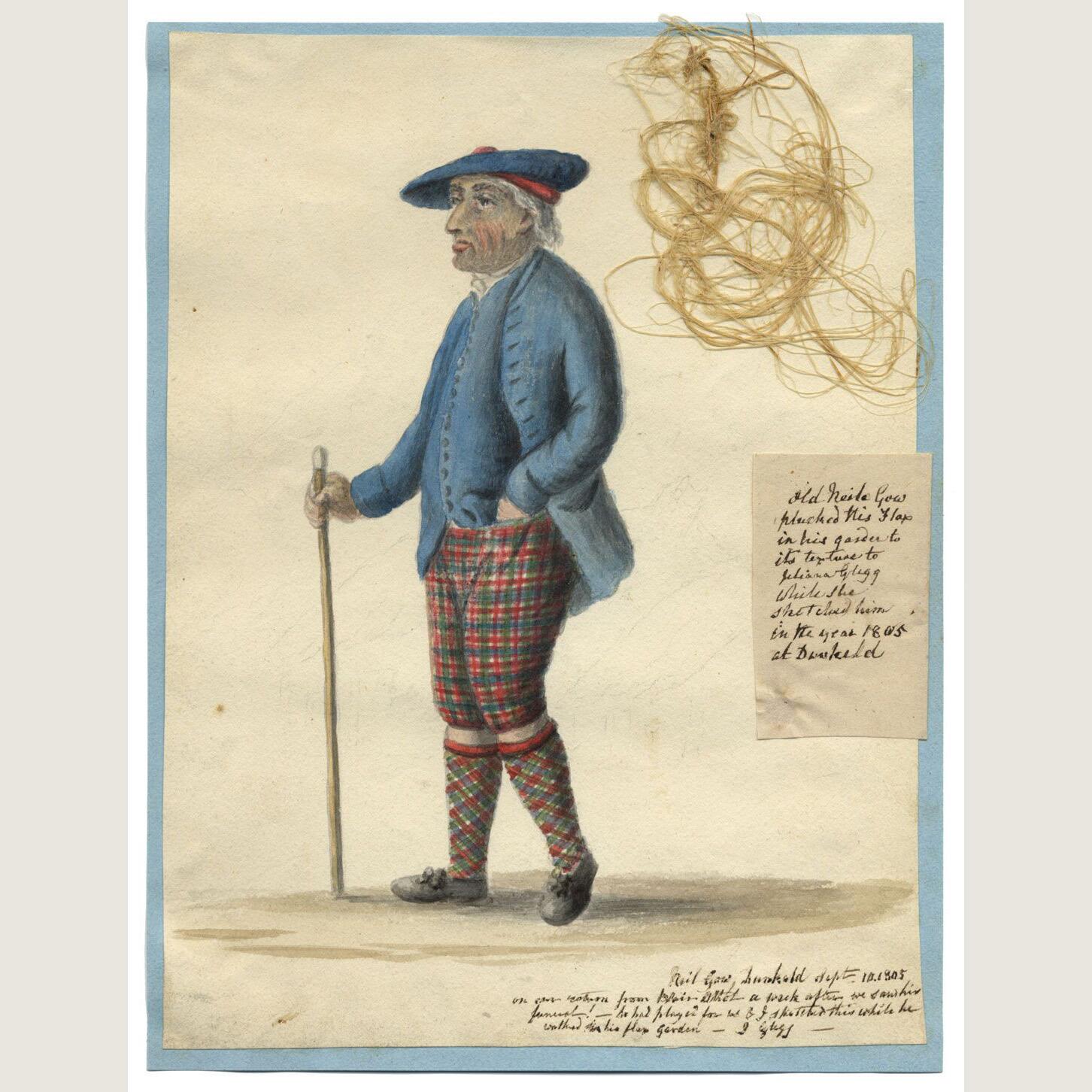 A contemporary portrait of Scottish fiddler Niel Gow