Literary archive of Wyandotte author Bernard N. O. Walker (Hen-Toh)
Walker, Bertrand N[icholas] O[liver] (Hen-Toh) (1870 – 1927). A substantial archive of unpublished writings, including stories, poems, and a Wyandot glossary. Approximately 315 pages, both manuscripts, typescripts, and corrected carbons, with a 1909 chronotype portrait of Walker by George B. Cornish. Materials generally in very good or better condition. Individually filed in an archival case, 0.5 linear feet.


     This archive of stories, poems, and other writings, most of which are unpublished, more than doubles the known corpus of writings by B. N. O. Walker, who published his work under his Wyandotte name, Hen-Toh.  Lost for over a century, these manuscripts were recently discovered among the fugitive papers of Charles Marius Barbeau (1883 – 1969), the Canadian ethnologist who relied on Walker's help for his landmark work, Huron and Wyandot Mythology (1915).

B. N. O. Walker (Oklahoma Historical Society)
     Walker was a member of the Oklahoma band of the Big Turtle Clan. Born in Kansas City, Kansas, he was a descendant of William Walker (1800 – 1874), the Wyandot leader who served as the first provisional governor of Nebraska Territory, which also encompassed the present-day state of Kansas. Originally given another Wyandotte name, he adopted the name "Hen-Toh" (he leads), which was once borne by his relative, Chief John W. Greyeyes (1820 – 1881). As he later recounted:
I recall my Mother's telling me one time that when I was but a few weeks old, Tauromee, the last full-blood Wyandot chief, who was then leaving Kansas to come down to this country, came to our house to see me. He said to her in Wyandot: "Well, he don't look much like it, but he's a Wyandot, and he'll always stay with his people." The old fellow seems to have had the gift of prophecy, truly.
     In 1872, his father Isaiah Walker (1826 – 1886) moved from Kansas to Indian Territory, building a house in what is now Wyandotte, Oklahoma, that is listed in the National Register. Walker attended a Friends' Mission School near Wyandotte that was later renamed the Seneca Indian School. From 1890 until his death in 1927, he worked in the Indian Service, first as a teacher and then after 1901 as a clerk in Kansas, Oklahoma, California, and Arizona. Between 1918 and 1923 he focused on writing and maintaining the family farm. In 1923, he took a position with the Quapaw Agency in Miami, Oklahoma, serving there until his death.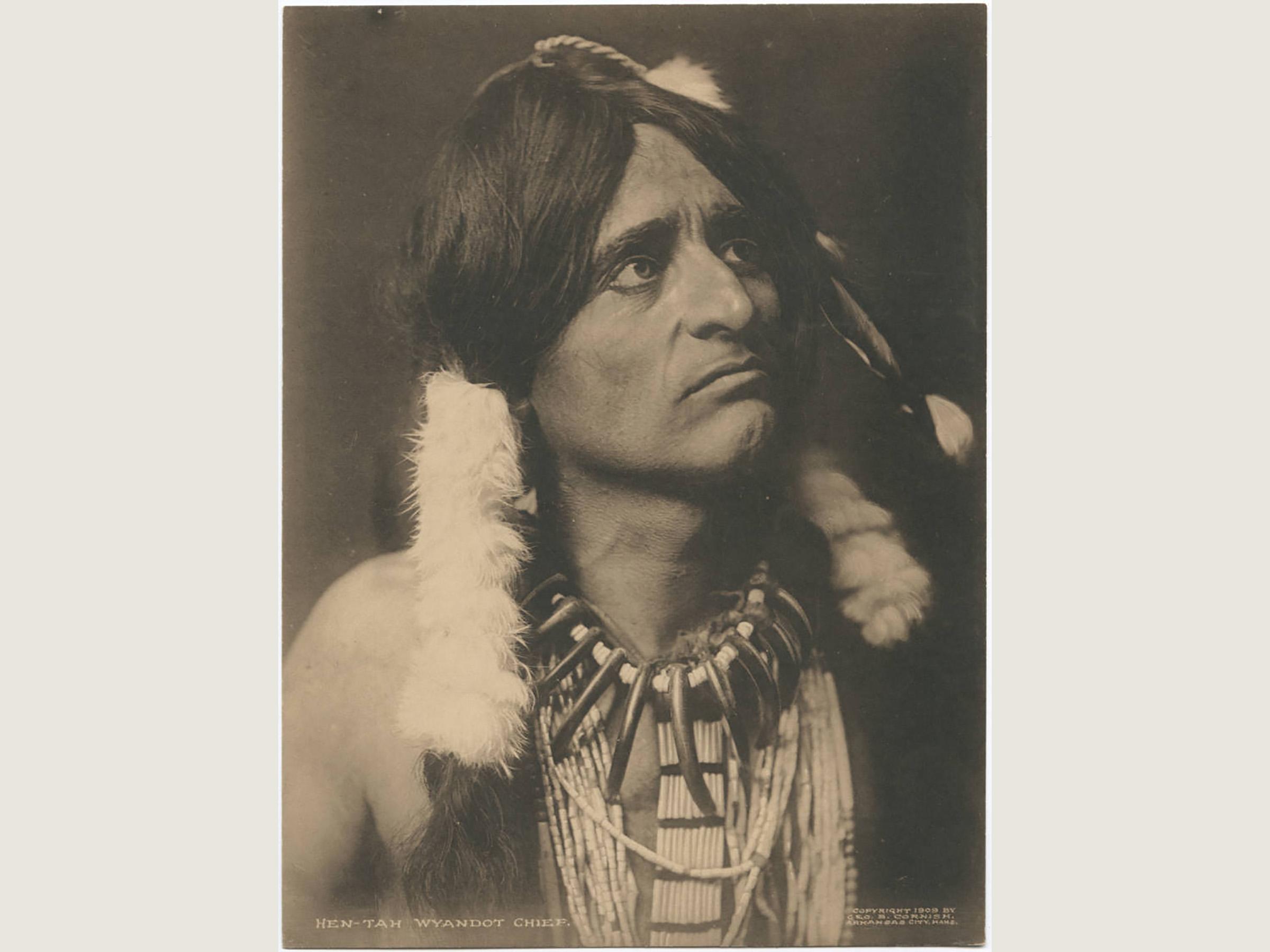 George B. Cornish, Hen-Tah, Wyandot Chief (Portrait of B. N. O. Waker, 1909). 
Included in the present archive.
     Walker read widely, and gathered folktales from older members of the Wyandotte, including Catherine "Kitty" Greyeyes (1822 – 1885), the wife of John W. Greyeyes. The Canadian ethnologist Charles Marius Barbeau credits Walker for facilitating his work on Huron and Wyandot Mythology (1915): "The author is much indebted to Mr. B. N. O. Walker not only for the valuable myths which he contributed ... but also for his many services in facilitating the work with other informants, by whom he is deservedly esteemed." 
     As Hen-Toh, Walker published two books, both issued by the Harlow Publishing Company in Oklahoma City. Tales of the Bark Lodges (1919), a collection of twelve stories, and Yon-Doo-Shah-We-Ah (Nubbins) (1924), a volume of poetry, chiefly character sketches and narratives. He also published in the Indian School Journal, Chronicles of Oklahoma, and other periodicals. Like the "Fus Fixico" pieces by Creek humorist Alexander Posey (1873 -- 1908), many of Walker's folk-tales and poems are written in what he described as "the broken dialect peculiar alone to the 'old time Indian.'" As Daniel F. Littlefield and James W. Parins have noted, "Hen-Toh's close contact with old Wyandots had provided him a familiarity with not only Wyandot history and culture but also the rhythms of their English speech." Despite his slim output Walker's work has been widely anthologized, most fully in Robert Dale Parker's collection of American Indian poetry published before 1930, Changing is not Vanishing (2010). 
     The volume of the writing in the present collection, most of which is unpublished, significantly exceeds that of his printed corpus. Where Tales of the Bark Lodges collects twelve stories, the present archive contains over 20 additional tales, all unpublished. There are 28 poems in Yon-Doo-Shah-We-Ah (Nubbins). Here are the texts of 30 poems, several in multiple drafts, most of which are either unpublished or differ from the printed versions. There are also the typescripts of a handful of unpublished essays, and Walker's holograph notes on Wyandot history, biography, and linguistics. Six mythic tales written in collaboration with Marius Barbeau and a photographic print of Walker by George B. Cornish round out the archive.

     Eminently publishable, these manuscripts will serve as the foundation for a long-overdue comprehensive reassessment of the work of this important Oklahoman author.
Selected References
Barbeau, Charles Marius. Huron and Wyandot Mythology, with Appendix Containing Earlier Published Records. Ottawa: Geological Survey of Canada, 1915.
Beck, Cindy K. "Introduction" to Yon-Doo-Shah-We-Ah (Nubbins), A Modern Text and Facsimile Edition, Little Rock: Native American Press Archives and Sequoyah Research Center, 2004. https://ualrexhibits.org/tribalwriters/artifacts/Hen-Toh_Yon-Doo-Shah-We-Ah.html
Conlan, C[zarina] C. "Sketch of B. N. O. Walker," Chronicles of Oklahoma 6/1 (March 1928) pp. 89-93.
Garrad, Charles. Petun to Wyandot: The Ontario Petun from the sixteenth century. University of Ottawa Press, 2014.
Hobson, Geary, "The Literature of Indian Oklahoma: A Brief History." World Literature Today 64, no. 3 (1990), 
Littlefield, Daniel F., Jr., and James W. Parins, "Introduction" in Bertrand N. O. Walker (Hen-Toh), Tales of the Bark Lodges. Jackson: University of Mississippi Press, 1995
Parker, Robert Dale, ed., Changing is not vanishing: a collection of early American Indian poetry, 1678-1930 (Philadelphia: University of Pennsylvania Press, 2010),
Recommend this product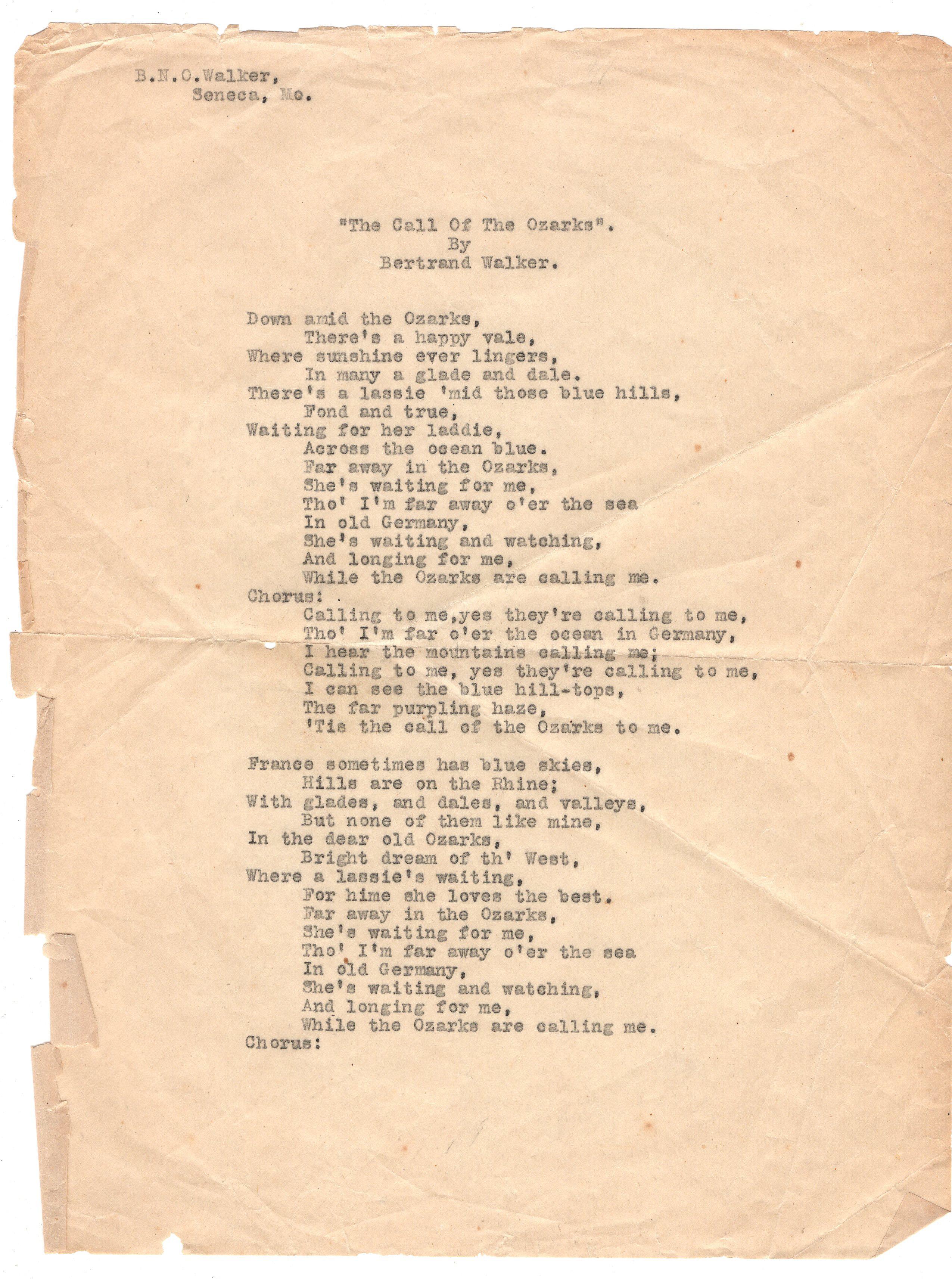 Literary archive of Wyandotte author Bernard N. O. Walker (Hen-Toh)