An 1850s album amicorum from St. Mary's Academy and Notre Dame
Byerley, Josephine (1835 – 1896). Souvenir Album. South Bend, Indiana, 1852 – 1857. 7 x 8 in. At least 45 pages of holograph poetry, remembrances, and original art in an album printed by J. C. Riker, New York. The original red cloth binding is in poor condition; the spine is very fragile, with some pages loose; soiling and wear to pages. Several items are laid in. The album will require conservation.
An 1880 history of St. Joseph's County, Indiana, observed the symbiotic development of the University of Notre Dame, the city of South Bend, and St. Mary's Academy: "the young city and the college and academy have grown up together, and proved mutual helps and encouragements." The present friendship album from a member of one of the city's leading families offers testimony to that dynamic.
Josephine Byerley was one of the daughters of Samuel Byerley (1796 – 1870), an English businessman whose colorful past included service in the Napoleonic wars and an early career in the great shipping and mercantile company of Howland and Aspinwall. Her mother, née Henrietta Holzknecht (1805 – 1898), was born in Trieste, Austria. Her uncle, Andrew Hofer, was locally revered as a martyr to the cause of Tyrolean independence. The Byerleys emigrated to America in 1832, and in 1843 moved from New York to become one of the first settlers of South Bend. The Byerleys were leading laypeople in the Catholic community. As one biographer notes, Samuel Byerley "scattered his bounties with an unstinted hand," and both he and his wife were instrumental in the founding of both St. Mary's and Notre Dame. Histories of the University credit him with being Father Edward Sorin's first benefactor.


Josephine Byerley's album reflects the ideals of this community. The earliest entries, dated 1852 and 1853, are from Josephine's time at St. Mary's, which at the time was located just north of South Bend in Bertrand, Michigan. The school at this time was headed by Mother Angela Gillespie (1824 – 1887), who­­ would found the Sisters of the Holy Cross in the United States in 1869. Most of the entries from 1854 and following are bylined Notre Dame. A late entry from 1857 by a visitor from Albany, New York, specifies South Bend. Josephine Byerley married marry Livingston D. Goldsberry (1837 – 1860) in St. Joseph County, Indiana on Jan. 6. 1858 – the terminus ante quem so far as concerns this album.


Many of the written passages, even the personalized poems, are of a devotional nature, with titles such as "God is Good," and "L'angelus de Mai," but there are also examples of sentimental verse. In addition to entries in French and English, there are several contributions in German, including a delightful acrostic improvising on Josephine Byerley's name. The artworks include a color painting of a gypsy, some classical putti, and a selection of flowers. There are several items laid in, including a French prayer card edged in lace, and a watercolor of a lake.


We have not attempted to trace the identities of the contributors, many of whom signed their offerings only with their initials. All appear to be local, and include nuns, priests, and those whom we presume to be schoolmates – including one with the evocative name of Emerald Idle. As is typical with such albums, the pages are not in chronological order, as contributors appear to have opened the book at random to inscribe it rather than filling the pages in sequential order.


An important relic of the community that founded Notre Dame, worthy of closer study.
Selected References
Blantz, Thomas E. C.S.C. The University of Notre Dame: A History. UND Press, 2020
A brief history of the University of Notre Dame du Lac, Indiana from 1842 to 1892 (Chicago: Werner Company, 1892)
History of St. Joseph County, Indiana (Chicago: 1880).
Recommend this product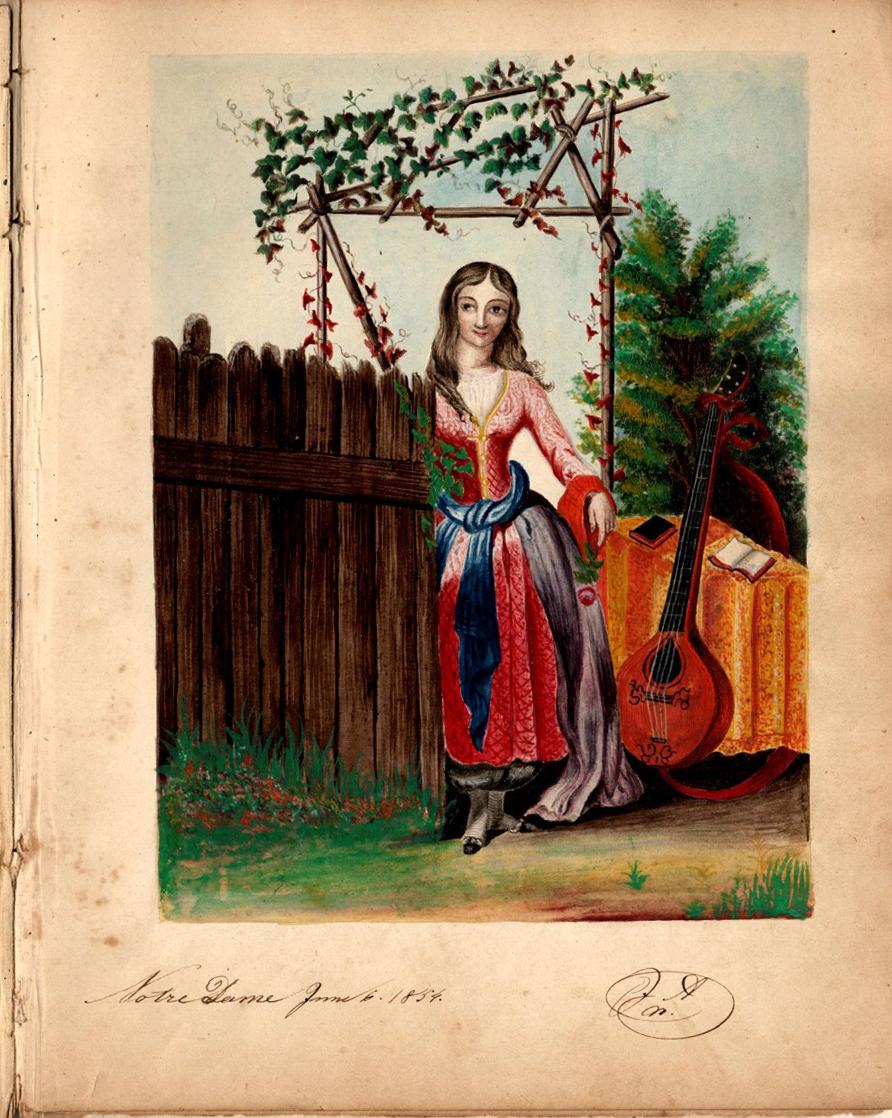 An 1850s album amicorum from St. Mary's Academy and Notre Dame