Billy Emerson Minstrel show Archive, including his original script
Redmond, William Emerson ("Billy Emerson") (1846 -- 1902). Billy Emerson's Joke Book, manuscript, circa 1881. 22 x 18 cm (17 x 8¾ in); 150 pages. Burns to two leaves, probably from a cigarette, with loss to both pages, otherwise intact in marbled paper-covered board, spine fragile. A typewritten label, badly faded, reads: "The book was written by Emerson / Billy Emerson's / Joke Book / Presented to H. H. Dobbin / by / Mrs. M. T. Emerson / January 2nd, 1925." [WITH]  Emerson's Minstrels on Route to Australia. Partially printed program completed in manuscript for a shipboard performance before the National Shipwreck Society aboard the Royal Mail Steamer Zealandia, New South Wales, Australia, 7 April 1885. Bifolium, 17.5 x 11.25 cm. [WITH]Two CDVs of Emerson in blackface. New Orleans, ca. 1870 [?], 4 x 2½ in. (10.75 x 6.5 cm), each captioned "Billy Emmerson" [sic] in ink. [WITH] Billy Emerson. [New York:] H. A. Thomas Lith. Studio, 865 Broadway, [ca. 1880]. poster, 19 x 24 inches (48 x 60 cm). Creased, with several small marginal nicks, unbacked. All materials in very good condition.
     A small, highly significant archive of material by the great Irish-American minstrel performer Billy Emerson, including his personal script for vaudeville routines, including jokes, sketches, dialogues, and songs, a set list from his historic Australian tour of 1885, and two photographs dating from his appearances in New Orleans.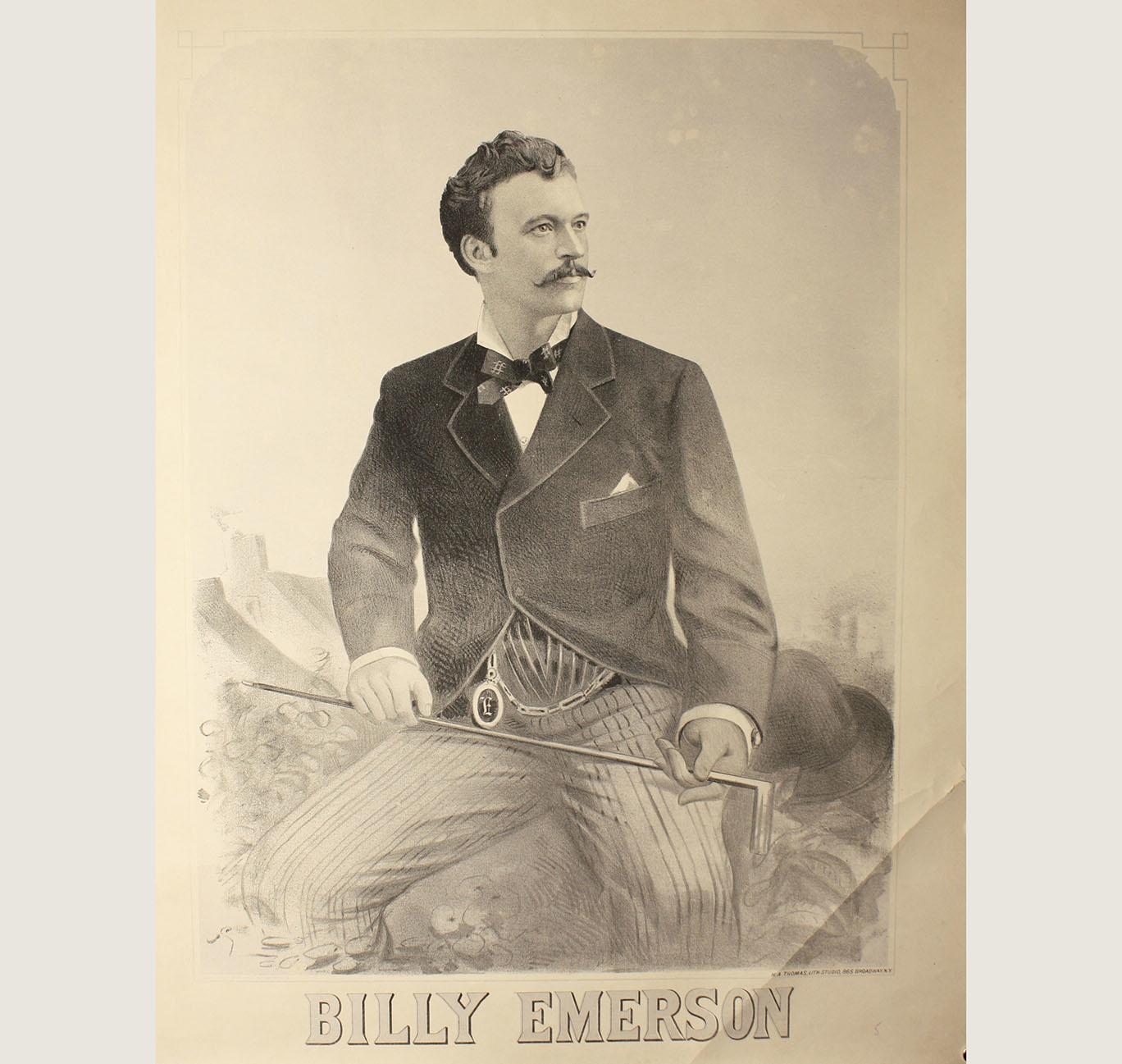 A poster of Billy Emerson in his prime, circa 1880, part of this collection
     Born in Belfast, Emerson was brought to America as an infant and raised in New York. He made his debut on the minstrel stage in 1857, at age eleven and performed with several companies before co-founding his own troupe in partnership with William E. Manning and Johnny Allen (George Erb) in 1868. Renowned for his comic talent as well as his tenor voice, Emerson was at one point the highest paid performer in minstrelsy. "He was a prince of good fellows and perhaps the most artistic minstrel the country has ever known," said his colleague George Primrose. "He had the greatest voice of any man that ever stepped before the footlights in a minstrel show, and his popularity was unbounded." Edward LeRoy Rice went further:
The acme of versatility, the personification of grace, the quintessance of greatness, such was Billy Emerson, who was gifted with a voice that an opera singer might have envied, and endowed by Nature with talents that are but seldom given to man.


     Emerson toured extensively from the 1860s through the 1890s. In 1873-74, he made his first tour of Australia. Returning to San Francisco, he entered his heyday. As one eulogist put it, "During the seven years from [18]78 to [18]85 Emerson, defying most precedents in his profession, coined money hand over fist at the Standard [Theater], he himself always the first and foremost attraction."
     On 2 March 1885, Emerson and his troupe embarked from San Francisco for a tour of Australia, landing in Honolulu for a brief engagement before arriving in Sydney in April. The year-long engagement would prove significant for Australian theatrical history, as many members of his ensemble – including Charles W. Cogill, and Harry P. Cogill, James R. Walsh, and William J. King – would form their own companies in Australia, and serve as training grounds for hundreds of local performers. "His antipodean tour was repaid by a large-sized sack," observed one newspaper after Emerson's return from Australia on 18 April 1886. His earnings, it was said, amounted to half a million dollars, the equivalent of over $14 million today.  The papers also revealed that he also won $50,000 at the races, and thousands at poker, and moreover had married a rich divorcée, Mary T. Hickock, the daughter of  Alfred "Poker Flat" Ellis, a hotelier and real estate developer in San Francisco. (Emerson's first marriage, to Maggie Homer, had ended in 1882.)
     Regrettably, Emerson squandered his winnings. High living, drinking, and gambling led him to miss performances, and newspaper repeatedly remarked that he was more likely to be found in the pool halls than the stage. His partnerships were dissolved acrimoniously in 1888, and by 1889, he was said to have abandoned the minstrel stage. "Billy Emerson is another added to the long list of comedians who have deserted burnt-cork for the make-up of white-face," lamented the Sacramento Bee. Financially, it was a poor decision and he was compelled to auction his jewels at a loss while trying to resurrect his career in New York. "His wife is here in San Francisco paying taxes on $200,000 worth of property, but 'Billy' does not draw checks against her bank account." He returned to San Francisco in 1890 and opened the Bijou Theater as a minstrel house, but this venture proved a humiliating failure and he once again took to the road. A return visit to Australia in 1892 proved to be considerably less lucrative than his earlier tours. Theatrical historians have charted Emerson's many appearances in the last decade of his life, and his colleagues continued to shower him with praise. "Billy Emerson is the greatest minstrel and minstrel singer alive," said vocalist Raymon Moore in 1895. But newspapers reports suggest a tragic decline infused with alcohol. "Married to a very rich woman of San Francisco, he prefers traveling about the country and appearing on the vaudeville stage to living at home in ease and luxury," observed one reporter. He quickly went downhill. His last professional appearance was a brief engagement in 1898 with William H. West's Minstrels. An article of 1901 noted that "The Billy Emerson of to-day is little better than a tramp," singing in saloons, his voice ruined by whiskey. He died of consumption at the age of 56.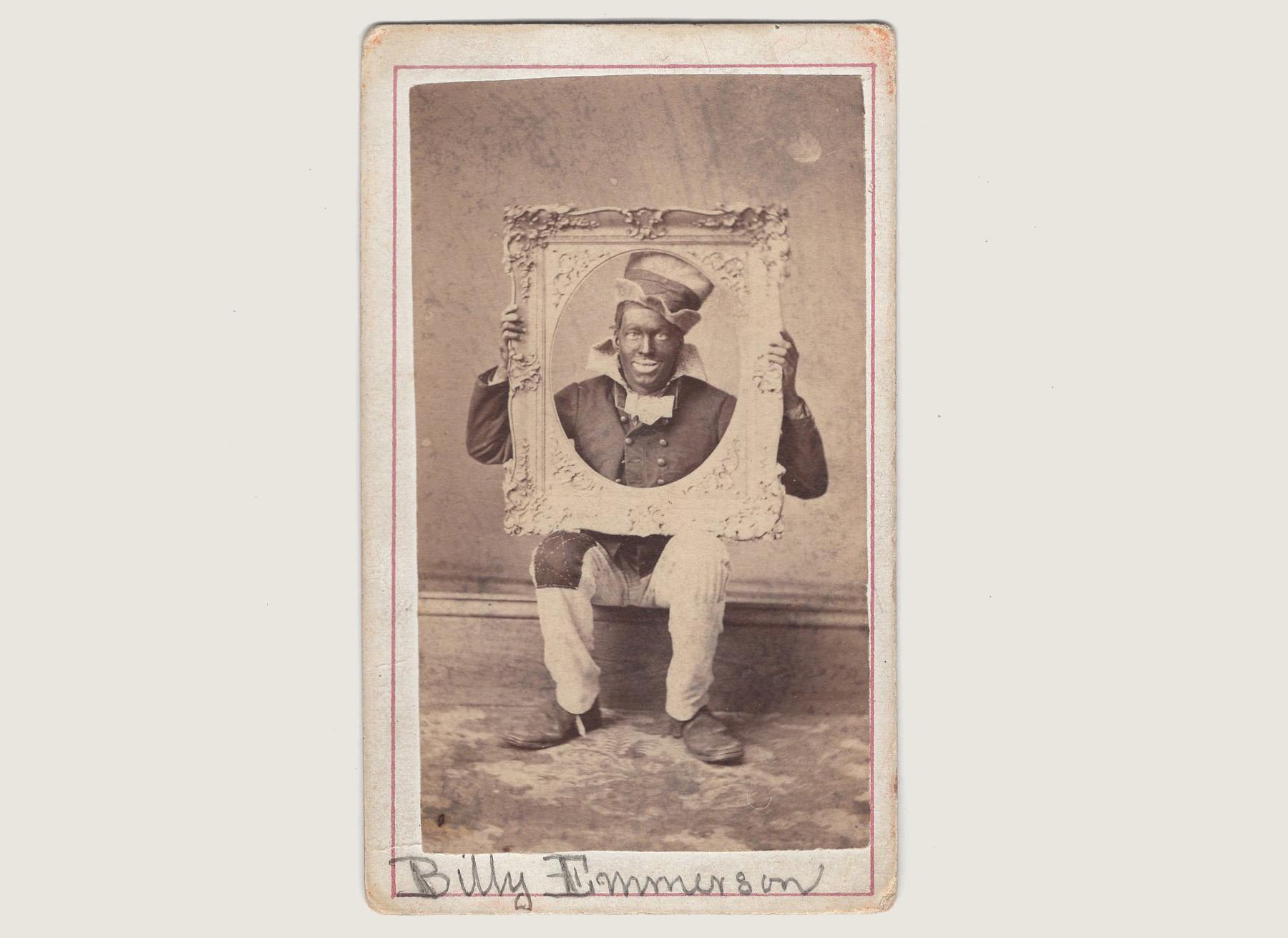 Billy Emerson in blackface, circa 1880, part of this collection
     The materials offered here date from the period when Emerson was at the height of his powers and widely celebrated as "the king of the burnt-cork comedians." The 150-page notebook, a rich lode of original material, appears to date from from the early 1880s. A reference in one routine to "Bell's telephone" places it after 1876. Many of the pages here are occupied with dialogues between "E" (Emerson) and "M.," with an occasional third interlocutor, "B. B." These latter are likely "Pete Mack" (Peter McGlone, 1857-1892) and William F. "Billy" Bishop, both of whom performed with Emerson's Minstrels at the Standard Theater during the 1881-1882 season.

San Francisco Examiner, 17 October 1881
The notebook preserves what was billed as Emerson's "comic effusions." These include sketches, original songs, comic recitations, dialogues, and jokes.  The material gives a sense of the range for which Emerson was celebrated. Although much of his act was performed in blackface, he did not indulge in ethnic jokes. The portions of his variety devoted to Irish themes, presumably performed without makeup, tend to honor rather than mock his heritage. The patter is rich with wordplay and topical allusions. One recitation parodies Hamlet's soliloquy: 


To treat or not to treat, that is the question:
Whether 'tis nobler in a man to follow
The social custom here, and do the handsome,
Or fall in with the Solons of Wisconsin,
And treating not, save more. ...
     That this volume represents the greater part of Emerson's act during the period is suggested by complaints in the newspapers that he seldom varied his material. "Billy Emerson, who is undoubtedly one of the cleverest minstrels on the burnt-cork stage, is content to draw on his well-worn repertoire," groused the San Francisco Examiner in October, 1882. "Something new in the way of a sketch, a song or a story would be welcome to the habitues of his house."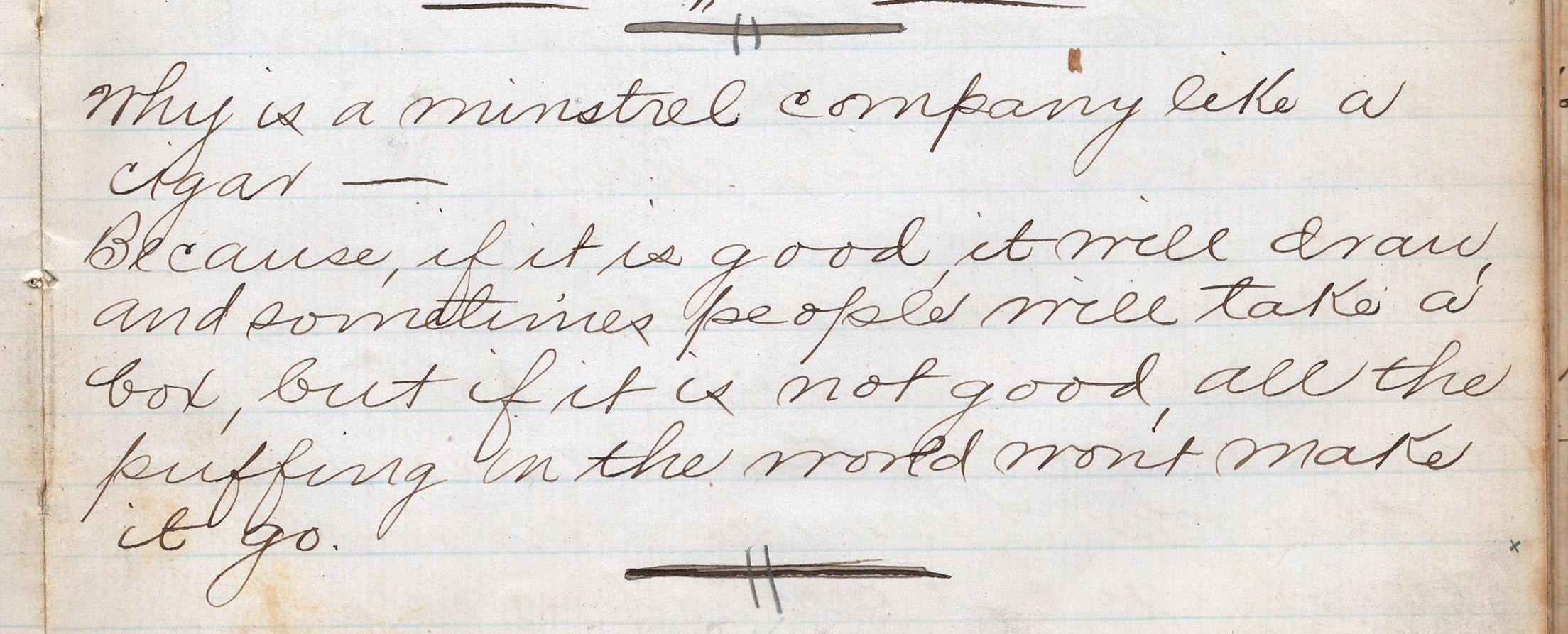 From Billy Emerson's joke book, circa 1881, part of this collection
     The material in the notebook appears to be unpublished, as one would expect. A comedian's patter constituted something of a trade secret. M. B. Leavitt, an actor and impresario who sometimes performed with Emerson and sometimes organized rival shows, offers an anecdote on the cutthroat competition for material how Emerson stole material from a show he had produced for George E. "Yankee" Locke:


On Saturday, before their opening at the Bush Street Theatre, [Emerson and Dave Reed] were playing in Sacramento, and Emerson left his own show to witness the afternoon and evening performances. He brought a stenographer with him, and took down all the songs and stories, which he placed before his own audiences on Sunday, thus stealing a march on me and much injuring the business. For this unprofessional action, Emerson placed the blame upon Reed. 


The material contained in this notebook would have been closely guarded. Given that Emerson and his wife appear to have lived apart after 1889, it is striking that she kept this until 1925. A typed label to the notebook, badly faded but legible with some effort, records that Emerson's widow presented the notebook, and presumably the accompanying ephemera, to Hamilton Henry Dobbin (1856-1930), an amateur photographer and local historian whose scrapbooks on San Francisco are housed at the Library of California.
     A handwritten program from his 1885 tour of Australia included with the notebook offers a glimpse of an abbreviated performance by his troupe, concluding with a song celebrating President Grover Cleveland. The program notes appearances by the Cogill brothers, Walsh, King, and Alf Holland, all of whom would pursue notable independent careers. Dated 7 April 1885, the concert was given aboard the Royal Mail S. S. Zealandia en route to Australia from San Francisco after a stop in Honolulu.
     Also included are two photographs of Emerson in blackface, both bearing on the reverse the name of the New Orleans photographer Eugene A. Piffet (1842-1895). The New Orleans Republican was referring to Emerson as "a long-time favorite in New Orleans" as early as 1868. He played engagements in Louisiana in 1870, 1879, and the mid-1880s, and we think the photographs appear to date from this period. Both photographers are captioned "Billy Emmerson" in what we believe is H. H. Dobbin's hand.
     Finally, the gathering includes a handsome promotional poster (supplied) of Emerson at his prime, dressed with the elegance for which he was known. "He was the nattiest man in the city," remarked once San Francisco acquaintance after his death. "Always quietly dressed, attracting attention only be reason of his exceeding neatness." The H. A. Thomas Lithographic Studio, which produced the poster, published a number of performing arts posters and other materials, including sheet music. Among the latter category were several of Billy Emerson's songs, including "Could I Only Back the Winner."
     An important gathering offering unique insight into the career of one of the most celebrated minstrel performers on the world stage.
Selected References
"Academy of Music," New Orleans Republican, 9 August 1868, p. 4.
"Emerson's Standard Theater," San Francisco Examiner 1 October 1882, p. 3.

"Billy Emerson" marriage announcement, Butte Weekly Miner, 11 November 1885, p. 4.
"Home Again," San Francisco Examiner, 19 April 1886, p. 1.
"Lazy but shrewd Emerson," The Daily Bee (Sacramento),  10 November 1888, p. 6.
"Green Room Gossip," The Pacific Bee (Sacramento), 21 March 1889, p. 1.
"Billy Emerson's jewels," San Francisco Examiner, 3 July 1889, p. 4.
"Raymon Moore: a chat with the sweet singer of California," The Pacific Bee (Sacramento),  27 July 1895, p. 3.
"Billy Emerson sick," Saint Paul Globe, 6 July 1899, p. 1.
"Would make him a man again," The San Francisco Examiner, 23 December 1901, p. 3.
"Billy Emerson's life ends in poverty in Boston," San Francisco Chronicle, 24 February 1902, p. 3.
"Death brings down curtain for lovable Billy Emerson," San Francisco Call, Volume 87, Number 86, 24 February 1902
"Widow of Billy Emerson leaves a $700,000 estate," Sacramento Bee 15 September 1930, p. 6.
Australian Variety Theatre Archive, q.v. Emerson. https://ozvta.com/practitioners-e/
Brown, Thomas Allston. A history of the New York stage from the first performance in 1732 to 1901 (New York: Dodd, Mead, 1903).
Estavan, Lawrence, ed. San Francisco Theater Research, Monograph XXV. Minstrelsy: San Francisco : Work Projects Administration, Northern California, 1939.
Fields, Armond. Eddie Foy: A biography of the early popular stage comedian (Jefferson, NC: McFarland & Co., 1999)
Leavitt, M. Bennett. Fifty years in theatrical management. New York: Broadway Pub. Co., 1912.
Rice, Edw. Le Roy, Monarchs of Minstrelsy, from "Daddy" Rice to Date. New York: Kenny Publishing Company, 1911.
Slout, William Lawrence. Burnt cork and tambourines: a source book of Negro ministrelsy. Wildside press, 2007.
-----. Olympians of the Sawdust Circle: A Biographical Dictionary of the Nineteenth Century American Circus. Borgo Press, 1998.
Recommend this product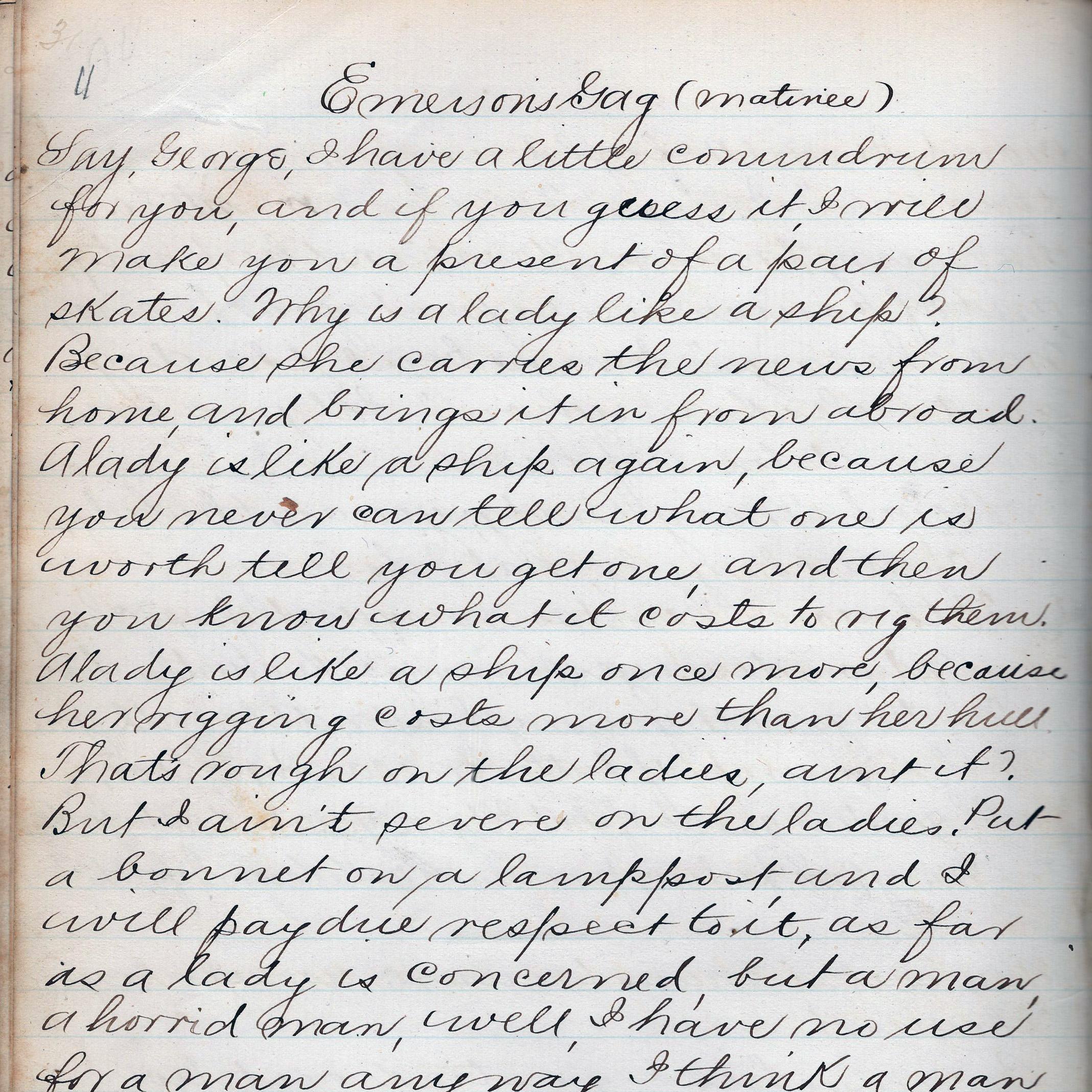 Billy Emerson Minstrel show Archive, including his original script