John Vlahos. Archive of a screenwriter for television's Golden Age
Vlahos, John (1917-2004). A major archive of scripts, drafts and other materials by one of the leading scriptwriters of the Golden Age of television, housed in three banker's boxes, 4.5 linear feet total.


     Vlahos was, along with his contemporaries Horton Foote, Reginald Rose, and Rod Serling, one of the leading screenwriters of the 1950s and 1960s, writing for such series as The Philco Television Playhouse, Studio One, Robert Montgomery Presents, Goodyear Television Playhouse, The United States Steel Hour, Climax!, The Alcoa Hour, Boris Karloff's Thriller, Route 66, the Defenders, The Nurses, and Marcus Welby, M.D.  [1]
      His credits include 17 movie screenplays, 70 radio scripts, 52 network television live and film dramas, and more than 200 episodes for various daytime shows.  Among the honors he received are the Sylvania Award in 1958 (for Beaver Patrol, a comedy for the U.S. Steel Hour) and an Emmy in 1962 (for "Killer Instinct," an episode of The Defenders).  He also received an Ohio State Radio-TV Award for Best Documentary, a Freedom Foundation Award for Best Historic Family Series, an Institution for Education Award for Distinguished Radio Writing, and the 1959 Ford Foundation Award for playwriting. [2]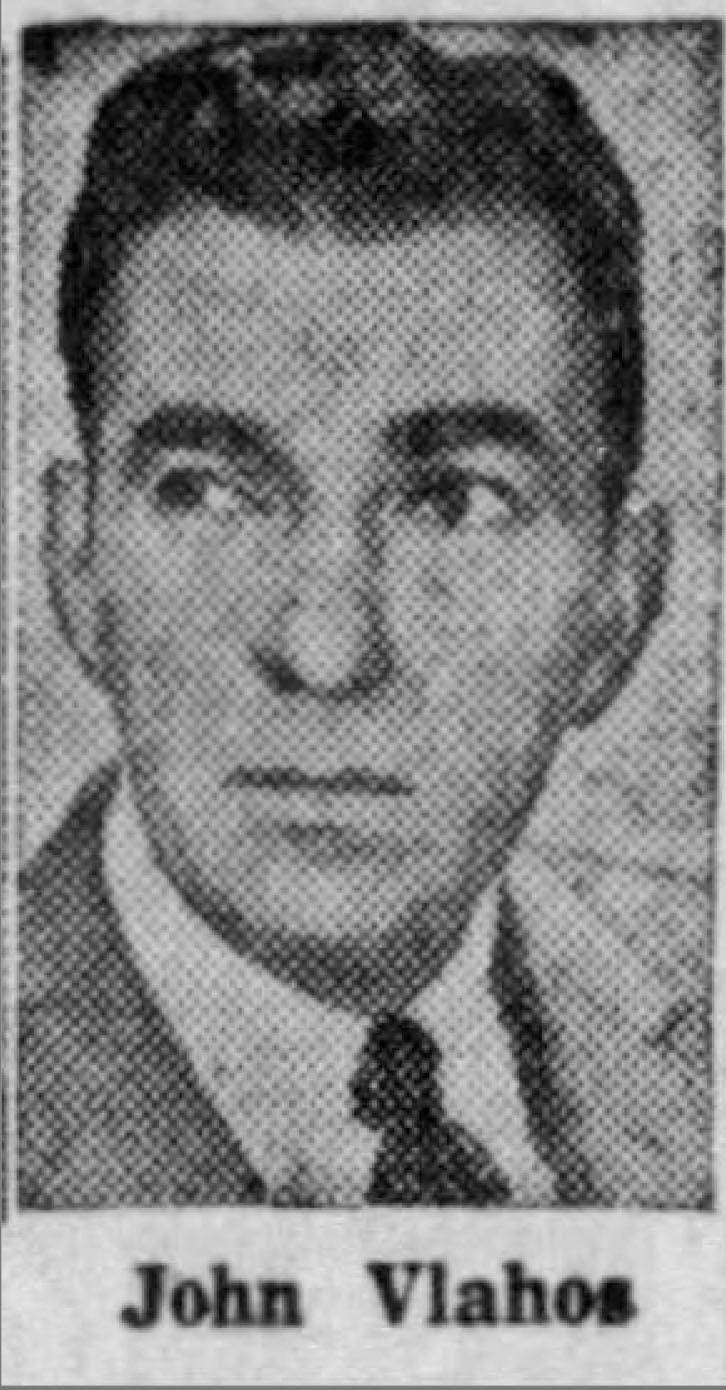 John Vlahos in 1958
     Born in Springfield, Ohio, Vlahos worked in the family restaurant as a youth. He attended Wittenberg University and Carnegie Tech, where he majored in drama.  In 1941, moved to West Coast and wrote for a series of "Range Busters" westerns for Monogram Pictures. [3]  During World War II, he served in the Navy in the South Pacific. After World War II, he spent seven years with Armed Forces Radio Service. [4]  He turned his hand to television in 1952, when Hal Peary, best known for his role as the Great Gildersleeve, commissioned him to write episodes of a planned series called "Call Me Papa; or, Pigeon Point." [5]  After several years in Hollywood, Vlahos moved in 1958 to Westport, Connecticut, where he lived the rest of his life. [6] 
     Vlahos excelled especially in plays broadcast live. Among Vlahos's early successes was A Business Proposition (1955), "a tender tale or two middle-aged people who attempt to establish a business despite tremendous odds,"   [7] and A Bend in the Road (1957), which he described as being "about a Protestant minister's search for his usefulness. He's an old man in a nation of youth and youth's success. What can he contribute? He goes through a spiritual evaluation of himself, to the world, to himself, and to his family."  [8]  Other notable early works include Tongues of Angels (1958), a drama about a farmer who feigns muteness to hide his severe stutter, and Beaver Patrol (1958), a comedy about a retired New York businessman who assumes leadership of a cub scout troop. His Cold War drama, The Brandenberg Gate, set in Berlin, was produced for television three times in eight years -- first for Motorola TV Hour with Jack Palance and Maria Riva (1953), then with "Climax!" (under the title The Largest City in Captivity) with Franchot Tone and Viveca Lindfors (1957), and finally for the United States Steel Hour with Richard Kiley and Dina Merrill (1961).  [9]
      Among other notable works were his script for the T.V. movie Silent Night, Lonely Night (1969), starring Lloyd Bridges and Shirley Jones, and Act of Reprisal (1964), a feature film on the Cypriot conflict that starred a young Jeremy Brett.  A 1991 review of a revival of the film noted "a certain lustiness and clarity in its storytelling."  [10]
      Vlahos's play The Golden Age of Pericles Pappas, for which he was awarded a fellowship from the Ford Foundation, was produced at the Tulsa Theater in 1959.  [11]  His biopic on labor leader Samuel Gompers rooted his activism in the study of the Talmud.  [12]  He also wrote a promotional film, The Big Decision, for Wittenberg University, which awarded Vlahos an honorary doctorate in 1958, and he developed poetic liturgies performed at the Unitarian Church in Westport.  [13]
      Vlahos worked alongside the leading writers and producers of the early years of television.  His agent, Lucy Kroll, also represented Horton Foote. His co-writers for the United States Steel Hour, included such luminaries as Foote, Arnold Schulman, Arthur Hailey, Tod Mosel, Rod Serling, and Ira Levin. [14]  He wrote episodes for the Emmy Award-winning courtroom series The Defenders, created by Reginald Rose. Recalling his work with Rose, Vlahos noted, "In my case I get so involved with the people, I have practically no story. He's always sending me back to put the story in."  [15]
      In 1958, TV critic Dick Kleiner described the working methods of "one of TV's best playwrights":
Vlahos' writing technique is rather remarkable. He gets an idea and he thinks about it. He lets it simmer in his mind for a time, perhaps doing a little research and making some notes, but nothing more. He considers in in this way for about a year, keeping perhaps six projects in a similar state of mental germination. Then, by the time he sits down to write it, it's practically worked out completely. It is written, he says, in a weekend.  [16]
Vlahos's work offers insight not only into the golden age of television, but also into a range of topics in American culture during the 1950s and 1960s: cold war politics (The Brandenberg Gate), labor relations (The Eternal Light), disability (The Tongues of Angels), popular religion (Untitled Contemporization of In His Steps), Immigration and Ethnicity (The Golden Age of Pericles Pappas), Beatniks (Sounding Brass), American memory (The Spirit of '76), and much more.  Among the produced scripts, there are a number for which no information is otherwise available on IMDB or elsewhere; these likely represent the only surviving records of some early television broadcasts.
      The present archive comprises scripts and treatments for over sixty projects spanning Vlahos's entire career. Many of the projects here were produced, but there are also treatments and scripts that appear not to have been sold.  Among the latter are detailed treatments for a detective series written in the late 1950s or early 1960s, and a series set during the American Revolution written in the 1970s.  There are also unproduced episodes of Marcus Welby, M.D. 
      Many of the projects are present in multiple drafts and formats.  Vlahos's award-winning play for the Ford Foundation was first conceived as a television drama.  The treatment for his movie Reprisal! (released as Act of Reprisal) is a 57-page short story.  A large assortment collection of rough drafts – generally in the form of dialogue only -- offer intimate insight into Vlahos's creative process, and the ways in which he develops each character through molding their distinctive voices.
      An assortment of professional correspondence, contracts, notes, and reference files round out the collection.  

---------------------------------------------------------------------
[1] John Vlahos, 87; Won Emmy for Script of 'The Defenders," Los Angeles Times, April 19, 2004, p. B9; Variety, Apr 26, 2004, p. 64.
[2] "John Vlahos," Connecticut Post, Apr. 13, 2004, https://www.legacy.com/obituaries/ctpost/obituary.aspx?n=john-vlahos&pid=2126411  
[3] Brainard Platt, "Tops on Airwaves," Dayton Daily News, 11 Mar 1958, p. 31; Andrew McGinn, "Springfield singer had incredible range," Springfield News-Sun, 16 Jun 2007, p. 5.
[4] Gee Mitchell, "Dialing: Pay Television Criticized by CBS Network Official,"
Dayton Daily News
, 19 Feb 1956, p. 68.
[5] Catalog of Copyright Entries: Third series (1952), p. 151; Harold V. Cohen, "The Drama Desk," Pittsburgh Post-Gazette, 13 April 1953, p. 10
[6] Dick Kleiner, "TV Scripter John Vlahos Moves East," Times Record (Troy), March 7, 1958, p. 10. 
[7] Win Finning, "Maybe Ferrer Was Tired," Pittsburgh Post-Gazette, 19 Oct 1955, p. 31. 
[8] Charles Mercer, "Problems in Growing Old to be Dramatized on TV," Asbury Park Evening Press, 4 Nov 1957, p. 14 
[9] Val Adams, "TV Show Revived by Berlin Crisis: Vlahos' "Brandenburg Gate Sold 3d Time in 8 Years", New York Times, 21 August 1961, p. 45 
[10] Michael Wilmington, "A Crash of Symbols in 'Act of Reprisal,'" Los Angeles Times, 13 Sept 1991, p. 521. 
[11] "Pericles Pappas: Tulsa Theater to Give Ford Foundation Drama," Times (Shreveport, Lousiana), 11 Oct 1959, p. 67.
[12] "Formation of AFL Dramatized," Longview News-Journal, 11 Dec 1966, p.96.  
[13] William A. Kinnison,
Modern Wittenberg
(Xlibris, 2011), pp. 145-156; "John Vlahos,"
Connecticut Post
, Apr. 13, 2004.
[14] Harvey Pack, "Final Curtain for Dramatic Show," Arizona Republic, 9 June 1963, p. 105.
[15] Tom Stempel, Storytellers to the Nation: A History of American Television Writing (Syracuse University Press, 1996), p. 87.  
Recommend this product
John Vlahos. Archive of a screenwriter for television's Golden Age