James Ferguson, Heaven's Wheelwright: a lunar debate of the scientific enlightenment
Ferguson, James (1710-1776). A dissertation upon the phaenomena of the harvest moon: also, the description and use of a new four wheeled orrery, and an essay upon the moon's turning round her own axis. London: printed for the author, and sold by J. Nourse, and by S. Paterson, MDCCXLVII [1747]. 72p., [3] folded leaves of plates. First edition. BOUND WITH [Joseph Grove (1699-1764)] An answer to Mr. Ferguson's essay upon the moon's turning round its own axis subjoined to his dissertation upon the phaenomena of the harvest moon. London: printed for J. Roberts, at the Oxford Arms, in Warwick Lane, MDCCXLVIII [1748]. 52 p., [3] folded leaves of plates ; 23 cm. Contents fresh; bound in recent quarter calf and marbled boards. With the blindstamp of astronomy John W. Streeter.
     A pairing of two interesting astronomical works of the scientific enlightenment in Great Britain. Of humble parentage, Ferguson financed his scientific studies by painting portraits in miniature. His gift for modeling and invention led him to develop astronomical and mechanical models, including the orrery described in this work. He began to give public lectures on experimental philosophy in 1748 – the year following this publication – and soon became a leading popularizer of Newtonian science. Ferguson was elected to the Royal Society of London in 1763.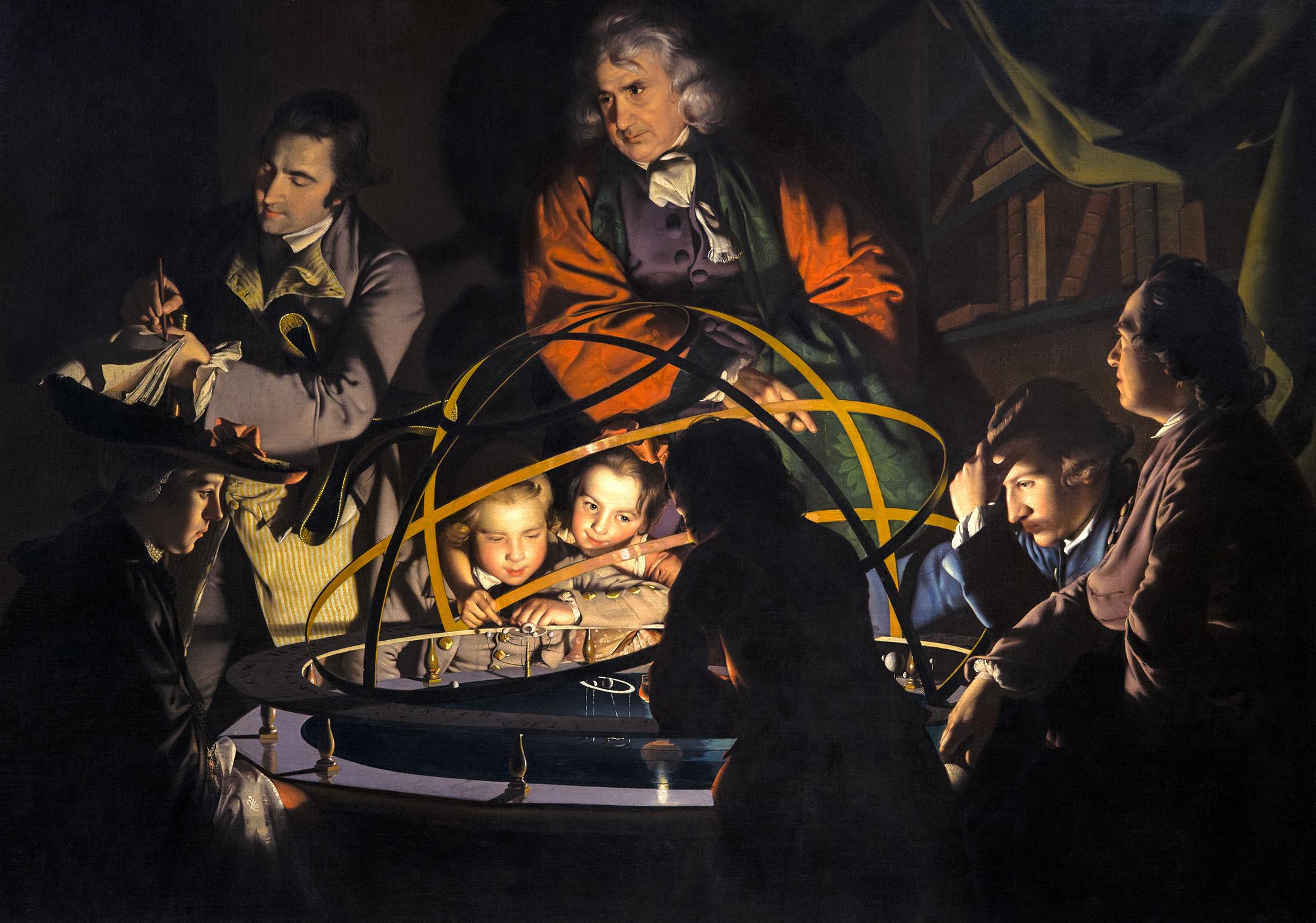 Joseph Wright of Derby, The Orrery, ca. 1766 (Derby Museum and Art Gallery)
     With its three stunning plates, Ferguson's slim book, one of his first publications, gives insight into the ways his mechanical demonstrations excited the public imagination. Thomas Paine credited his interest in natural philosophy to Ferguson, and historian David Hoffman suggests that the astronomer's orrery fostered to Paine's deistic conception of God as a cosmic engineer. In 1773, a young William Herschel picked up a copy of Ferguson's popular textbook on astronomy; soon he was constructing his own telescopes and embarking upon a series of studies whose fruits would include the discovery of Uranus, and the identification of infrared radiation.
     The second work suggests that Ferguson attracted not only admiration but also debate -- even on so charming a subject as the harvest moon. The copy in the British Library has a note attributing authorship to John Plumptre, a Whig politician of Nottingham, but traditional bibliography assigns it to Joseph Grove, a lawyer best known for his popular biographies. As bookman Phillip J. Pirages wittily remarks in one of his catalogues, Groves clearly "understood writs better than orbits."
     The volume is from the collection of John W. Streeter (1908-1998), who taught astronomy at Brown University and Vassar College before accepting a position at the Fels Planetarium. Streeter organized the first conference on rockets and earth satellites, held at the Franklin Institute in 1956, and served a term as president of the Rittenhouse Astronomical Society.
Selected References
Billings, Cecil M. The Rittenhouse Astronomical Society, Philadelphia – Pennsylvania: A History of the Society from 1888-1960. https://www.rittenhouseastronomicalsociety.org/s/RAS-History.pdf
Hoffman, David C. "'The Creation We Behold': Thomas Paine's 'The Age of Reason' and the Tradition of Physico-Theology." Proceedings of the American Philosophical Society 157, no. 3 (2013): 281–303.
Millburn, John R. and Henry C. King, Wheelwright of the Heavens: the life and work of James Ferguson, FRS. London: Vade-Mecum Press, 1988
Pirages, Phillip J. Catalogue 69.: Incunabula and Other Books Printed before 1800. https://www.pirages.com/images/upload/piragescat69-web-small.pdf.
---
Recommend this product

James Ferguson, Heaven's Wheelwright: a lunar debate of the scientific enlightenment