Arthur Conan Doyle. The Memoirs of Sherlock Holmes (1894). First American edition, with a suppressed Sherlock Holmes story
Doyle, Arthur Conan (1859 – 1930). The Memoirs of Sherlock Holmes.  New York: Harper & Brothers, 1894. First American edition, first state. pp. 281 + 6 [ads]; ill. Green and Gibson A14c.  Near fine in illustrated cloth; a superior copy. 


     Illustrated with 27 plates by Sidney Paget and W.H. Hyde, this volume collects some of Holmes's most memorable cases, including "The Musgrave Ritual," "Silver Blaze," "The Crooked Man," and "The Final Problem." Unlike the British edition, published several weeks earlier, the first issue of the American edition includes "The Adventure of the Cardboard Box," a tale that violated Victorian sensibilities both for its violence and its sexual transgression. Doyle evidently regretted the "illicit love affair" featured in the story, and remarked to a colleague that "a tale involving sex was out of place in a collection designed for boys." As Christopher Redmond and other literary scholars have observed, this was a strange cause for discomfort, as the erotic elements in the story are far from explicit and there are many other Sherlock Holmes adventures that feature murder, adultery, and mutilation. The Strand was not a boy's periodical, and Doyle did not write for a juvenile audience. Whatever his true motivations, Doyle instructed Harpers to remove "The Cardboard Box" from the Memoirs when they reprinted the book, and revised "The Resident Patient" to include the (inoffensive) opening paragraph of the suppressed story. Doyle would not allow the story to be reprinted until 1917 when he relented and included it in His Last Bow.
     An important and intriguing edition of a canonical text, and very difficult to find in such attractive condition.
Sources
Christopher Redmond, In Bed With Sherlock Holmes: Sexual Elements in Arthur Conan Doyle's Stories of the great Detective (Toronto, 1984)
Samuel Rosenberg, Naked is the Best Disguise: The Death and Resurrection of Sherlock Holmes (New York, 1974)
Christopher Metress, Thinking the Unthinkable: Reopening Conan Doyle's "Cardboard Box," Midwest Quarterly 42/2 (Winter 2001) 183f.

Recommend this product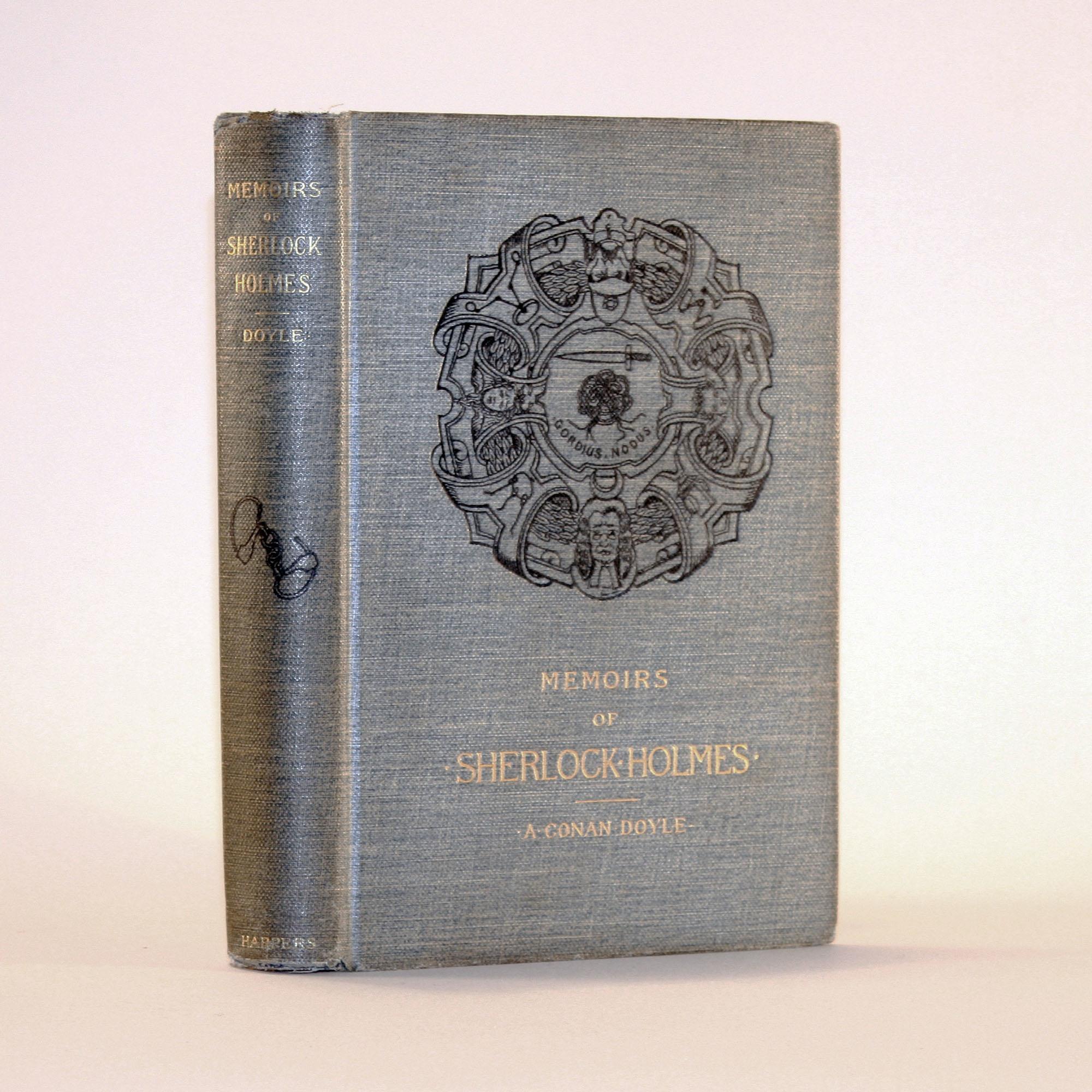 Arthur Conan Doyle. The Memoirs of Sherlock Holmes (1894). First American edition, with a suppressed Sherlock Holmes story