Nantucket Traders and Trojan Pioneers: A New York Archive, 1748-1834
Boardman, John (1758–1813) and Clarinda Starbuck Boardman (1773–1846). A substantial archive of over 80 letters and documents documenting the lives of a prominent mercantile family in Nantucket, Manhattan, and Troy, New York, 1748 to 1834. Individually filed in an archival box. 0.5 linear feet.


          An important collection of letters and documents relating to John Boardman, a prominent merchant who was instrumental in founding Troy, New York, and his wife, Clarinda Starbuck, a daughter of a leading family of Nantucket whalers. The correspondence, rich with colorful detail, offers a fascinating window into the entrepreneurial and personal lives of New York merchants during the early years of the republic. 
          In addition to a substantial correspondence between Boardman and his wife (36 letters), the archive includes substantial bodies of correspondence between the principals and other family members and friends, such as Sabrina Crocker Boardman (1763–1840), John's sister-in-law, who struggled to make ends meet after the death of her husband in 1800 (8 letters), and Susanna Spencer (1777–1808), Clarinda's friend, who sent a series of chatty letters in the 1790s (7 letters). The materials, are arranged in six series (click here for a link to a detailed catalogue of each item in the archive):
I. John Boardman to Clarinda Starbuck Boardman, 1800-1811 (32 letters)
II. Clarinda Starbuck Boardman to John Boardman, 1801-1805 (4 letters)
III. John Boardman to other family members and colleagues, 1800-1810 (11 letters)
IV. Letters to Clarinda Starbuck Boardman and John Boardman, 1795-1834 (20 letters)
V. Legal and financial documents (6 items)
VI. Estate Inventories (10 items)


          John Boardman (1758 – 1813) was born in Preston, Litchfield Country, Connecticut, the fourth of a brood of six.[1] In 1788, he acquired a plot in farmland that had been subdivided by the Van der Heyden family in the previous year. Other settlers of his generation included Stephen Ashley, Benjamin Covell, Samuel Gale, Benjamin Smith, Philip Heartt, Anthony Goodspeed, Mahlon Taylor, Ephraim Morgan, and Ebenezer and Samuel Wilson. As one writer later reminisced of these pioneers, "they were few in number, and possessed but little substance; but they were men of courage and activity…. They were men of shrewd minds. They saw that water power here abounded – and that River navigation to this point was easy. They judged that with its natural advantages, their enterprise could not fail."[2] 
     On the night of January 5th, 1789, Boardman and other residents gathered in Ashley's Inn voted to give the settlement a new designation. Henceforth the town of Vanderheyden would be known as Troy.  Thanks to the industry of entrepreneurs like Boardman, Troy grew steadily. It was incorporated as a town in 1791, and upgraded to a village in 1801. Three years after his death, Troy was chartered as a city.[3] 
          Boardman formed several mercantile partnerships in the course of his career. Morgan, Boardman & Coit was established as early as 1790, and his enterprise went through further permutations as Morgan & Boardman, and later Boardman & Hillhouse. Boardman built a house on the west side of Second Street in Troy on the Hudson River in New York. He served in a number of official capacities in the early history of Troy. He was among the first fire wardens, appointed to the office in 1799, 1801, and 1803, and served as assessor for the Second Ward in 1806.[4] A contract in this collection indicates that he was also involved in the early schemes to build what would eventually become the Erie Canal, funded through lotteries organized by George Tibbits.
     In 1800 John Boardman married Clarinda Starbuck of Nantucket (1773 – 1846), the daughter of Daniel and Mary (Folger) Starbuck of Nantucket. Through the Folger side of the family, Clarinda was related to both Benjamin Franklin and Lucrecia Mott. She had earlier moved to Hudson – letters from her cousin Phebe and other family members were addressed there – and this doubtless is where she met her husband. Although Clarinda had been raised a Quaker, she had joined the Presbyterian Church when she married John, who was himself of Puritan stock. Their son, Henry Augustus Boardman (1808-1880) would become pastor of the Tenth Presbyterian Church in Philadelphia, and a denominational leader.[5]
     The correspondence and legal documents collected here offer a rich glimpse into the private and professional lives of these prominent mercantile families in the bustling world of the early republic.  Boardman's business took him frequently to New York City.  He brought wheat, corns, and other products from the farms upstate, and traded them in Manhattan for rum and other manufactured goods.  Often he bunked on the ships, but rented a room for longer stays.[6] The dozens of letters he wrote to his wife in the years 1800-1803 testify to his unhappiness at being parted from his young bride.
"It would add much to my feelings still to be at this time, unable to quit this unpleasant place and be on my way to my Friends at Troy, who I know are lonely and I also know I should be much happier with them than here, when this will be I know not and therefore will not even conjecture. … rest assured I shall return as soon I can possibly leave my business here." 

He urged her to visit him, noting in one letter that

"a good Room in this House [is] wholly at your service and also a woman with a fresh Breast of Milk for Dear Babe – God bless him."
     Boardman's first letter to Clarinda dates from 26 May 1800, after a three-day voyage down to New York City.
 "I find everything in the Metropolis wearing much the same appearance as when I last left it – the same great variety of Bonnets except that there is many more of the Friendly ones seen in the streets moving to and from meeting - and Indeed is nothing here that strikes my attention very pleasing. I feel willing to let them enjoy their city, if they will allow me enjoy my Friends and Village." 

During an extraordinary period of correspondence in April and May 1802, Boardman wrote his wife almost daily – of the 32 letters to her in this archive, 21 date from these two months.
     In the absence of a reliable mail system, their correspondence was conveyed through ships sailing up the Hudson, their letters entrusted to various captains Ripley, Tupper, Negus, Benjamin, Finley, Warren, and others. This was not a reliable system. A long, painful letter from Clarinda to Boardman in 1805 voiced sorrow that her husband's letters indicated that he hadn't heard from her for months.
     Boardman frequently worried for his wife's mental health during his long absences. In November 1803, he urged his sister-in-law and "Sister Coffin" to spend the winter with her.
"I left home this morning at 8 o'clock and never separated from my dear wife with more reluctance and heart felt sorrow and anguish," he wrote. "This arrangement seems to cut her off from all those near and dear."
     The correspondence between Boardman and his wife touched on many other matters besides the pain of their parting, and occasional flashes of humor shine through. Noting that it was announced that someone else won a $20,000 state lottery, Boardman rues the worthlessness of the tickets that he bought.
 "So we must fall on some other plan for a livelihood, or the old one – work hard & live poor."

In June 1803, he noted that there were rumors of another war to come between France and England.

"Should this be the case, it will probably raise the prices of Provisions and Flour from the United States a little.  [War] is however an event I cannot wish for … although [it] might be highly beneficial."

In the meantime, he was seeking to buy rum. Clarinda occasionally sent him special requests, for fruit or cloth. A late letter has him embroiled in a law suit in Manchester, Vermont; being February, Boardman advised his wife to ensure that their store of wood was kept fully stocked. 
     Because Boardman was trading in Manhattan, he frequently ran into merchants from other parts.
 

"I remain in the same Quarters and am now in the same old Chamber," he wrote in May 1802, "although there is plenty of company below stairs and they are very chatty, amongst them are three pretty genteel men from Kentucky, Natches & New Orleans."

He also ran into captains from Nantucket, who gave him news of interest to his wife and letters to convey to her.  

"A letter was handed to me from your good Father …. The wife of your brother Elizha has a fine son born the 10th. They urge me to bid you go there and spend the summer."

 

He writes of running into Clarinda's cousin William Starbuck in New York en route to Liverpool.
Fair winds and foul weather affected communication up and down the Hudson, but venturing into the ocean currents could be perilous indeed.  In one letter, Clarinda details a turbulent journey from Manhattan to Nantucket:


Knowing your anxiety will be great, until you hear of my our favorable arrival at our destination, I will endeavor to gain a sketch of our three days sail. The wind continued as when we left New York until evening … when a heavy squall appeared approaching from the N.E. Captain Bunker advised to make Huntington harbour with all speed, which we did … A heavy swell and the vessel rolled considerably.  Every woman but myself confined to their berth ... A Monster sea, and it was impossible for them to beat in the night to any advantage, thus we continued along. At day light we made Huntington lighthouse once more….


In addition to the letters between Boardman and his wife, there are letters from the Folger-Starbuck-Coffin clan, offering news and gossip about life in Nantucket. Clarinda's friend Susan Spencer lived in Albany, which is close to Troy by today's standards, but in the 1790s they relied on the kindness of sailors to convey their correspondence. In one letter from 1796, Susan notes that she did not expect Clarinda to be gone for so long, and expresses hope for the stilling of wagging tongues:
"scandal is said to be the favorite theme of a female pen, but I have more charity for our six than to suppose they would be guilty of scandalizing their friends or acquaintances."

 

Thankfully, Clarinda's sister Lydia Starbuck was not moderated by such concerns, and her letters are wonderfully detailed. Here she catches Clarinda up on some of the news from Nantucket following the latter's visit one summer:


John Emmett, Richard Mitchell's grandson has been convicted of petty larceny and burglary. The first breach was stopped by his friends and the following night the second offense was committed.  He occupies the jail and night before last our repose was interrupted by his incessant labor in tearing the jail down, he has apportionment and in Irons he appears to be wholly given over to hardness of heart and insensible to any remorse. He declares that nothing but death shall humble him and that if he can make his escape from prison he will set Bigelow on fire.


     Illness and death are the subject of some of the correspondence. In 1802, Boardman wrote to extol the virtues of
"Doct. Andrews Patent Medicine" 

as a cure for his biliousness. A long series of letters from Boardman to his sister-in-law starts at the death of her husband, Colonel Elijah Boardman (1754–1800).

"Death when disarmed of its most alarming weapons is terrible to those best prepared to must it but when accompanied with its fiercest horrors is almost insupportable to the friends," he writes. "Oh Elijah thou was my Brother, my most affectionate Brother."  

Boardman was in New York at the time and unable to return north, a circumstance that upset him deeply. Subsequent letters reveal him to be helping to settle his brother's estate, negotiating his debts, selling his assets (

"I am sorry you have not yet had such an offer for the few cattle and for the colt. ... I recommend to have the liquor sold off by the barrel or not less than ten gallons"

), and monitoring the welfare of his widow and their children.
     An 1812 letter from Clarinda's sister Judith Coffin describes an illness that devastated her parents' household, killing their father Daniel Starbuck and laying their mother and two others, Louisa and Elisha, low. An 1813 letter to Clarinda from Jonas Boardman expresses sympathy for the death of her husband,
"the desire of your eyes," 

and offers his own melancholy news.

 "My eldest daughter who was married is now a widow with four small children, her husband died about the tenth of March with the prevailing fever. she is a poor inconsolable widow."
     The correspondence also reveals the cultivation of the younger generation. Boardman seems to have adopted his nephew after his brother died. (
"Respecting the boys I take either of them, should prefer Elijah on account of his age, this is an improper place to educate boys until they become of an age"

).  A letter from 1810 arranges an apprenticeship, introducing young Elijah to Captain Obed Mayo, who had married Clarinda's niece Elizabeth Starbuck, and moved to Ogdensburgh, NY,

"with a view to Navigate Lake Ontario, under the patronage of the Great Mr. [David] Parish."
     The archive is rounded out by a set of legal documents, including a detailed account by Nantucket merchant Joseph Rotch from 1748, and perhaps most interestingly, a set of inventories of Boardman's property. He prepared these inventories during his lifetime, and the practice continued after his death. The inventories include detailed accounting of household items, personal items, notes, stocks, bonds, shares and debts, as well as real estate, rents, and lists of debtors. At the time of his death, Boardman owned at least twelve properties, including farms, as well as at least one slave.  The latter fact is rather surprising, given the fact that his wife hailed from a Quaker family. But before 1827, this was the norm in New York, with most affluent families in the region of Albany owning one or two household slaves. [7] The 1801 census identifies Boardman's household as consisting of one white male 45 and older, three white women aged 10 to 44, four children under 10, and one slave.[8] The latter is likely the woman listed in the 1808 inventory of Boardman's property as a
"Negro wench, Judi,"

 

valued at $200. It is possible that he also acquired another slave after 1810.  Boardman mentions a household laborer named Charles in a letter to his wife of 1811, though he might have been just a hired hand.
     An important archive, offering extensive opportunity for research and pedagogy on economic and social life in Troy, Manhattan, and Nantucket at the turn of the nineteenth century. For a 16-page catalogue of the archive, with excerpts from each document, please click on the link below.

References
[1] H. Rosa Towne, The Boardman Family in Topsfield, Mass (Topsfield: Topsfield Historical Society, 1902), p. 17.
[2] David Buel, Troy for fifty years: a lecture, delivered before the Young Men's Association of the city of Troy, on the 21st December 1840 (Troy: N. Tuttle, 1841), pp. 10-11.
[3] Arthur James Weise, History of the City of Troy: From the Expulsion of the Mohegan Indians to the Present Centennial Year of the Independence of the United States of America, 1876 (Troy: Higginson Book Company, 1876), p. 25.
[4] John Woodworth, Reminiscences of Troy: from its settlement in 1790, to 1807, with remarks on its commerce, enterprise, improvements, state of political parties, and sketches of individual character (Albany: J. Munsell, 1853), p. 25; Weise, pp. 273, 275.
[5] John DeWitt, D.D., "Rev. Henry A. Boardman, D. D." in William Mason Cornell, Cornell's Lives of Clergymen, Physicians and Eminent Business Men of the Nineteenth Century: With Recollections of the Olden Time (Boston: Howard Gannett, 1881), pp. 194-216.
[6] Though he could not always afford to pay for them. In 1808 Boardman found himself twice before the New York Common Council – once for selling liquor without a license, and once for arrears in rent. Minutes of the Common Council of the City of New York, v. 5 (New York: City of New York, 1917), pp. 224, 783.
[7] Thomas J. Davis, "Three Dark Centuries Around Albany: A Survey of Black Life in New York's Capital City Area Before World War I," Afro-Americans in New York Life and History 7 (1983): 7-23. Indeed no white family in Troy listed in the 1810 census had more than two slaves.
[8] "United States Census, 1810," database with images, FamilySearch, J Boardman, Troy, Rensselaer, New York, United States; citing p. 375, NARA microfilm publication M252 (Washington D.C.: National Archives and Records Administration, n.d.), roll 35; FHL microfilm 181,389.
---
Recommend this product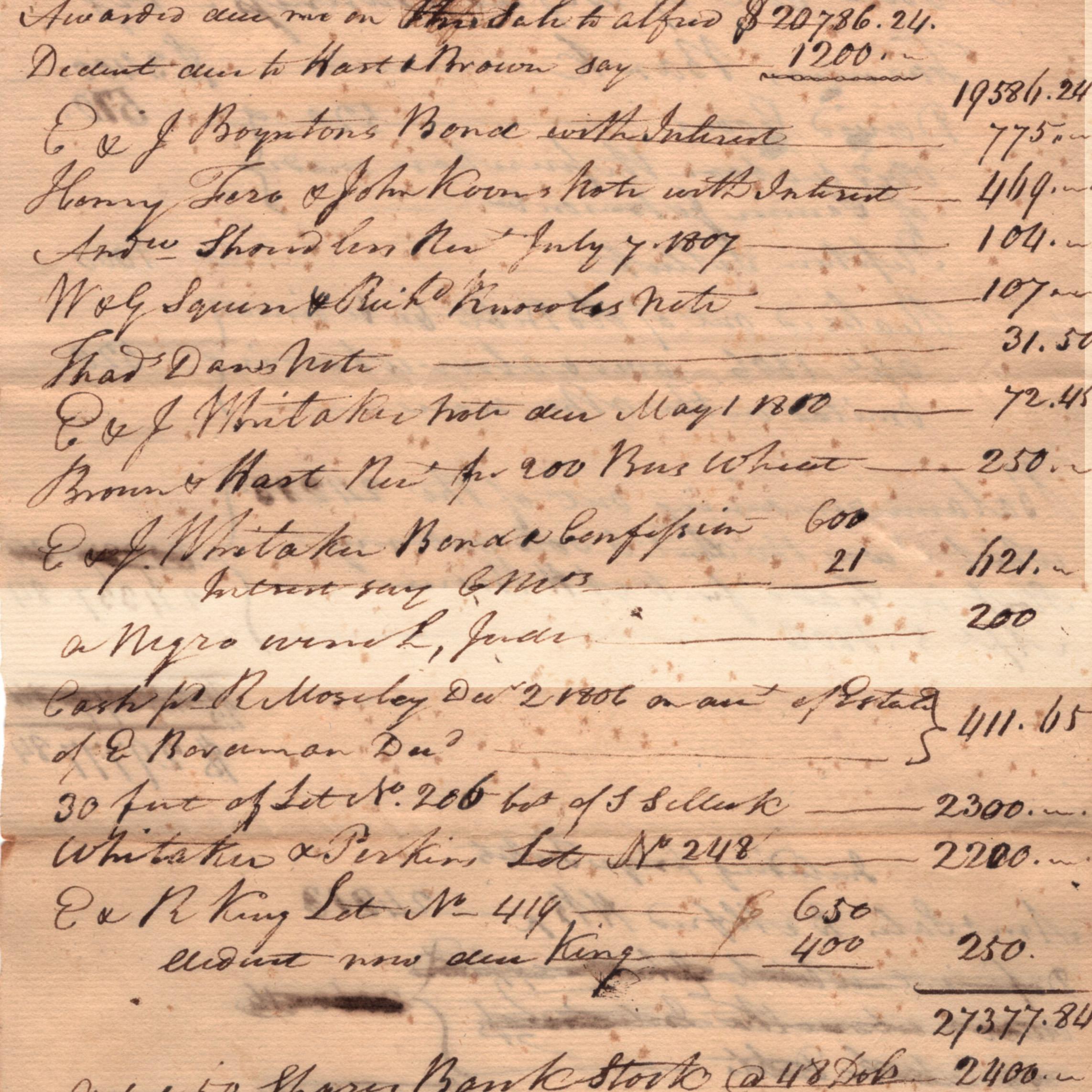 Nantucket Traders and Trojan Pioneers: A New York Archive, 1748-1834