A jumbo Gillette Marketing Portfolio from the Mad Men era
Gillette Safety Razor Company. The Mighty Midget. Advertising presentation portfolio. [Boston: Gillette Safety Razor Company, ca. 1953]. 33 leaves, printed recto only; 26 x 19 in. Spiral bound in a portfolio case that doubles as a display easel, in very good condition [WITH] Hy Turkin, ed. Gillette World Series Record Book, 1953 edition (New York: A. S. Barnes and Company, 1953), pp. 96, 3 x 4 in. Fine condition.  [WITH]  Hy Turkin, ed. Gillette World Series Record Book, 1954 edition (New York: A. S. Barnes and Company, 1954), pp. 112, 3 x 4 in. Fine condition. [WITH] Hy Turkin, ed. Gillette World Series Record Book, 1954 French edition. (New York: A. S. Barnes and Company, 1954), 3 x 4 in. Fine condition.


     This folio was used for presenting the advertising campaign for Gillette products during the 1953 World Series. We are not certain whether this was used to present Gillette to distributors, or to present the strategy to the board of the company. In either case, this proto-PowerPoint represents a remarkable example of marketing tactics during the early years of television.
     "It is difficult to overstate the importance of television advertising to Gillette's postwar momentum," notes business historian Gordon McKibben in his indispensable study of the company. Gillette was an early and very heavy investor in the new medium, beginning when TV was in its infancy, sponsoring the broadcast of the 1944 Willie Pep fight. By the mid-1950s, the company was investing 85 percent of its advertising budget in the Cavalcade of Sports.
     The company was outspent in television sports advertising market only by the Ford Motor Company, a vastly larger enterprise. Ford and Gillette co-sponsored the World series television broadcast in 1947, but in 1948 Gillette outbid Ford to gain exclusive sponsorship. In 1950, the company paid $6 million for exclusive television rights for the World Series for the next six years, setting a record for the highest price ever paid for an athletic event. As McKibben notes:


Some thought that baseball commissioner Albert 'Happy' Chandler, a folksy former Democratic senator from Kentucky, had taken Gillette to the cleaners. Others realized that actually Gillette had skinned Happy Chandler. Television advertising increased along with the value of television advertising time, and by 1956, Gillette had to spend more than $3 million a year for the next exclusive multiyear deal.


"Gillette did not spend millions on television advertising without assessing the new medium's effectiveness," McKibben adds. "After 1954, the company's negotiators were armed with market research data that conclusively showed television's ability to sell blades."
     This portfolio presents these market data, which were gathered by Paul N. Fruitt, Gillette's vice president for corporate planning. It was likely prepared by A. Craig Smith, the advertising director who coined the company's winning slogan "Look sharp, feel sharp, be sharp." Pitching the "Mighty Midget" razor, the portfolio offers financial data, noting that the radio and television audience for the World Series amounts to 87,000,000 potential customers. The company offered a World Series record book with every "Super-Speed Razor Set."  A sample of the 1953 booklet is included here, along with two variants from the 1954 season, one in French (both supplied).
     The final pages present Sharpie the Parrot, the raucous company spokesbird, introduced to television audiences in 1952 with the ditty "How're Ya Fixed for Blades?" composed by Mahlon Merrick, musical director of the Jack Benny Show. A series of advertisements spanning the next twenty years featured the parrot startling men mid-shave. "Sharpie was almost as well known for a while as Donald Duck and Mickey Mouse," says McKibben.
      A wonderful artifact from the golden age of television marketing. No other copies recorded.
Selected References
McKibben, Gordon. Cutting edge: Gillette's journey to global leadership. Boston, Mass.: Harvard Business School Press, 1998.
Spang, Joseph P. Look sharp! Feel sharp! Be sharp! Gillette Safety Razor Company: fifty years, 1901-1951. New York: Newcomen Society in North America, 1951.
Harford, Tim. 50 inventions that shaped the modern economy. New York: Riverhead Books, 2017.
Recommend this product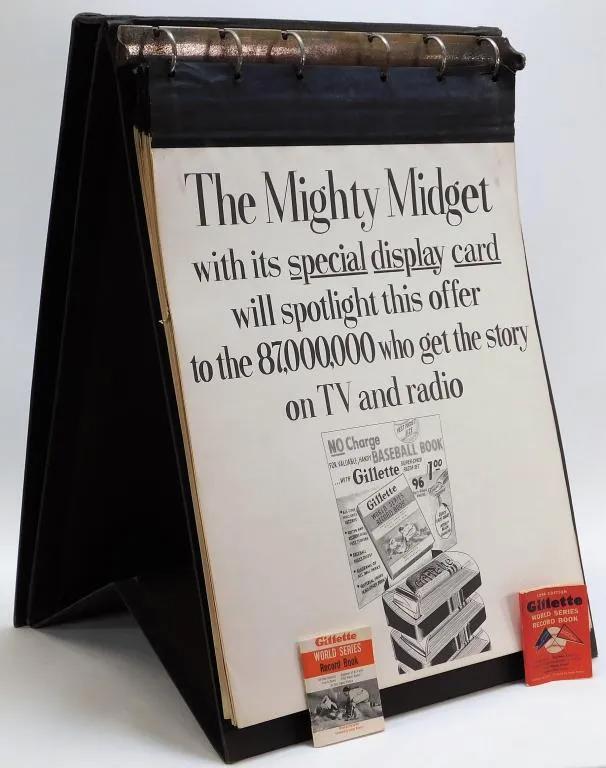 A jumbo Gillette Marketing Portfolio from the Mad Men era