Francis Golffing: A Bennington College Archive, 1938-1997
Golffing, Francis (1910-2012). Personal papers of the Austrian-American poet, essayist, teacher, and translator, dating from 1938 to 1997. Includes his literary writings, commonplace books, lecture notes for literature classes taught at Bennington College, letters received, manuscripts and offprints. Accompanied by the author's copies of his own books, many with holograph annotations, as well as books inscribed to the author. Total volume: 6 linear feet of correspondence and manuscripts, plus a collection of books and an additional 1.5 linear feet of photocopies and clippings.
     Born in Vienna to a family of industrialists, Franz Karl Golffing studied philosophy, art history, and literature in Berlin, Gottingen, Heidelberg, Freiburg, and finally Basel, where he obtained a doctorate in 1934 for his dissertation on the poetry of Friedrich Rückert. After post-graduate work in Grenoble he returned to Vienna where he worked as a journalist and radio commentator. He published his first volume of poems in 1938. During the political upheavals in Germany in 1938, Golffing's family lost everything. The Nazis seized the family's factories and jailed Golffing's uncle. His younger brother Peter Conrad Golffing emigrated to America in 1938. Family lost their factory managed by his uncle, who was thrown into camp. Although Golffing had trouble obtaining a visa at first, in 1939 he was able to leave Austria for England, where he worked as a tutor. In 1940 Golffing emigrated to the United States for a tutorial position at Stanford University.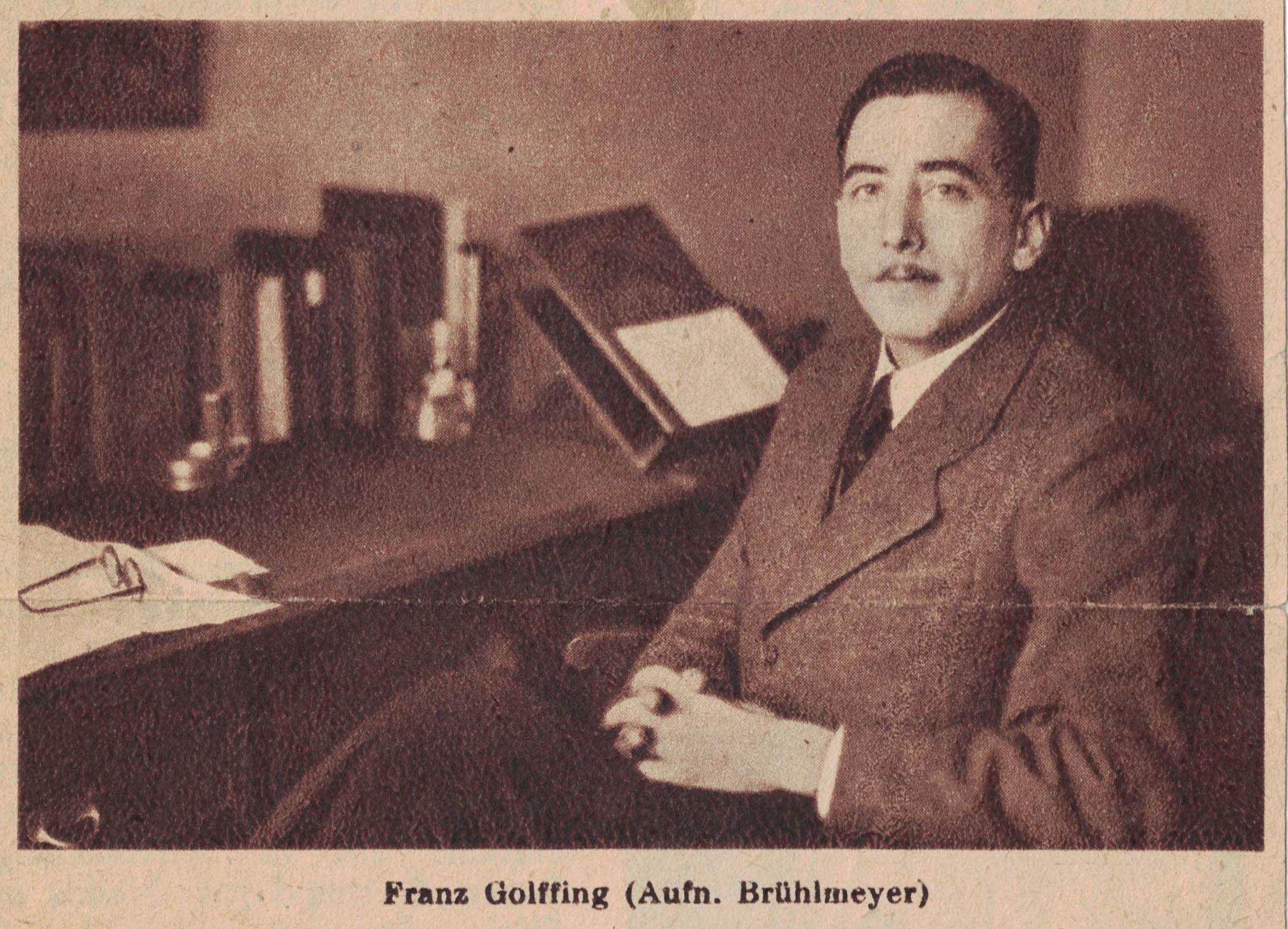 Franz Karl Golffing, 1938
     At Stanford, Golffing met the poets Yvor Winters, J. V. Cunningham, and Barbara Gibbs (1912-1993). Gibbs and Cunningham were married, but they divorced in 1942, and Golffing married her soon after. He took a position at Utah State University, where he taught French, Latin, and Greek. Through Brewster Ghiselin, who curated a literary circle in Salt Lake City, he met the poet Ellis Foote, who would be a lifelong friend. He and his wife also broadcast a daily cultural program on radio station KLO. He was drafted during WWII and served as a French translator.
     In 1948, Golffing accepted a position at Bennington College, where he would teach French, English, philosophy, and semantics alongside such luminaries as Stanley Edgar Hyman, Howard Nemerov, Bernard Malamud, Claude Fredericks, Ben Belitt, and Kenneth Burke during the school's golden age. He remained at Bennington for twenty years, with occasional leaves to teach in Berlin (where he headed the American Institute) and Heidelberg. During the summers, he served as director of the Cummington School of the Arts.
     A school revered for its creative pedagogy and bohemian culture, Bennington produced many famous writers and artists during Golffing's tenure, including Helen Frankenthaler, Joan Tower, Marian Zazeela, Gretel Ehrlich, Sandra Hochman, and Barry Primus. The poet Anne Waldman, who was one of his students, later reminisced, "I would sit in on Francis Golffing's class on Rilke simply to hear the German read out loud, though I couldn't understand it." Among his many students was the illustrator Norman Rockwell, who enrolled as an adult to take a writing class with him in 1952.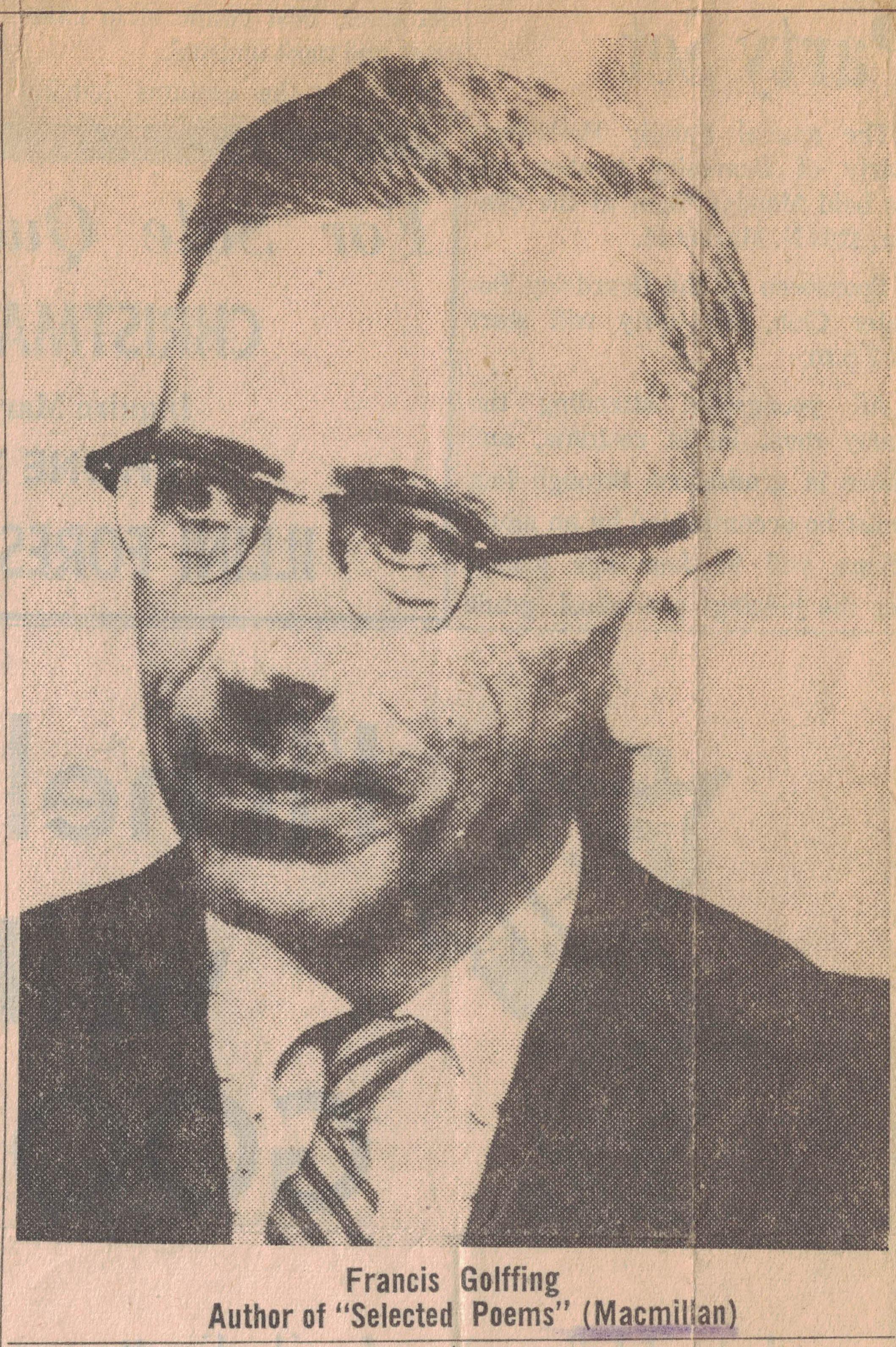 Francis C. Golffing, 1961
     In 1968, Golffing resigned from Bennington in frustration over his low salary (Malamud expressed his sympathy), and moved to Peterborough, New Hampshire to become director of Humanities at Franklin Pierce College. Upon his retirement in 1977, he founded The Journal of Pre-Raphaelite Studies. He spent his final years in Waldoboro, Maine.
     A wide-ranging intellectual, Golffing published in the fields of poetry, philosophy, literary criticism, art criticism. His major works include Gedichte (1938), Poems, 1943-1949 (1949), Selected Poems (1961), Aphorisms (1967), Collected Poems (1980), and Possibility: An Essay in Utopian Vision (with Barbara Gibbs, 1963, 1991). His translations include Kandinsky's Concerning the Spiritual in Art (with Michael Sadleir, 1947), and Nietzsche's The Birth of Tragedy and The Genealogy of Morals (1956). He contributed poems, translations, and essays to a wide variety of publications, including New Directions in Prose and Poetry (1941), Noonday (1958), Art International, Centennial Review, Commentary, Ethics, Euphorion, Germanistik, Hudson Review, Nation, Parnassus, Partisan Review, Poetry, Sewanee Review, Southern Review, and The New Yorker. He also pursued the visual arts, and mounted exhibitions of his paintings and drawings. 
     Francis Golffing's archives reflect his varied interests. It encompasses five broad areas:


I. Bennington College: Golffing was on the faculty at Bennington from 1948 to 1968, an extraordinary period of intellectual and creative ferment for the college.  Golffing's teaching notebooks offers insight into the philosophy and literature courses that fostered the development of so many writers and artists. The archives also feature substantial files of correspondence from his colleagues Kenneth Burke, Claude Fredericks, Howard Nemerov, Stanley Edgar Hyman, and Georges Guy.


II. Poetry in English: Associated in the 1940s first with the Stanford circle of Yvor Winters, and then with the Salt Lake City circle of Brewster Ghiselin, Golffing published poetry in most of the major venues, from Poetry and the Kenyon Review to the New Yorker. His first volume of poetry was published by the Cummington Press, and he maintained a lifelong correspondence with Harry Duncan, who also printed Golffing's last major collection under his Abbatoir imprint in 1980. A copy of Golffing's Selected Poems (Macmillan, 1961) especially bound by Duncan is one of the many hidden gems of this collection.
In addition to the hundreds of manuscripts and tearsheets of his own work, Golffing also collected poems he prized, copying them by hand or typing them out. Among the poets with whom he corresponded, was Ellis Foote, a fascinating writer ripe for rediscovery. Largely self-educated, Foote was nurtured by Ghiselin, and close friends with the novelist Vardis Fisher. Born into the Mormon church, he was – as one critic has described him – "the first interesting and experimental poet from Zion." Generally unknown today, his vibrant, Joycean poetry published in the 1940s, likely influenced writers of the Beat Generation.


III. Poetry in German: Golffing's first two books were in German, and he remained an avid reader and critic of German poetry his entire life, publishing articles, reviews, and translations. There are extensive files of his translations from the German, and copies of the poems he admired, holograph, typed, and photocopied.


IV. Philosophy and Criticism: A humanist in the classical mode, Golffing's wide-ranging intellect led him to publish works in the Partisan Review, The Centennial Review, and other journals on social and cultural criticism. His essays inspired the admiration of such scholars as David Reisman, Joseph Adelson, and Kenneth Burke, whose letters to Golffing are in these archives. He corresponded with anthropologists, sociologists, and evolutionary biologists to write his futurological work, Possibility: An Essay on Utopian Vision, which he wrote with his wife, the poet Barbara Gibbs, and which he considered his major work. Golffing and Gibbs also spent years conducting research for a book on Kasper Hauser, never completed. Their files on Hauser and on utopian possibility comprise an important part of the collection.


V. Pre-Raphaelite Studies: Ironically, the project of Golffing's retirement may be one of his most lasting achievements. In 1977, he founded the Journal of Pre-Raphaelite Studies (JPRS) to focus scholarly attention on the aesthetic movement. It was a curious shift, since this was not a particular focus of his earlier work. But Golffing had long been immersed in the visual arts and had an immense library or works on painters and illustrators both renowned and obscure, as well as a love for neglected poets. JPRS swiftly became the leading journal for new work and it continues today. The archive contains several folders relating to the journal's founding, its operation, and it transfer following Golffing's second retirement. There are also thick files of correspondence from sub-editors and contributors, including Nathan Cervo, Ann C. Colley, William Fredeman, Catherine Morley, Raymond Watkinson, and Mark Samuels Lasner.

Recommend this product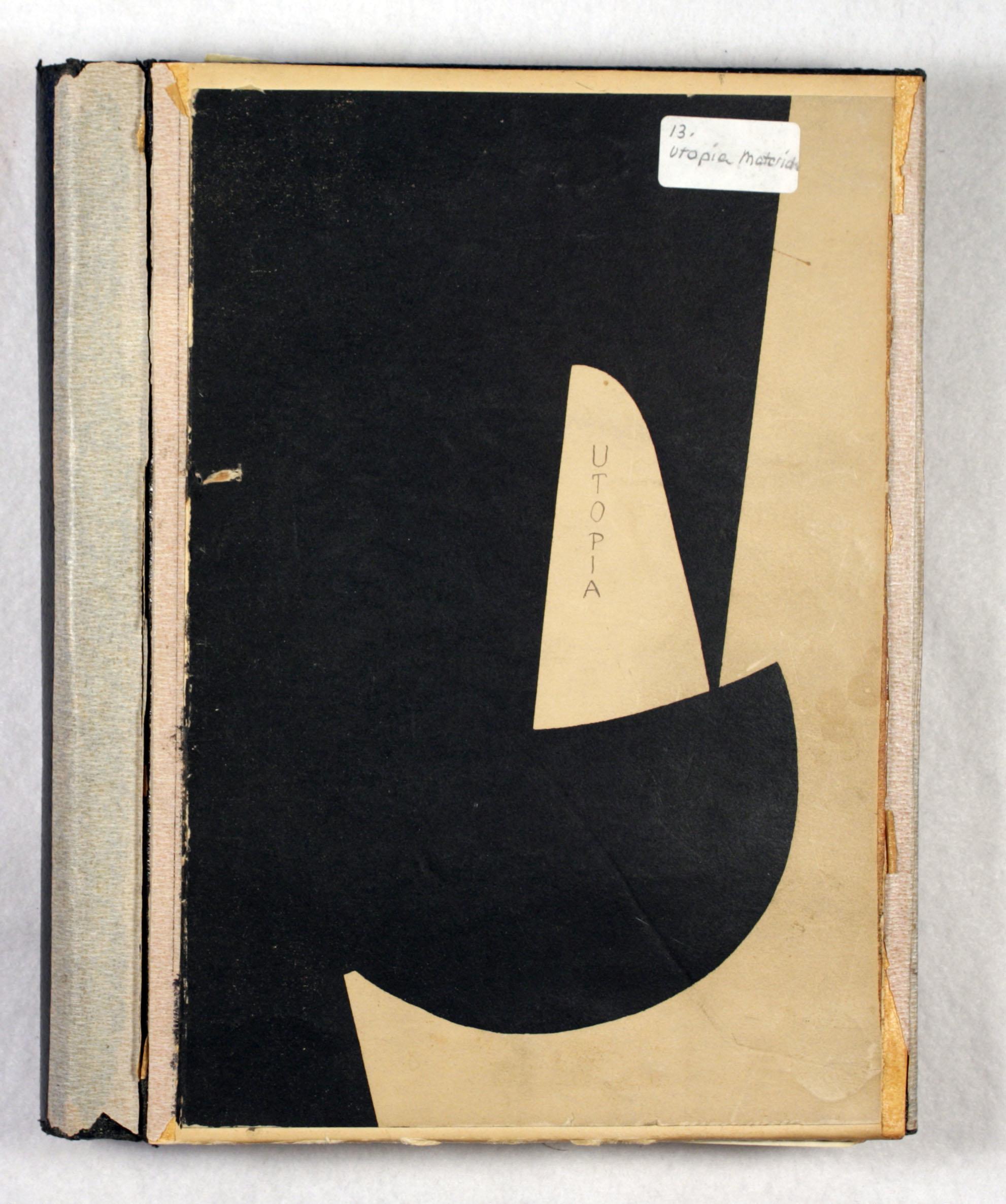 Francis Golffing: A Bennington College Archive, 1938-1997