The complex cultural politics of a Kilkenny Fair
[Ó Gibealláin, Athanáis O.F.M. (1917-1992)]. Feis Chille Cainnigh. Poster, ca. early 1950s[?]. 45 cm x 50 cm. The poster, once folded has been mounted on plywood and varnished (!). The text is somewhat soiled and faded. Hooks and wire mounted to rear of the board to allow for hanging.
     A poster in Irish for the Kilkenny Fair (Feis Chille Cainnigh) sponsored by the Gaelic League, Conradh na Gaeilge. This poster was likely used several years in a row -- three patches, white and striped, hide outdated information. This was on the one hand a traditional céilí, with music provided by a local ensemble, Foireann Gráig na Manach (the Graiguenamanagh Band). That more subtle forces were at work is suggested not only by the sponsor but also by the name of the featured speaker (or perhaps the organizer): An tAthair (Father) Ó Gibealláin, O.F.M.
    There are two possibilities for the identity of this friar. First is Michael Christopher Giblin (1915-1989), who generally used the anglicized form of Ó Gibealláin. A native of Boyle, Co. Roscommon, where his father was a constable, Gilblin entered the Novitiate in 1933 and took the name of Father Cathaldus at his Solemn Profession in 1937. Continuing his studies in Rome, he returned to Ireland in 1945 and settled in Killiney, devoting himself to scholarship, focusing on Irish linguistics and ecclesiastical history, and publishing prolifically. As his student Tomás Cardinal Ó Fiaich notes, Father Cathaldus was "a much sought-after lecturer to local history and Irish language groups in all parts of the country."
     The other possibility, and we think the more likely one, is Father Cathaldus' brother, Pádraig Seosamh Ó Gibealláin (1917-1992), who followed his older sibling into the Franciscan order, taking the name Athanáis. Whereas Father Cathaldus gravitated towards scholarship, Father Athanáis, who appears never to have used the anglicized version of his name, immersed himself in politics. 
     He joined Conradh na Gaeilge and supported the work of the Congress of Irish Unions, two bodies strongly nationalistic in outlook, and appears to have been associated with Sinn Féin. When the Dáil na Mumhan (the provincial committee in Munster) was re-established in 1951, he served as President. Later, Sinn Féin leader Ruairí Ó Brádaigh would describe the Dáil na Mumhan as "a revolutionary weapon" for "the building of a new Ireland." As president, Ó Gibealláin helped to establish Rosc, the Munster Folk School, and the Feis na Mumhan. 
     In 1957, Father Athanáis appears to have been compelled to leave Ireland (his biographer says "he left or was deported") -- one suspects that his superiors were concerned that his political and cultural activities were distracting him from his religious duties. He spent several years teaching in Israel and Egypt.
     Father Athanáis returned to Ireland and to school, earning a Ph.D. at the University of Galway in 1964 with a thesis on the history of trade unionism in Ireland. He was appointed a member of the chaplaincy serving the Irish in Camden Town, London, in 1966. His 1968 pamphlet An Réabhlóid Sóisialta (The social revolution) drew parallels between the youth movement and the Irish cause. 
     Once again Father Athanáis was recalled and placed into a less politically charged environment. He was transferred to the Franciscan Abbey in Multyfarnham, and charged with rebuilding the old structures, and writing their history. He spent his last decades serving the Gaeltacht community of Meath. At the Féile na Mí in 1991, he was honored with the Gradam Uí Ghramhnaigh.
     When Fr. Athanáis Ó Gibealláin died in 1992, his obituary was written not by a fellow friar, but by a neighbor in Meath. That neighbor was his old comrade-in-arms Seán Mac Stiofáin, the controversial former chief of staff of the Provisional IRA whose propensity towards violence earned him the name of "Mac the Knife."
     The complex history of Irish nationalism, which has long joined its urgent call for political independence with a joyous celebration of folk traditions, religious identity, and linguistic distinctiveness, is what gives this simple poster its particular potency. We can find no record of another copy and think it is likely a unique survival.
Selected References
Mac Stiofáin, Seán. "Cara phobail na Gaelige ar Shlí na Fírinne," Feasta, 46, Eanáir 1993, p. 30.
Ó Fiaich, Tomás. "Fr Cathaldus Giblin, OFM." Seanchas Ardmhacha: Journal of the Armagh Diocesan Historical Society, vol. 13, no. 2, 1989, pp. 301–303.
[Ó Gibealláin], An tAthair Athanáis. An Réabhlóid Sóisialta. Baile Átha Cliath Clódhanna Teoranta, 1968.
-----. (as Pádraig Ó Gibealláin). Multyfarnham Abbey: Monuments and memories. Elo Press, 1984.
Giblin, Cathaldus. Liber Lovaniensis. A Collection Of Irish Franciscan Documents1629-1717: Dublin, Clonmore and Reynolds, 1956.
Ó Snodaigh, Pádraig. "Cé chreim an tÚll?" Comhar, v. 27, n. 11 (Nov., 1968), pp. 25-26.
White, Robert W. Ruairí Ó Brádaigh: The Life and Politics of an Irish Revolutionary (Bloomington: Indiana University Press, 2006).
---
Recommend this product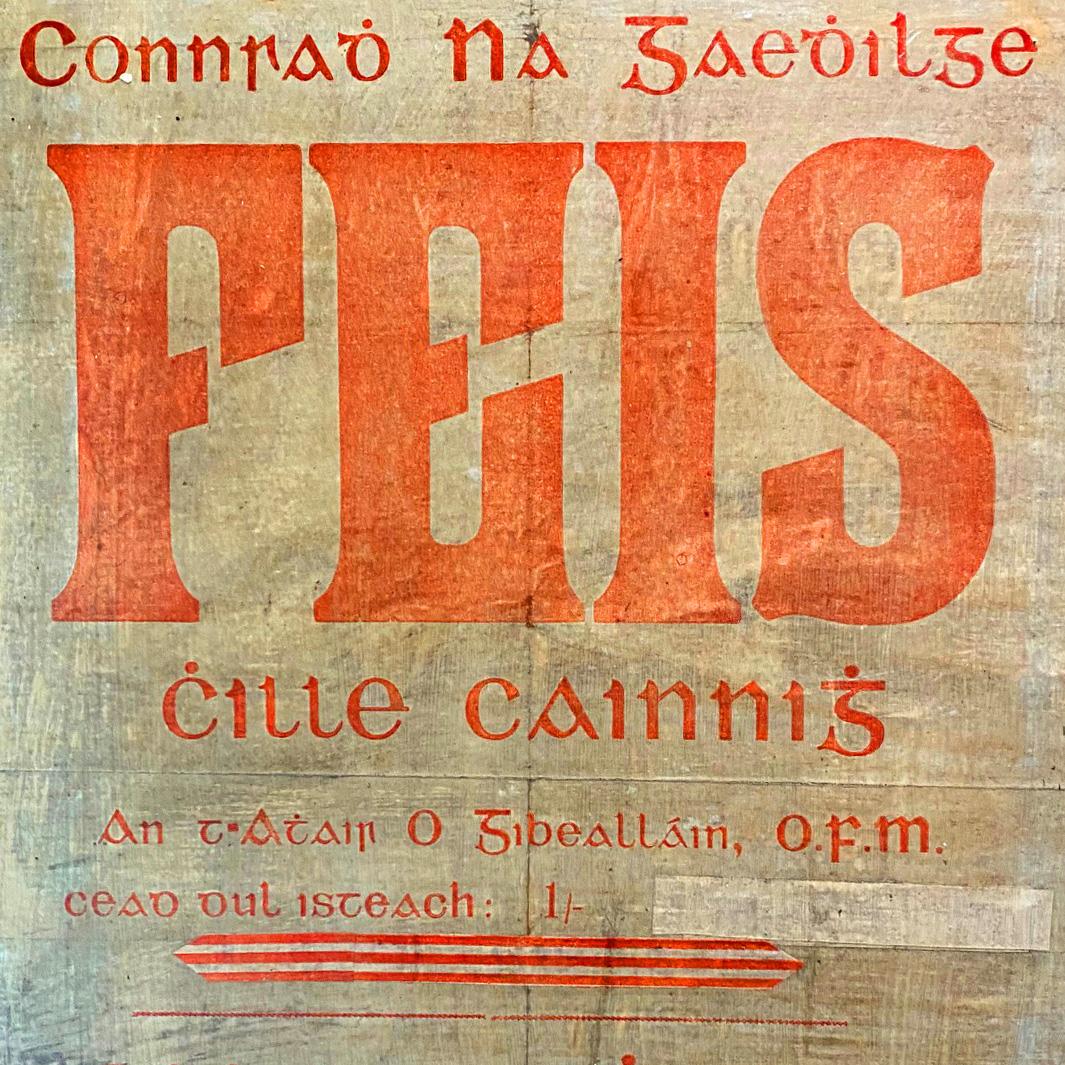 The complex cultural politics of a Kilkenny Fair