Early Kangaroo Iconography
Pidcock, Gilbert (and Charles James). PIDCOCK'S EXHIBITION / THIS KANGAROO'S BIRTH. SEP. 10. 1800. Copper halfpenny token, undated but issued in 1801. 29 mm. Obverse: a kangaroo left, facing back, a joey in pouch, Reverse: an elephant facing left. Condition at least XF-AUU. Dalton and Hamer Middlesex 
424; Atkins 309.


     One of the most widely sought-after Conder tokens, this halfpenny offers a very early representation of a kangaroo, an animal first introduced to European audiences through a painting executed by George Stubbs in 1772. Indeed, Stubbs's painting, which depicted the kangaroo looking over its left shoulder, clearly served as an iconographic reference for the token, though the engraver was able to achieve a greater degree of anatomical accuracy.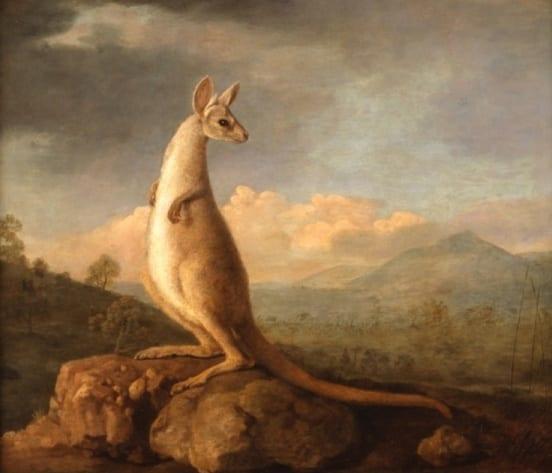 Stubbs, The Kongaroo from New Holland
     Pidcock, a menagerist and showman, travelled around the English midlands until 1793, when he purchased Thomas Clark's facilities at Exeter Change in the Strand. His collection included a lion, a Bengal tiger, several elephants, a cassowary, a zebra, a black swan, and a two-headed cow. By 1799 he had imported a mated pair of kangaroos from Botany Bay; a joey, and this coin, were the result of their union.
     A shortage of small denomination coinage in the late eighteenth century led a number of merchants and businessmen to issue their own tokens, which served both as local tender and as advertisement. Pidcock issued tokens with a variety of designs beginning in 1795. The present example, with an elephant on the observe, is the earliest Pidcock token to depict a kangaroo, issued in 1800.  He repeated the design in several later issues; all are highly sought after.
     The coins were manufactured by William Lutwych in Birmingham; the engraving was the work of Charles James (note the "J" under the kangaroo's tail). James was not the only engraver Pidcock commissioned. A series of cuts executed in 1799-1800 by Thomas Bewick represents some of the artist's most celebrated work.
     With tokens condition is everything and this is an exceptionally fine example, well centered and sharply detailed, with a rich chocolate patina. Note the short strokes marking the kangaroo's fur, the bunched muscles of its leg, and the elephant's textured skin.  The first Australian coin to feature a kangaroo was produced in 1854; Pidcock's token was issued 50 years earlier. Rare, especially in such exceptional condition.
Recommend this product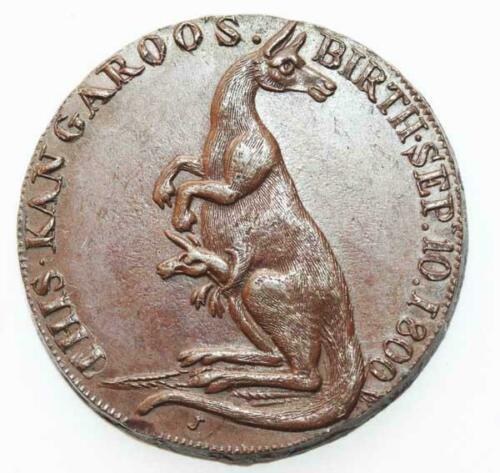 Early Kangaroo Iconography