Practica criminalis canonica: Sixteenth Century Legal Notes on Sodomy
DIAZ DE LUCO, Juan Bernal (1495-1556).  Practica criminalis canonica, in qua omnia ferè flagitia, quae à clericis committi possunt, cum eorum poenis describuntur...  (Venetiis, apud Dominicum, & Cornelium de Nicholinis, 1560).  Signatures: A-R⁸ S⁴; 275, [5] p., 16 cm. A fine, fresh copy in full vellum and vellum spine with title lettered in an early hand. Fragment of an even earlier spine label laid in. Small chip to top corner of the front cover, ties lacking, headband refreshed sometime in the last century, otherwise the volume appears to be unsophisticated. A splendid example of an important book.


Born in Sevilla, educated at the University of Salamanca, and appointed bishop of Calahorra y La Calzada in 1545, Juan Bernal Díaz de Luco was, along with his friends Ignacio de Loyola and Bartolomé de las Casas, a leading combatant of social and ecclesial corruption during the Age of Reform.  He served as Spain's most vocal representative at the historic Council of Trent (his remarks were reprinted in 1962 for the benefit of the Second Vatican Council), and advocated canon law as the means for returning to its original mission a Church gone astray.  In addition to several books on canon law, Díaz de Luco wrote a guide for bishops that has recently been rediscovered as a classic, and translated into Spanish in 1996 and English in 2007.
     Published in its original form in 1543 and reprinted in 1549, Díaz de Luco's influential treatise on criminal procedure in canon law, featured extensive discussion of blasphemy, heresy, simony, divination (sortilegio), excommunication, torture, homosexuality (nefandi criminis rei), unlawful celebration of the mass, and other concerns of the early modern era, as well as such timeless matters as homicide, bigamy, fornication, usury, libel, and drunkenness.  The present copy, published in Venice by the Nicolini da Sabbio brothers, represents the best edition of this work, both textually and typographically. This 1560 edition is the first published after Díaz de Luco's death in 1556, and includes extensive additions and corrigenda by the author, establishing the standard text for all subsequent editions. (

See our notes comparing early editions of the work 

here

.)

This edition is very rare -- as usual, Worldcat is misleading. Most extant copies appear to be in continental Europe.



     The posthumously published additions, set off throughout by square brackets, sometimes consist of only minor references to particular passages in the Corpus Juris Canonica.  More often, however, they are very substantial indeed:  for example, the text of chapter three (on the office of the judicial vicar) is almost double its original length.  Later editions of the work reprinted the text presented here either in whole (as the Venice edition of 1565) or in part (as the editions revised by Salzedo de Leon).  

There are woodcut embellishments, including capitals that include depictions (rather perversely, given the audience for this book) of a nude man running wild and a topless woman getting drunk.



What particularly distinguishes this copy are the neat marginal annotations, executed in an early learned hand, that are salted throughout the volume. These include notes on sodomy, a topic interesting enough for one sixteenth-century reader to cut through the circumlocution of the chapter title ("Ac nefandi criminis rei") and to add an index entry on the subject. 
Of the 275 pages, just over 60 have reader's notes, including underlining, marked passages, and annotations of varying length. In addition to the notes on sodomy in chapter 80, other chapters with significant annotation include those on fornication (cap. 72), concubinage (cap. 73), adultery (cap. 79), homicide (cap. 88), and prisoners (cap. 114).  
     An attractive copy of an important book that will display very nicely in an exhibition on law and the history of sexuality. 
---
Recommend this product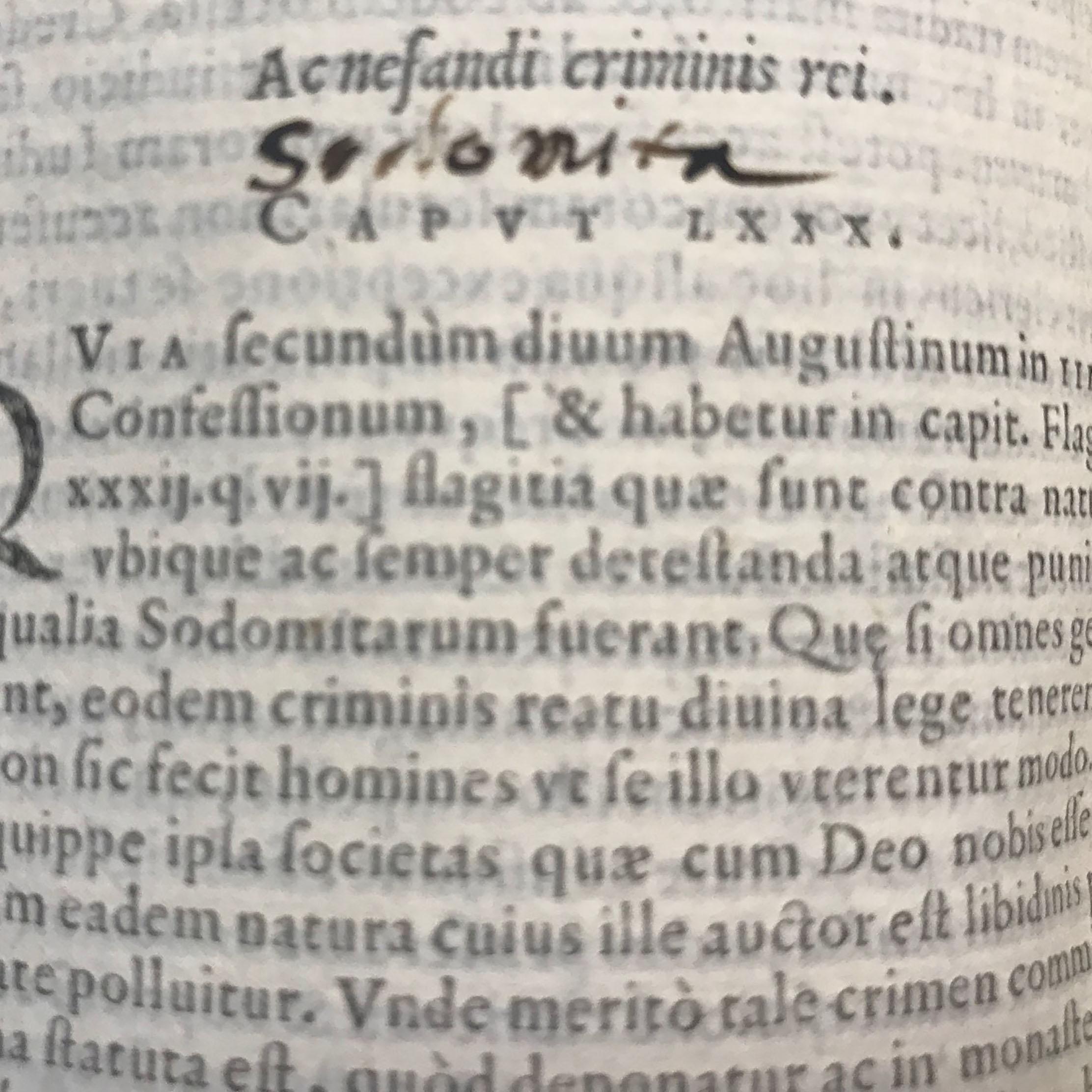 Practica criminalis canonica: Sixteenth Century Legal Notes on Sodomy