A Great American Songbook: Ann Stewart's Revolutionary hymnal, c.1767 to 1789
Stewart, Ann (ca. 1741 – 1821) Manuscript Musical Notebook, Cheltenham, Pennsylvania, circa 1767-1789. 4 ¼ x 8 ½ in. 86 pp. on 45 leaves (two blank). Bound in original calf, covers creased and edgeworn. The book is slightly fragile, but the binding is still good and sound. Pages toned, with some foxing, staining, soiling and grubbiness from over 200 years of use. One or more initial leaves lacking; fol 28 (pp. 56/57) mostly lost. Some other leaves are marred by small chips and tears, but contents are generally sound with minimal loss. Inscribed on front pastedown, with calligraphic embellishments: "Ann Stewart's Book." Further inscribed: "James Stuart Leech's Book, 1789. Given by his Mother." A partially abraded inscription on the rear pastedown notes that the book was received from James Stuart Leech in 1794.
     A superb record of early American psalmody, finely provenanced, and one of the earliest manuscript music books to have survived. A recent census has identified 250 American music manuscripts before 1830 in public and private collections, only a handful of which were started as early as this. In her history of female amateur musicians in the early republican era, historian Glenda Goodman observes that most surviving manuscripts are by men. This is a rare example of one by a woman, who in this case may be clearly identified.
     Ann Stewart married Samuel Erwin Leech (1736 – 1822) on 18 February 1768, and because the book is inscribed with her maiden name (and family crest) we presume it was started earlier. We have not traced her family yet, but assume she was from one of the several Stewart families in Philadelphia. Her husband's family is well documented. Samuel Leech's grandfather, Tobias Leech (bap. 1652 – 1726), was one of the founders of Cheltenham, and his stepfather Richard Treat (1731 – 1778) was minister of the Abington Presbyterian Church. He followed his father's footsteps as a farmer and prospered. A prominent citizen of Cheltenham, Pennsylvania, he was a member of the Committee of Correspondence for Philadelphia in 1775, and served as captain under Colonel Benjamin McVaugh in the Third Regiment Philadelphia Country Militia during the Revolution. The 1776 tax assessment of Cheltenham identified Samuel and Ann Leech as among the largest property owners in the town, with 170 acres, three horses, and five cows. Ann Stewart Leech was named in her husband's will, and traces of both appear in early Pennsylvania newspapers. 
     The Leeches had five children, the third of whom was James (ca. 1771  – 1794), who was baptized in 1773. James received this manuscript from his mother when he was 19. It was passed to someone else when he died at the age of 23, but we have not been able to decipher the palimpsest.
     Goodman has explored the ways in which "amateur music-making played an important and heretofore unacknowledged role in the making of gender, class, nation, and race in the early American republic." Citing Helen Smith, she notes that "copying was not merely secondary to authorship, nor was it just mechanical; instead, it was a sign of agency, for copying allowed the copyist to experience 'the formative force of the text.'" Her work suggests a number of approaches for analyzing this manuscript. 
     Ann Stewart prepared her music book very neatly indeed. The perfect regularity of the staves suggests that she used a rastrum, and the precision with which the notes are written suggest a carefully practiced hand, as does her minute penmanship. Stewart's transcriptions often included the names of the composers, and occasionally that of the lyricist, though in general she wrote the texts in only abbreviated form. For example, the lyrics to "America," which uses Watts's "Praise to God from All Creatures" (Ye tribes of Adam, join) is here abbreviated to "Ye holy throng, &c. … In worlds &c…" As Goodman's subtle analysis of similar manuscripts suggest, much can be discerned from such authorial choices. The fact that Stewart passed the manuscript to her son -- but not her daughters, who were older --  is intriguing. 
"We are able to discover the virtues and vices of different nations, by their tunes, as certainly as by their laws." – Benjamin Rush, 1786
     Like Susanna Perkins, whose manuscript music book (1786/1804) is preserved at the AAS, Ann Stewart collected the vibrant hymns of members of "the First New England School" -- American composers whose wrote novel tunes with texts drawn from metrical psalms by Isaac Watts and others. Stewart's selection offers a personal record of what one historian has called "the patriotic soundscape of the Revolution," with compositions by Asahel Benham, William Billings, Oliver Brownson, Lewis Edson, Orlando Gibbons, Daniel Read, Timothy Swan, William Tans'ur, Joseph Stephenson, and Abraham Wood. Andrew Law's "Bunker Hill," set to a poem by Nathaniel Niles, makes an early appearance here. Other patriotic selections include "America"; "Arundel"; "Branford"; "Bridgewater" "Chatham"; "Chester"; "Framingham"; "Greenfield"; "Lenox"; "Litchfield"; "Middletown"; "Milford"; "New Jersey"; "Roxbury" "Trumbull"; and "Virginia." There are also several psalms, placed primarily at the beginning of the book.
     Stewart's manuscript music book offers many avenues for further research. For example, if one assumes that the arrangement of tunes may be read chronologically, what might we discern about her shifting political consciousness between the late 1760s when she opened the book by drawing her family's European crest, and 1789, by which time she had filled the book with patriotic hymns. As historian Rebeccah Bechtold has argued, "the proper governance of sensory experience" in the form of musical practice "played a fundamental role in the project of nation-building … [emphasizing] the importance of feelings to the creation of a virtuous citizenry, [and] accentuating in turn the importance of sentiment to the production of republican virtue."
     This important, and very early American manuscript of will be a key source for future research on the harmonies and dissonances of woman's musical lives during the Revolutionary era.
Selected references
Baggs, Nicholas. History of Abington Presbyterian Church, Abington, PA. Hatboro: Robinson Publishing Company, 1914.
Bean, Theodore W. History of Montgomery County, Pennsylvania. Philadelphia: Everts & Peck, 1884.
Bechtold, Rebeccah. "A revolutionary soundscape: musical reform and the science of sound in early America, 1760–1840." Journal of the Early Republic 35, no. 3 (2015): 419–50.
Fuld, James J. and Mary Wallace Davidson.18th-Century American secular music manuscripts: an inventory. Philadelphia: Music Library Association, Inc, 1980.
Goodman, Glenda. Cultivated by hand: amateur musicians in the early American republic. Oxford University Press, 2020
Keller, Kate Van Winkle. Popular secular music in America through 1800: a preliminary checklist of manuscripts in North American collections. Philadelphia: Music Library Association, Inc., 1981.
Leach, Josiah Granville. Chronicles of the Yerkes family. Philadelphia: Lippincott, 1904.
Rush, Benjamin. Medical inquiries and observations, vol. II. Philadelphia: Printed by T. Dobson, 1793.
Smith, Helen. "Grossly material things": women and book production in early modern England. Oxford: Oxford University Press, 2012.
Recommend this product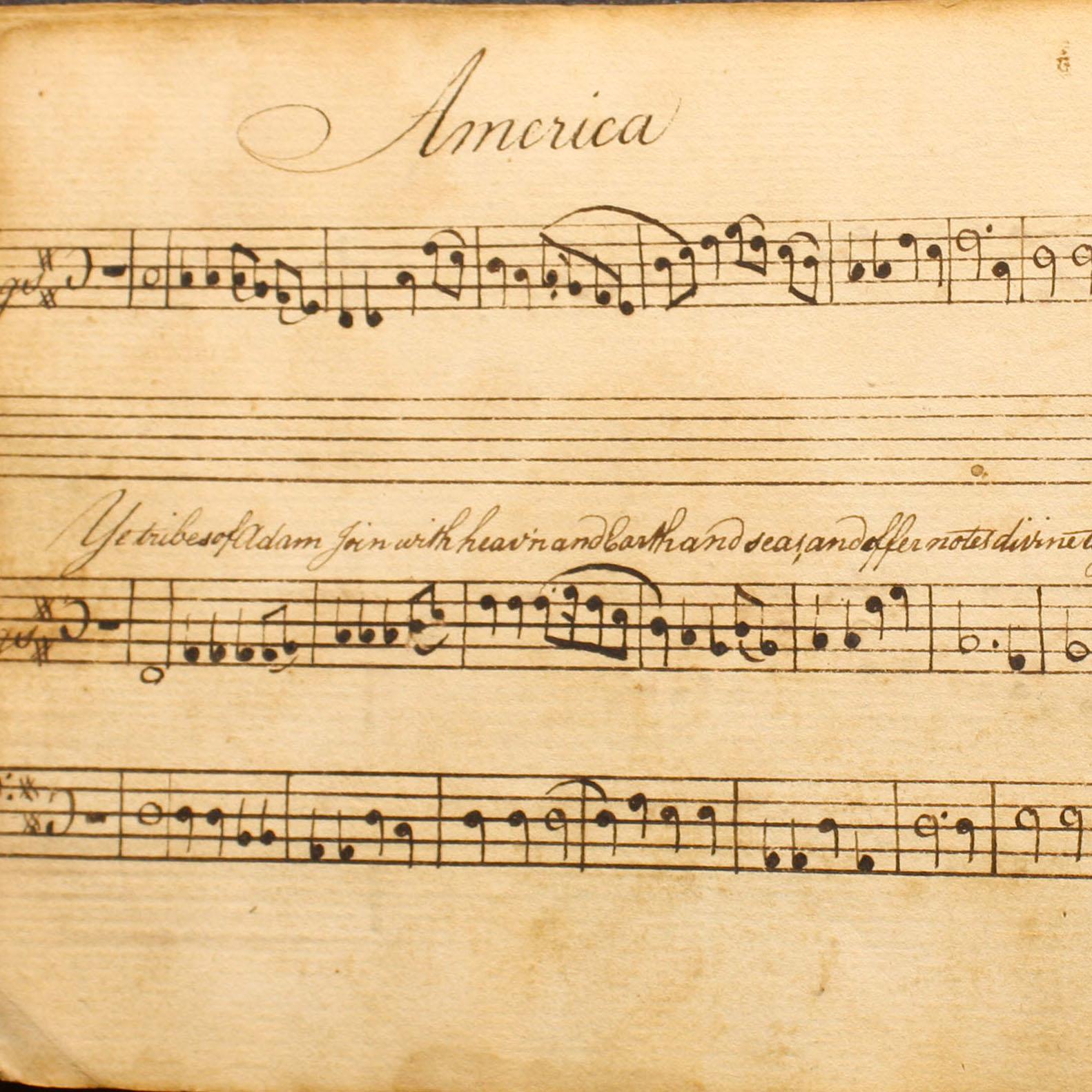 A Great American Songbook: Ann Stewart's Revolutionary hymnal, c.1767 to 1789